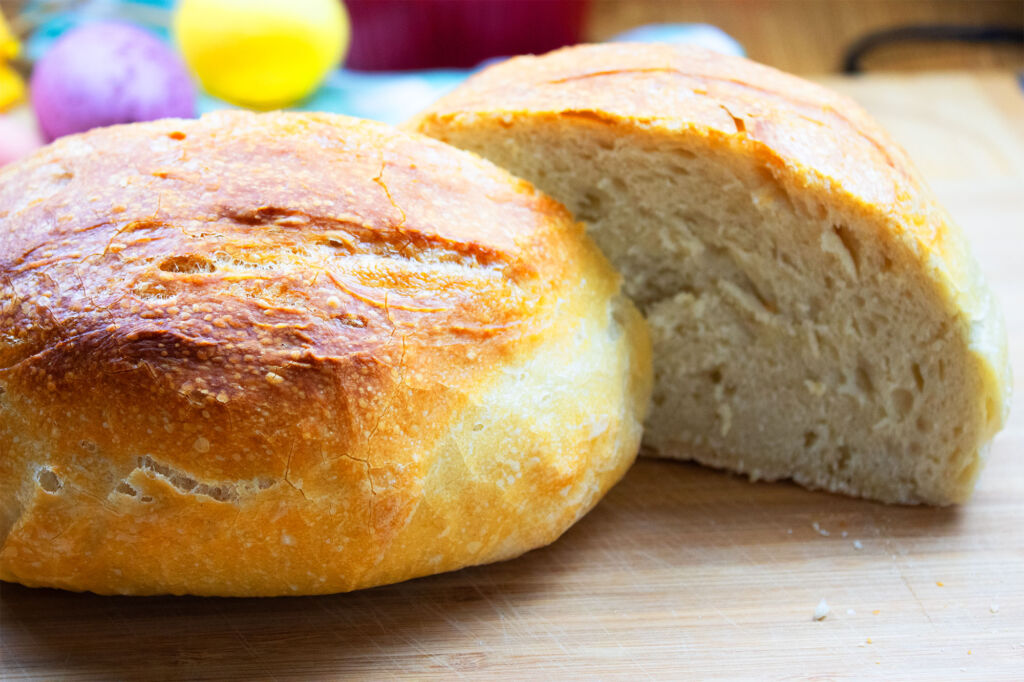 Jump to video
Jump to recipe
Artisanal, Folded Bread Recipe (Video)
The delicious smell of bread, baking in the oven filled my kitchen today.
How to prepare this recipe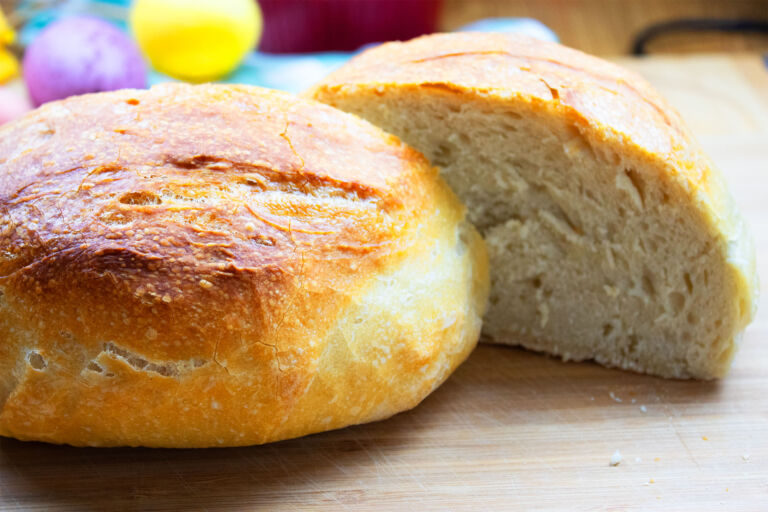 Artisanal, Folded Bread Recipe (Video)
| Prep time | Cook Time | Rest Time | Total Time |
| --- | --- | --- | --- |
| 90 min | 45 min | 480 min | 615 min |
Servings: 5 person
Calories: 407kcal
I'm sharing a homemade, artisanal folded bread recipe now, which will be ideal for Easter, as is incredibly delicious, and usually I make 2 times a week, not only for Easter 🙂
Instructions
First we making the 12 hours old bread dough.

Mix 200 gr. (7 oz or 1 cup) flour with 200 ml water and 7 gr (1.5 tsp) of dry yeast.
Incorporate well.

Cover, and set aside.
Leave overnight, allow to rise for 12 hours.

After 12 hours of resting, add 100 ml water to the old dough and mix.

Place the old dough, remaining flour, water, yeast, salt in to a mixing bowl.
Knead until the wall of the bowl will be clean.

With 3-4 tablespoon of oil spread the bottom and wall of the bowl.
Cover and allow to rise for 40 minutes.

After 40 minutes fold the dough. Let it rest to another 30 minutes.
Repeat the process 3 more times.
Fold, rest 30 minutes, fold again, rest again 30 minutes.
In total 4 times.

After 3-4 folding shape the dough, just as you always do, or as I do in video.
Place in the baking tray, and let it rise for 1 hour.

Slash the top on the desired pattern.

Meanwhile, preheat the oven to 250 °C  (480 °F).

After 1 hour of resting, give a good water wash.

Baking this bread needs steam in the oven, so place boiling water in oven in a heat resistant pan or tray.

Bake at 250 °C  (480 °F) for 15 minutes, then reduce the heat to 200 °C  (400 °F) and bake for 30 minutes.

When is done, while is hot, give a light water wash.

Enjoy! Good Appetite!