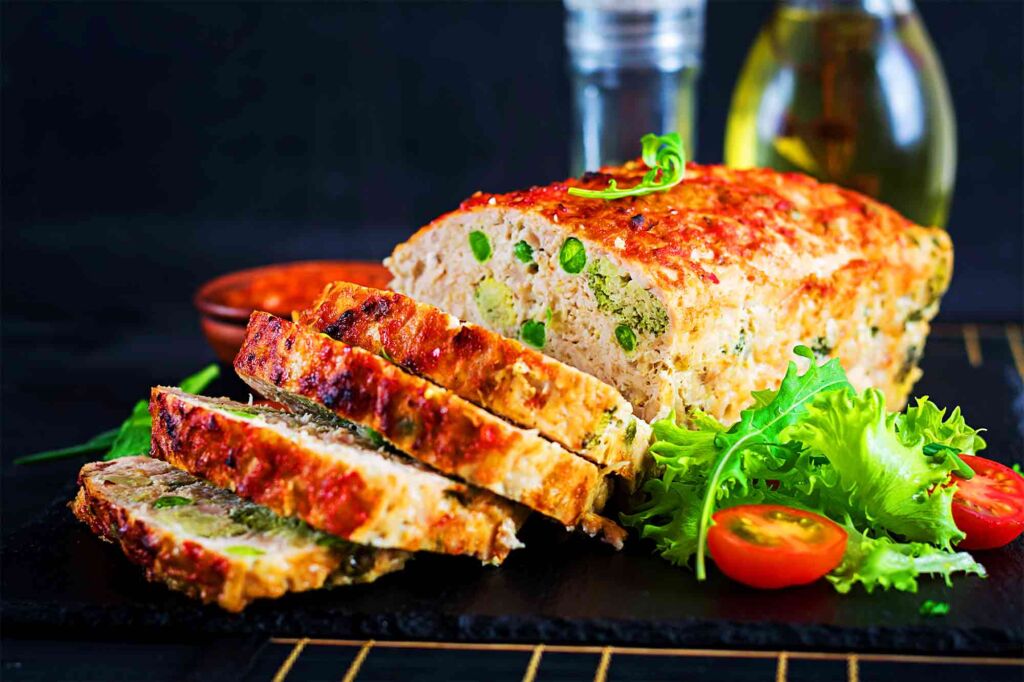 Jump to recipe
Baked Chicken Meatloaf Recipe
Give this ground chicken meatloaf a try if you want a variation from the usual beef meatloaf, you'll be blown away by how delicious it is. Try it, you won't regret.
This meatloaf with chicken is to die for! Use this recipe to make any ground meat loaf, including chicken, turkey, and the beef!
Here is one the greatest chicken meatloaf recipe we could come up with. This flavorful, moist chicken meatloaf has gained popularity among readers and is packed of taste.
The meal known as meatloaf usually is made of ground beef that has been mixed with additional ingredients, molded into a loaf, then baked or smoked. The final form is either pan-formed by baking it in a loaf pan or hand-formed on a baking sheet.
Although ground lamb, pork, veal, venison, poultry, and shellfish are occasionally combined with ground beef.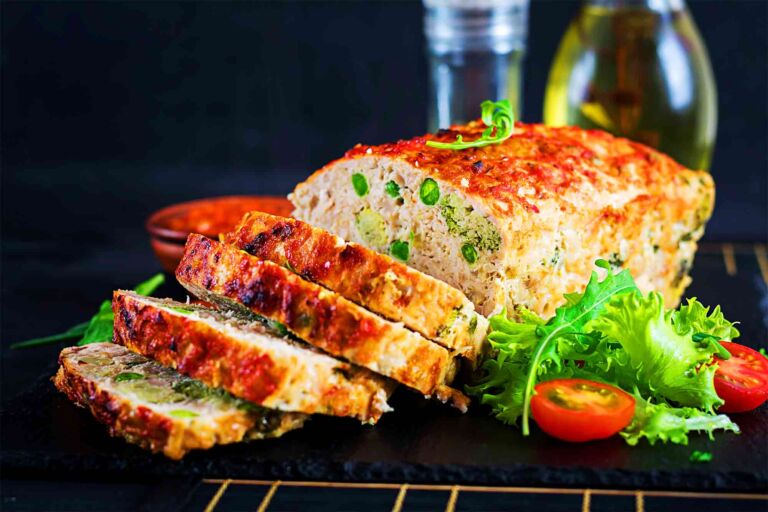 Baked Chicken Meatloaf Recipe
| Prep time | Cook Time | Rest Time | Total Time |
| --- | --- | --- | --- |
| 15 min | 90 min | - | 105 min |
Servings: 8 person
Calories: 226kcal
How To Make This Baked Chicken Meatloaf Recipe?
To prepare individual servings, slice the cooked meatloaf like a loaf of bread. It is possible to keep the meal wet using a variety of methods, including to adding bread crumbs and eggs, slathering it in sauce, or wrapping it, or adding moisture-inducing items to the mix, including stuffing it with fatty meats, creamy cheeses, or veggies too.
When I was a child, meatloaf was the ideal boring meal. I understand that baking a loaf of ground pork and other things doesn't sound particularly thrilling or appetizing. It's also not the tastiest dish, unfortunately.
Unexpectedly, meatloaf also is one of my family's favorite meals. Our regular go-to is plain chicken meatloaf, but right now I am liking this chicken variation since it has so many added seasonings. It is extremely nutritious, delicious, and moist. You are welcome to make the loaf in advance, cover it, and store it in the refrigerator until you are ready to cook. Enjoy!
Instructions
Make the meat paste for Baked Chicken Meatloaf Recipe

Preheat the oven to 180 °C (350 °F).

In a large bowl, mix the chicken with the bread crumbs, and then set aside.

Add the chopped onion and garlic to the the food processor.

Process the onion and garlic till extremely fine, and then process with the remaining ingredients. (if you don't have food processor, can be fine grated).

Pour the processed ingredients mixture over the meat mixture.

Using your hands, combine thoroughly. Add the chopped spring onion, and mix well.

Place the mixture in a loaf-shaped pan that has been lightly greased.

Bake for an hour with a foil cover.

After one hour remove the foil, and bake the loaf for a further 15 to 30 minutes.

Enjoy, Good Appetite!