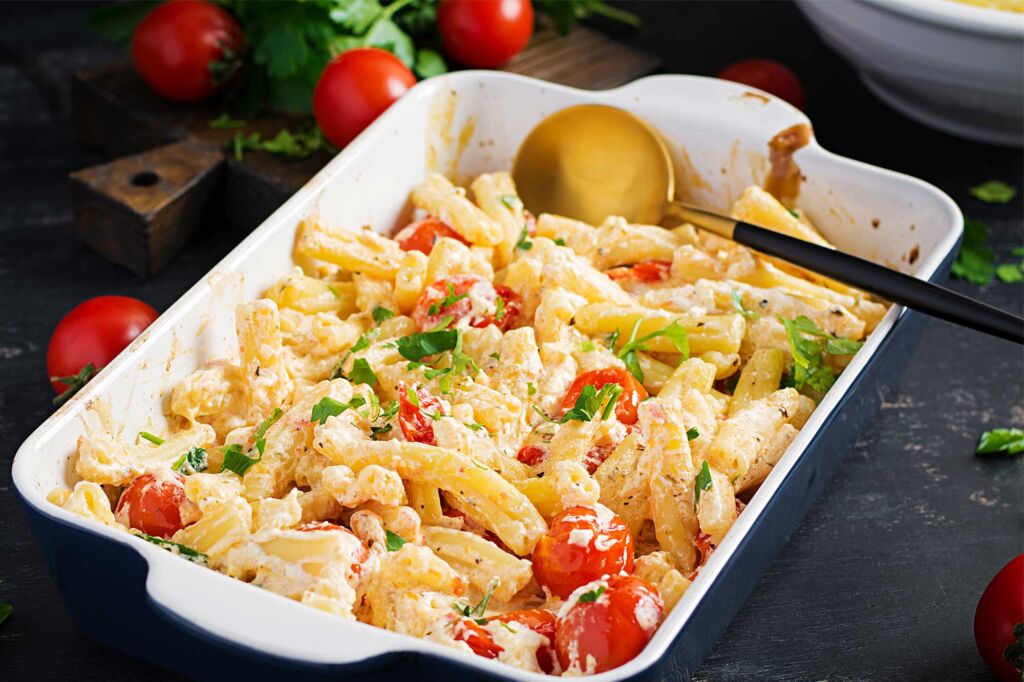 Jump to video
Jump to recipe
Baked Feta And Tomato Pasta Recipe (Video)
Definitely this recipe for pasta with feta cheese and cherry tomatoes in the oven caught your eye, especially if you are a declared gourmet or you were simply looking for a quick recipe. 
How to prepare this recipe
We did a little research and discovered the original recipe and where it all started.
The idea for this pasta recipe with feta cheese and tomatoes belongs to a blogger from Finland, Liemessa. She did it for the first time in 2019 and was so successful that Finnish supermarkets were left without a face.
The recipe for pasta with feta cheese and cherry tomatoes is one of the simplest I've prepared so far. You need cherry tomatoes, the best you can find. Try to have a red color as intense as possible and be firm to the touch. 
Use extra virgin olive oil because it is both healthy and tasty. Be sure that you purchase real feta cheese, because most of the feta cheeses is wrongly labeled as feta and has nothing to do with it. On the packaging of the cheese we have to see the PDO (Protected Designation of Origin) marking, this will ensure the quality and confirm that it is authentic from Greece.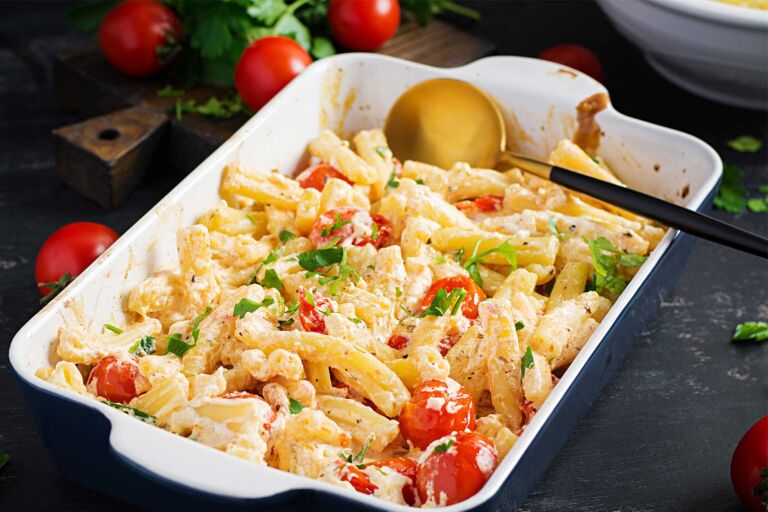 Baked Feta And Tomato Pasta Recipe (Video)
| Prep time | Cook Time | Rest Time | Total Time |
| --- | --- | --- | --- |
| 15 min | 60 min | - | 75 min |
Servings: 4 person
Calories: 512kcal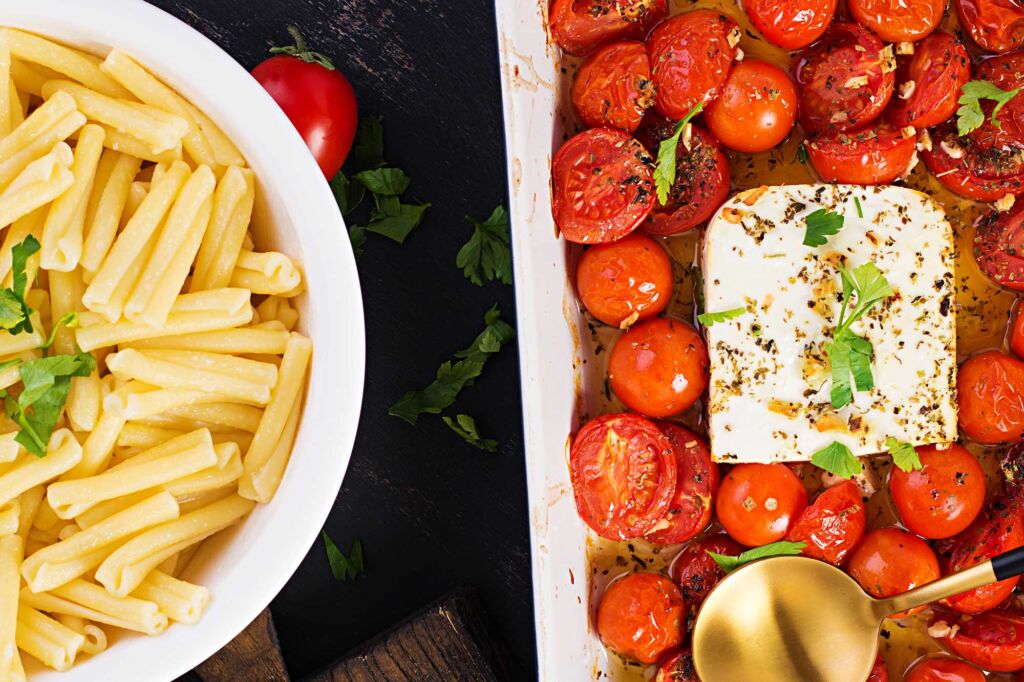 After the sauce for this pasta recipe with feta cheese and cherry tomatoes is ready, mix everything well with a spoon. You need to get a creamy and very tasty sauce. Then add fresh basil or even parsley. 
You can put any kind of pasta you want in this sauce. I use pasta what I just have for moment at home. Sometimes pens, sometimes spaghetti, but any others are very good.
Of course you can omit pasta and add grilled meat, fish or seafood. This sauce is wonderful as well with grilled vegetables.
Honestly, it is a recipe that you must try and I assure you that you will like it too.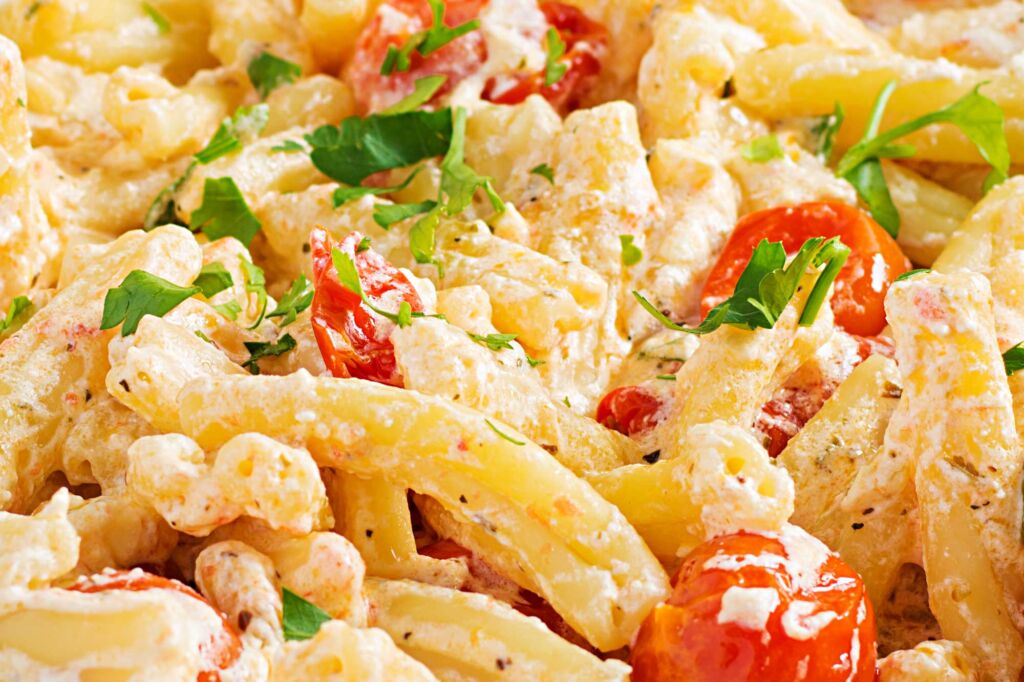 Instructions
Coat the bottom of the baking dish with olive oil.
On top, place the entire feta block. Chop the red chili pepper and sprinkle it on top of the feta cheese.

Drizzle more olive oil on top.
Roll the cherry tomatoes in the oil and place them on the sides. Season with pepper and salt.

Bake in a preheated oven at 200°C (400°F) for 35 minutes.

Cook the pasta until al dente according to the package directions.

Break up the feta and combine it with the tomatoes.
Combine the sauce with the pasta and top with plenty of basil or parsley leaves.

Garlic is ideal with baked feta pasta. To add garlic, cut four garlic cloves in half lengthwise, toss in same time as the tomatoes, and roll in olive oil.

Enjoy, Good Appetite!