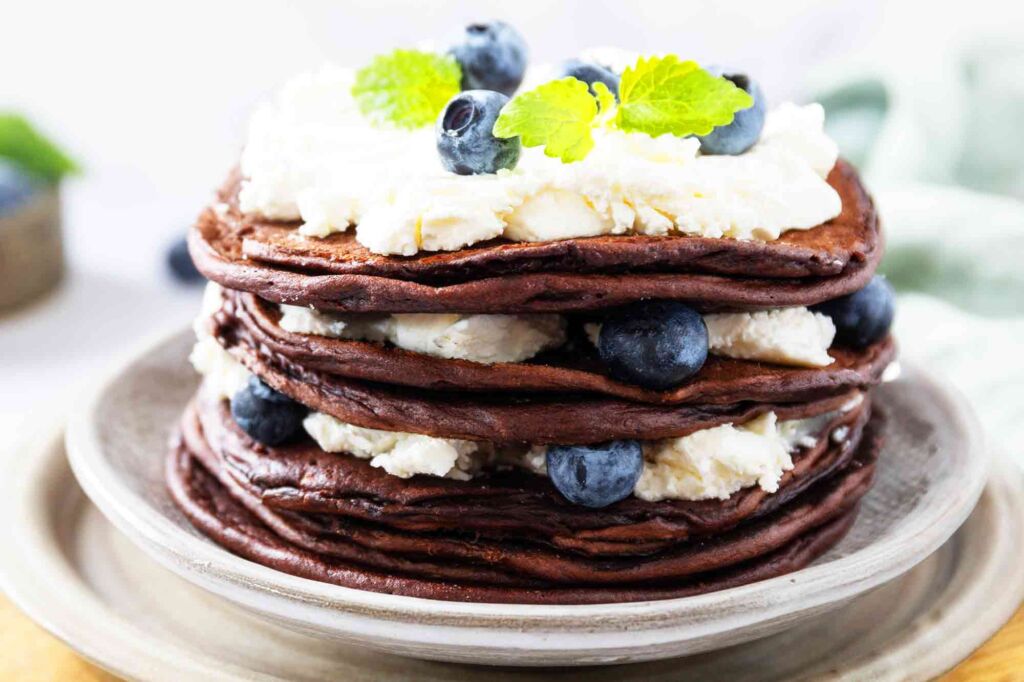 Jump to recipe
Banana Chocolate Pancakes Recipe
Treat yourself to delicious homemade banana chocolate pancakes with blueberries and ricotta, ideal for leisurely weekend breakfasts or special brunches.
These Banana Chocolate Pancakes are a delightful and indulgent breakfast choice, featuring ripe mashed bananas, unsweetened cocoa powder, and fresh blueberries that provide moisture, flavor, and nutrients.
Topped with ricotta cheese and maple syrup, they become creamy and sweet. With an easy-to-follow recipe, the pancakes can be made in just 25 minutes, making them perfect for a leisurely weekend breakfast, dessert or a special brunch.
Chocolate, bananas, and blueberries lovers are guaranteed to enjoy these pancakes.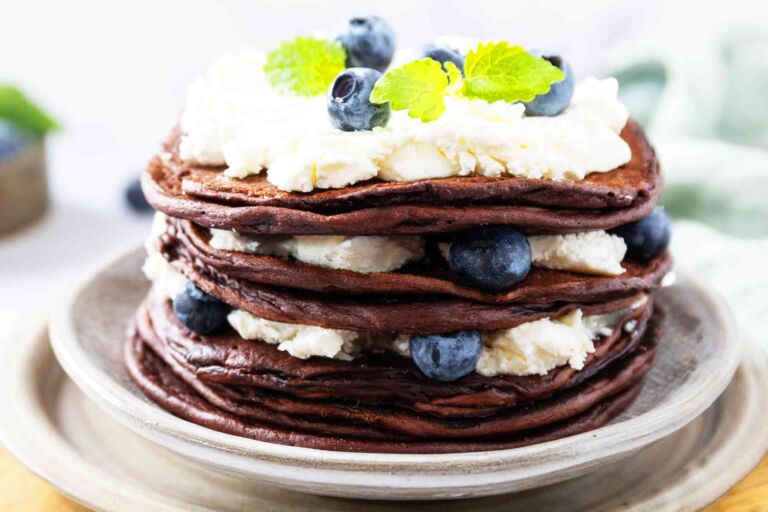 Banana Chocolate Pancakes Recipe
| Prep time | Cook Time | Rest Time | Total Time |
| --- | --- | --- | --- |
| 10 min | 15 min | - | 25 min |
Servings: 2 person
Calories: 410kcal
The origin and history of banana chocolate pancakes
with blueberries and ricotta are not clear as this combination is a modern variation of traditional pancake recipes.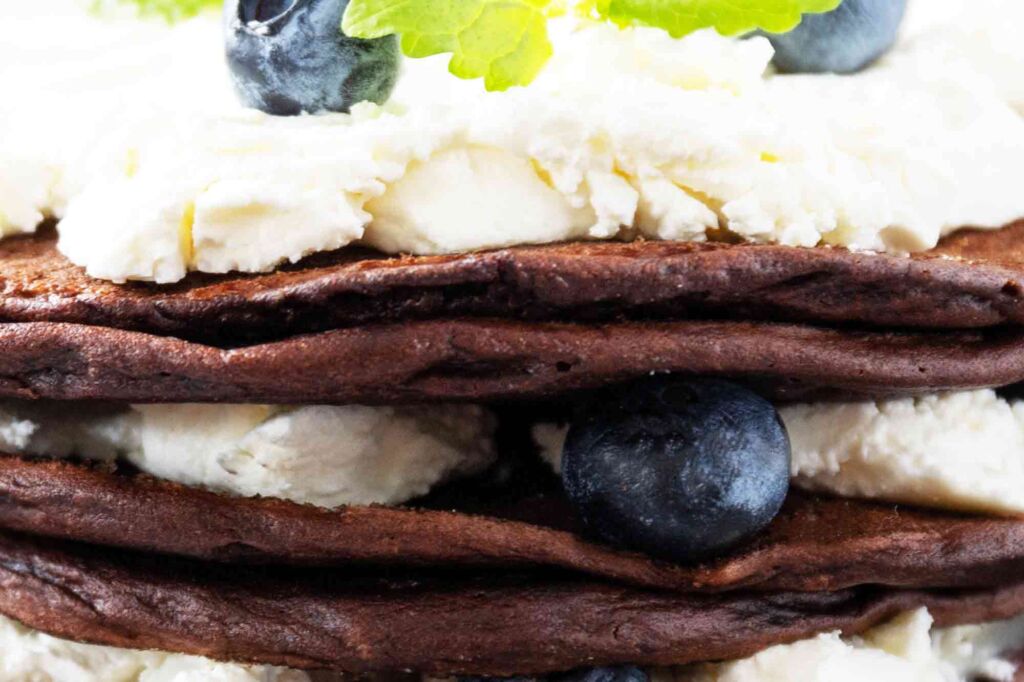 Pancakes have been a popular breakfast dish for centuries, tracing back to ancient civilizations like the Greeks and Romans who made a similar dish called "tiganites."
Bananas are commonly used in Caribbean cuisine and are believed to have been incorporated into pancake recipes there.
The popularity of chocolate as a flavor has also contributed to the rise of chocolate pancakes in recent times. Blueberries and ricotta cheese are frequently used as pancake toppings, adding a sweet and creamy dimension to the dish.
Combining all of these ingredients has become a trend in modern breakfast cuisine, resulting in a mouth-watering dish.
Instructions
In a medium bowl, whisk together the mashed banana and egg until well combined.

In a separate bowl, whisk together the flour, cocoa powder, sugar, baking powder, and salt.

Add the dry ingredients to the banana mixture, along with the milk and vanilla extract. Stir until just combined. Do not overmix.

Gently fold in the blueberries.

Heat a nonstick pan or griddle over medium heat. Add a scoop of batter for each pancake, and cook for about 2-3 minutes on each side, until cooked through.

Serve the pancakes with a dollop of ricotta cheese, blueberries and a drizzle of maple syrup.

Enjoy, Good Appetite!