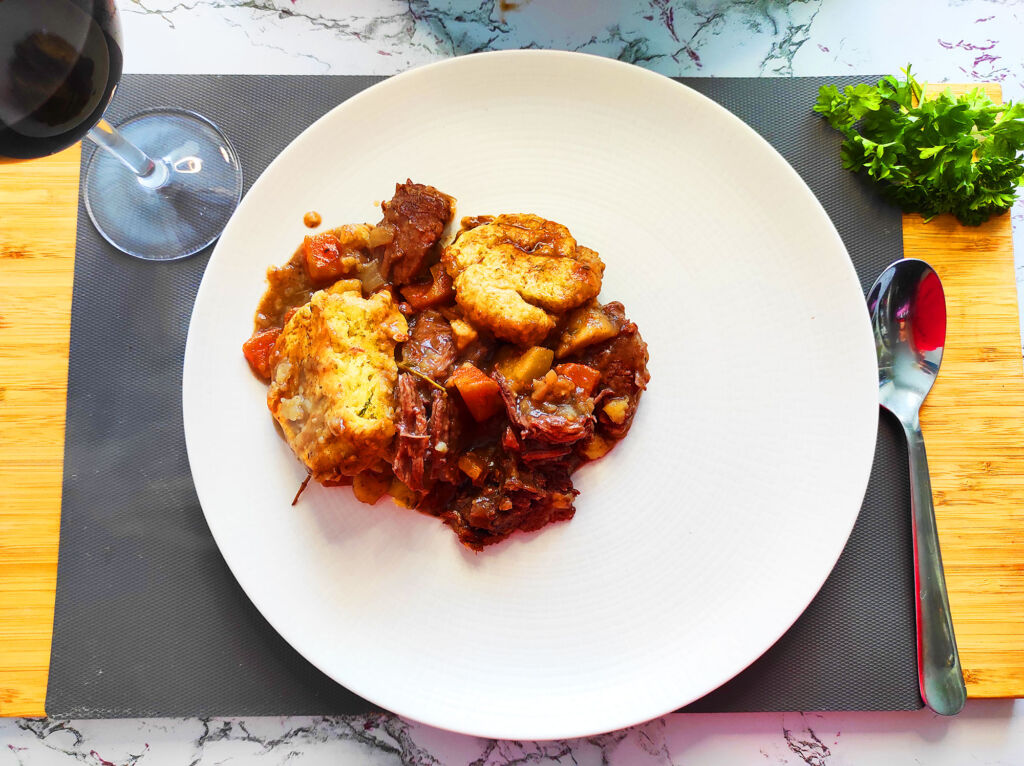 Jump to video
Jump to recipe
Beef Stew Recipe With Cheesy Dumplings (Video)
This is a stew made rich and dark as sin with stout, but it's the cheese dumplings that take it to the next level.
How to prepare this recipe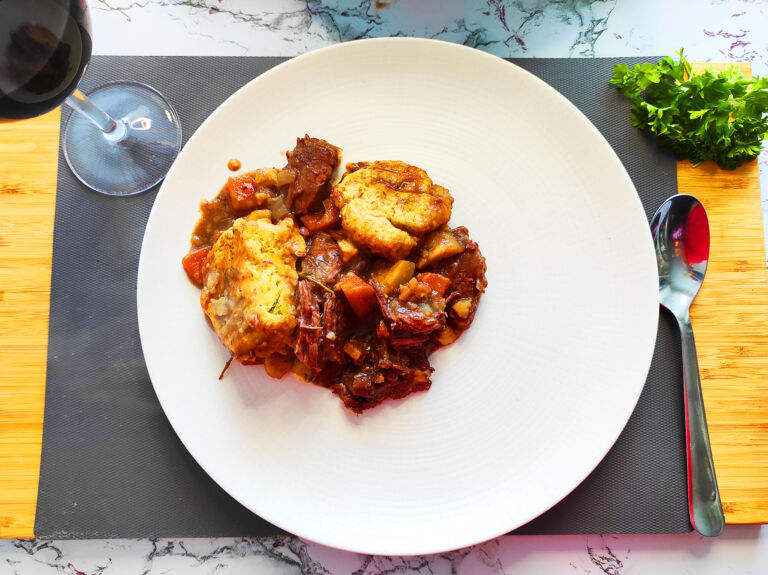 Beef Stew Recipe With Cheesy Dumplings (Video)
| Prep time | Cook Time | Rest Time | Total Time |
| --- | --- | --- | --- |
| 40 min | 150 min | - | 190 min |
Servings: 6 person
Calories: 661kcal
This beef stew recipe is slow cooked to tender perfection, then it's topped off with savoury cheddar dumplings 🙂 You will love it 🙂
Ingredients
For stew
For dumplings
Instructions
Heat a casserole pan over a medium high heat.
Season the flour with salt and pepper.

Cut the beef in 3 large pieces, then toss in to the flour in both sides.
In preheated oil fry the beef until brown on all sides.

After the beed is browned, remove and set aside.
In the same pan add the chopped onion, carrot, garlic and thyme.
Sauté for 5-6 minutes, until softened.

Add the beef stock, wine, then season with salt and pepper.

Add the beef , cover and put in 180 °C  (350 °F) oven for 2.5 hours.

When the meat is almost cooked, make the dumplings.
Put the flour, parsley, butter in a large bowl, and the cheddar.

Season with salt and pepper, and add the milk.
Knead, then divide the dough in 8 equal parts. Make the round shape dumplings.

Take the casserole out from oven, and shred the beef a little, and stir through the sauce.

Place the dumplings on top, leaving a little gap between each.
Cover and place in oven for another 30 minutes.

After 30 minutes remove the lid, and place back in oven for another 15 minutes.

Enjoy! Good Appetite!