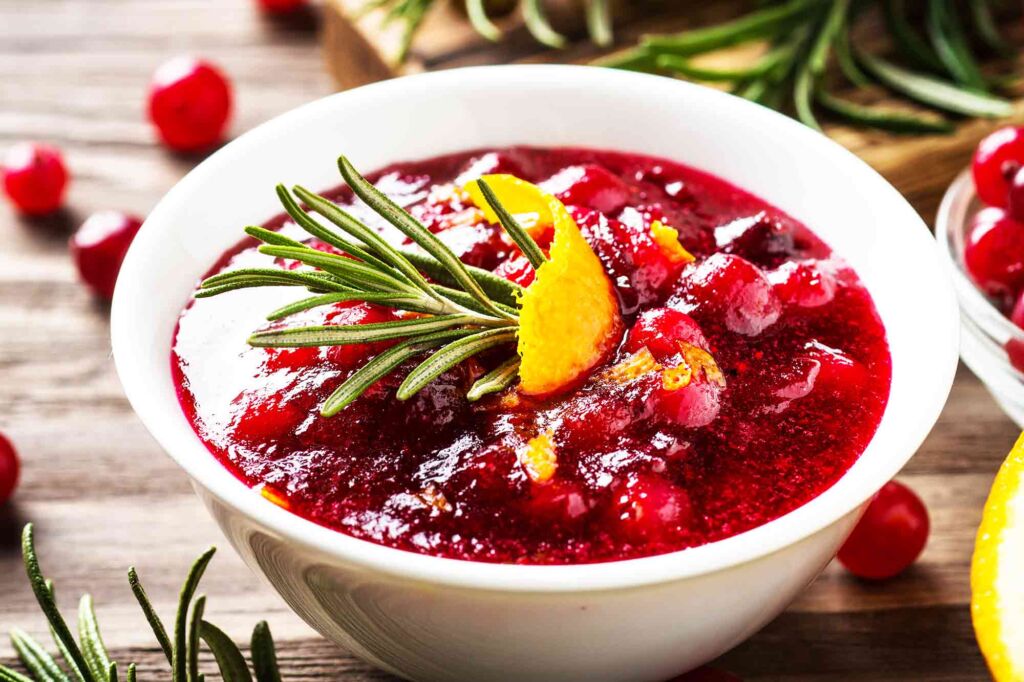 Jump to recipe
Best Recipe for Homemade Cranberry Sauce
This classic homemade cranberry sauce it's a must-have for Thanksgiving dinner and can be made in 20 minutes using fresh or frozen cranberries.
One of my favorite fall and winter sauces is this Homemade Cranberry Sauce. It is the ideal holiday sauce for family and friends. It can be made from fresh or frozen cranberries just needs to be cooked with sugar and orange juice.
Also it's the ideal cranberry sauce for your Christmas and Thanksgiving dinners.
Every Thanksgiving dinner needs a few basic dishes, and of course a side of sweet cranberry sauce what is a must-have for any turkey or ham dish. This cranberry sauce, in our opinion of course, will give your holiday feast a huge, powerful flavor. If all else fails, you can never go wrong with our traditional Homemade Cranberry Sauce, it always outperforms canned versions.
Enjoy it with your turkey on Thanksgiving and save the leftovers to make a delicious sandwich spread. The combination of turkey, chicken, and pork with this cranberry sauce is perfect. Additionally, it tastes excellent on biscuits or toast.
Best Recipe for Homemade Cranberry Sauce
| Prep time | Cook Time | Rest Time | Total Time |
| --- | --- | --- | --- |
| 20 min | 10 min | - | 30 min |
Servings: 4 person
Calories: 58kcal
History of cranberry sauce
The first known cookbook authored by an American, The Art of Cookery by Amelia Simmons, published in 1796 includes a recipe for cranberry sauce.
Although it's possible that the Pilgrims were aware of the wild cranberries that grew in the Massachusetts Bay region, it's improbable that cranberry sauce was one of the dishes offered during the First Thanksgiving supper. 
No authentic sources regarding the First Thanksgiving feast mention cranberries. The only items described are venison, waterfowl, wild turkey, and "Indian corn." 
The rest is still up for debate among food historians. Stuffings were a frequent manner to prepare birds for the table in the 17th century, despite the fact that they are not referenced in early sources.
In Hanson, Massachusetts, cranberry sauce was first made available to customers in North America in 1912. In 1941, canned cranberry sauce entered the market, enabling year-round sales of the product. Turkey, pork, chicken, and ham are just a few of the meats that can be paired with cranberry sauce.
In the United Kingdom and Canada, cranberry sauce is often consumed with turkey during Christmas or Thanksgiving, and it is rarely consumed or served in other settings there.
Instructions
Put the sugar and orange juice into a pan and bring it to the boil. 

Stir in the cranberries, either fresh or frozen, and simmer until gets tender but still keeping their shape. This will take around 10 minutes for fresh and 5 minutes for frozen cranberries.

As it cools, the sauce will get thicker. 

Will last a week in the refrigerator.

Bring to room temperature the day of serving.

Enjoy, Good Appetite!