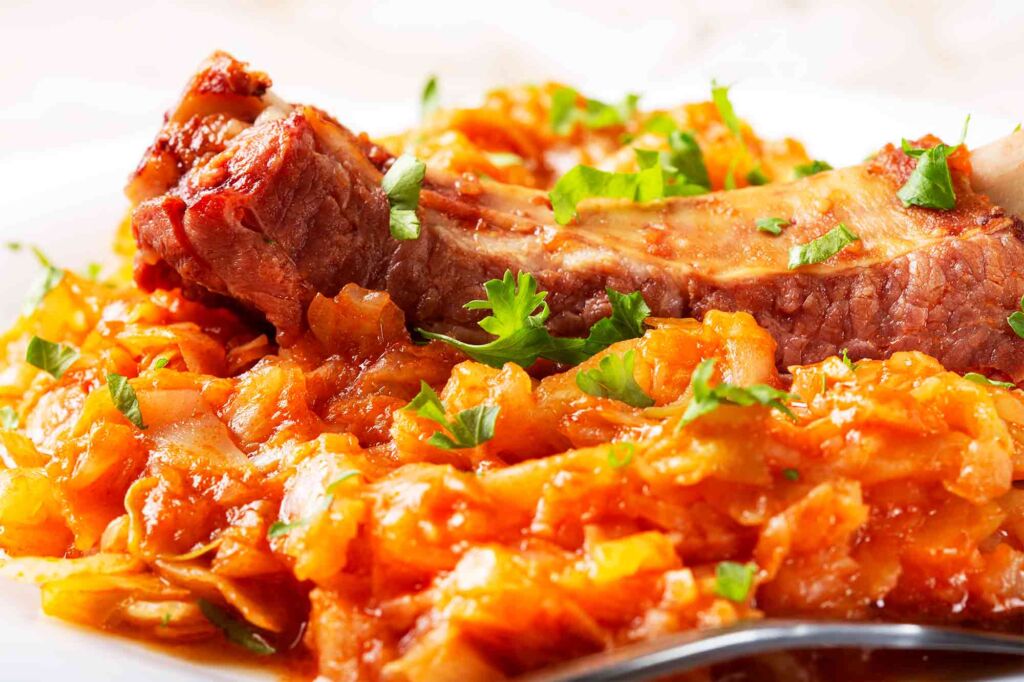 Jump to recipe
Cabbage Stew With Smoked Pork Ribs
Warm up with this comforting slow cooker cabbage stew with smoked pork ribs. Tender meat and rich flavors in every bite. Perfect comfort food.
This slow cooker cabbage stew with smoked pork ribs is the perfect comfort food for a chilly day. The tender and juicy pork ribs are slow-cooked with savory vegetables, such as cabbage and onions, creating a rich and flavorful stew.
The smoky flavor of the pork ribs complements the hearty and comforting taste of the stew. This dish is easy to prepare, simply throw all the ingredients in the slow cooker and let it simmer for a few hours.
It's perfect for a cozy weeknight dinner or a family gathering. Serve with some crusty bread or mashed potatoes for a complete meal.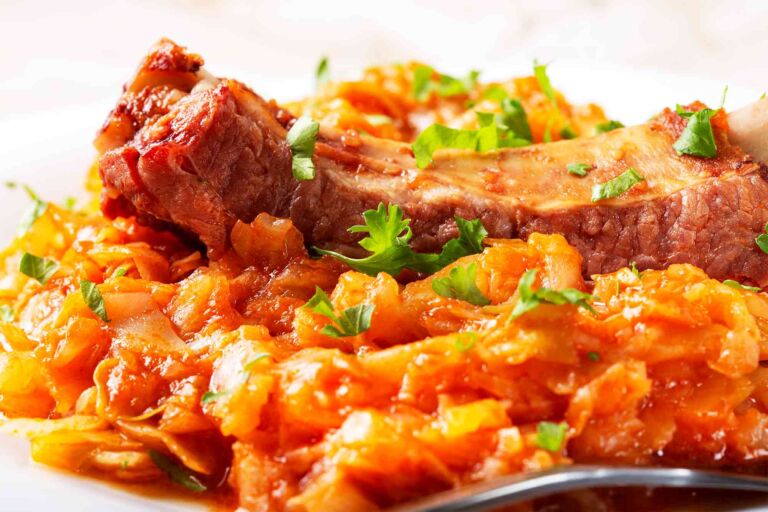 Cabbage Stew With Smoked Pork Ribs
| Prep time | Cook Time | Rest Time | Total Time |
| --- | --- | --- | --- |
| 20 min | 360 min | - | 380 min |
Servings: 6 person
Calories: 482kcal
The history and origin of cabbage stew with smoked pork ribs
is uncertain, as the dish is a combination of different traditional recipes that have been around for centuries. The use of a slow cooker to prepare stews and braises has been popular in many cultures for a long time.
It allows for the flavors to meld together and the meat to cook slowly, resulting in a tender and flavorful dish.
Cabbage stew is a popular dish in many cultures, particularly in Europe, where it is often made with bacon or pork. The use of smoked pork ribs to this traditional dish is a modern variation that adds a smoky flavor to the stew.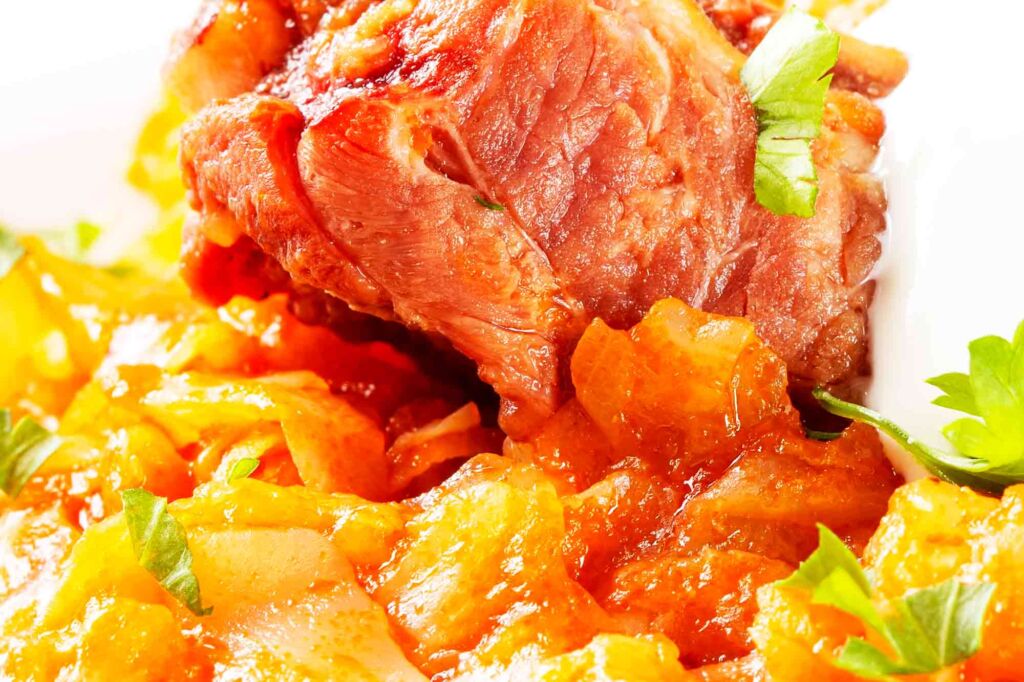 Smoking meat has been a traditional method of preserving meat for centuries, and it is still widely used today to add flavor and texture to meat dishes.
In this recipe, the smoked pork ribs add a smoky flavor to the stew and make it more delicious.
It's likely that the dish has been created in the last century as combination of traditional European recipes, that have been modified to suit modern tastes and cooking methods.
Instructions
In a large skillet,

heat the olive oil over medium heat.

Add the onions and garlic and cook for 2-3 minutes or until softened.

Add the smoked pork ribs and cook for 3-4 minutes per side, until browned.

In a slow cooker, combine the pork ribs, onions and garlic, cabbage, carrots, beef broth, red wine, thyme, salt and pepper.

Cover and cook on low for 6-8 hours or on high for 3-4 hours, until the pork ribs are tender and the vegetables are cooked through.

Remove the pork ribs from the stew and shred the meat off the bones.

Discard the bones and return the meat to the slow cooker.

Stir the meat back into the stew and let it cook for an additional 10-15 minutes.

Serve with bread and sour cream.

Enjoy, Good Appetite!