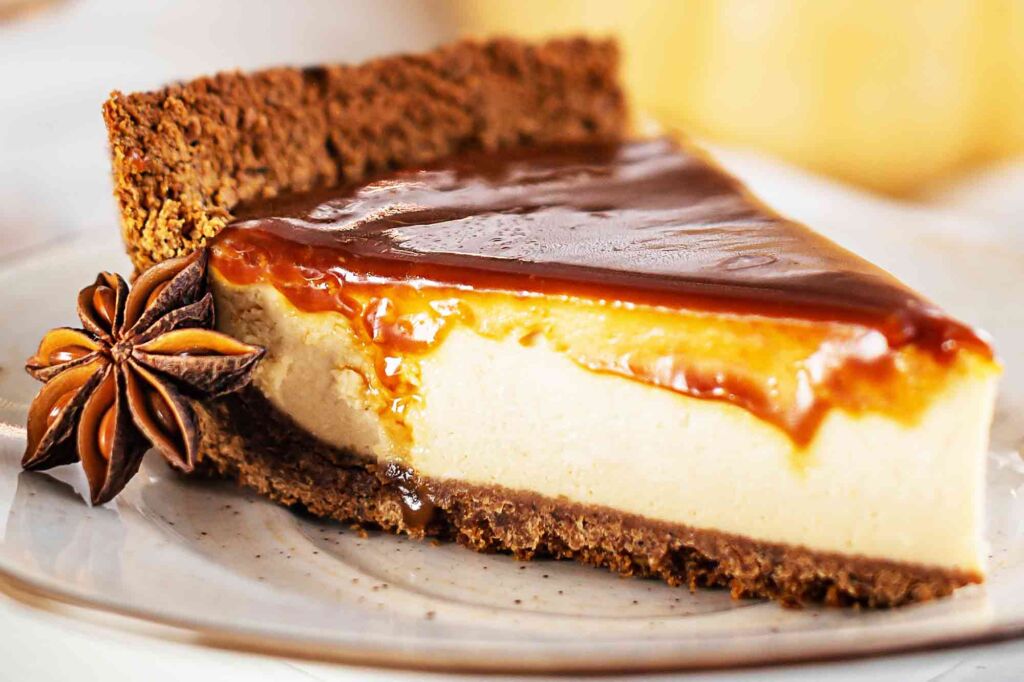 Jump to recipe
Caramel Cheesecake Recipe
Experience the ultimate indulgence with this rich and creamy caramel cheesecake. Topped with a gooey caramel sauce and surrounded by a buttery graham cracker crust, this cheesecake is the perfect dessert for any caramel lover.
There's nothing quite like a creamy, rich, and indulgent caramel cheesecake to satisfy your sweet tooth. This classic dessert features a smooth and creamy cheesecake filling, topped with a gooey caramel sauce and surrounded by a buttery graham cracker crust.
Whether you're hosting a party or just looking for a special treat to enjoy at home, this caramel cheesecake is sure to be a hit.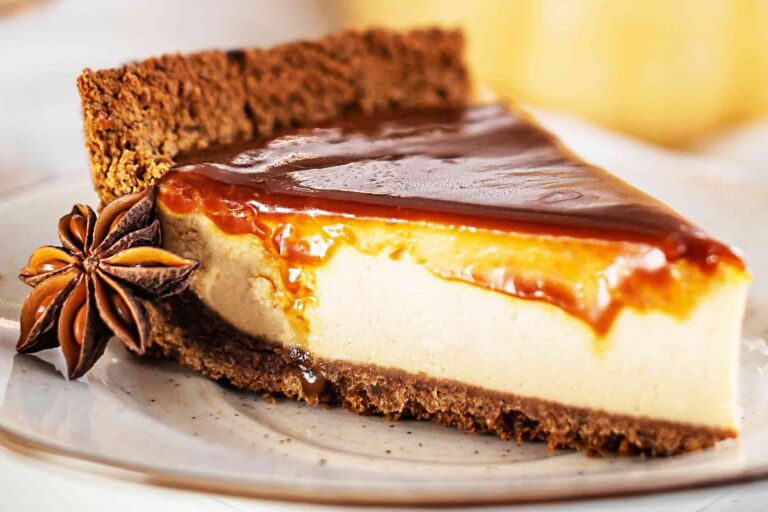 Caramel Cheesecake Recipe
| Prep time | Cook Time | Rest Time | Total Time |
| --- | --- | --- | --- |
| 20 min | 75 min | - | 95 min |
Servings: 12 person
Calories: 495kcal
A Little Caramel Cheesecake History
Cheesecake has been enjoyed for centuries, with early versions dating back to ancient Greece. These early cheesecakes were made with a mixture of cheese, honey, and flour and were enjoyed as a savory snack rather than a sweet dessert. Over time, cheesecake evolved to become the sweet and creamy dessert that we know and love today, with various flavors and toppings being developed.
It is difficult to determine the exact history of cheesecake, as it likely developed more recently as a variation on the traditional cheesecake recipe. Caramel, a confection made from melted sugar and butter, has been enjoyed for centuries and has been used as a topping for a variety of desserts, including cakes. It is likely that this cake was developed as a way to combine the creamy and rich flavor of cheesecake with the sweet and indulgent taste of caramel.
Regardless of its exact history, cheesecake has become a popular and beloved dessert that is enjoyed by many people around the world.
Instructions
To make the crust for Caramel Cheesecake

Preheat your oven to 180°C (350°F).

In a medium bowl, mix together the graham cracker crumbs, 50g (1.8 oz) of the sugar, and the melted butter.

Press the mixture into the bottom of a 9-inch springform pan.

To make the filling

In a large bowl, beat the cream cheese, 150g (5.3 oz) of the sugar, and the eggs until smooth and creamy.

Stir in 85g (3 oz) of the caramel sauce.

Pour the mixture into the prepared crust and smooth the top.

Bake the cheesecake for 1 hour 15 minutes, or until it is set.

Allow the cheesecake to cool, then refrigerate it until chilled.

To serve the Caramel Cheesecake

Top the cake with additional caramel sauce, if desired.

Slice the cheesecake into wedges and serve.

Enjoy, Good Appetite!