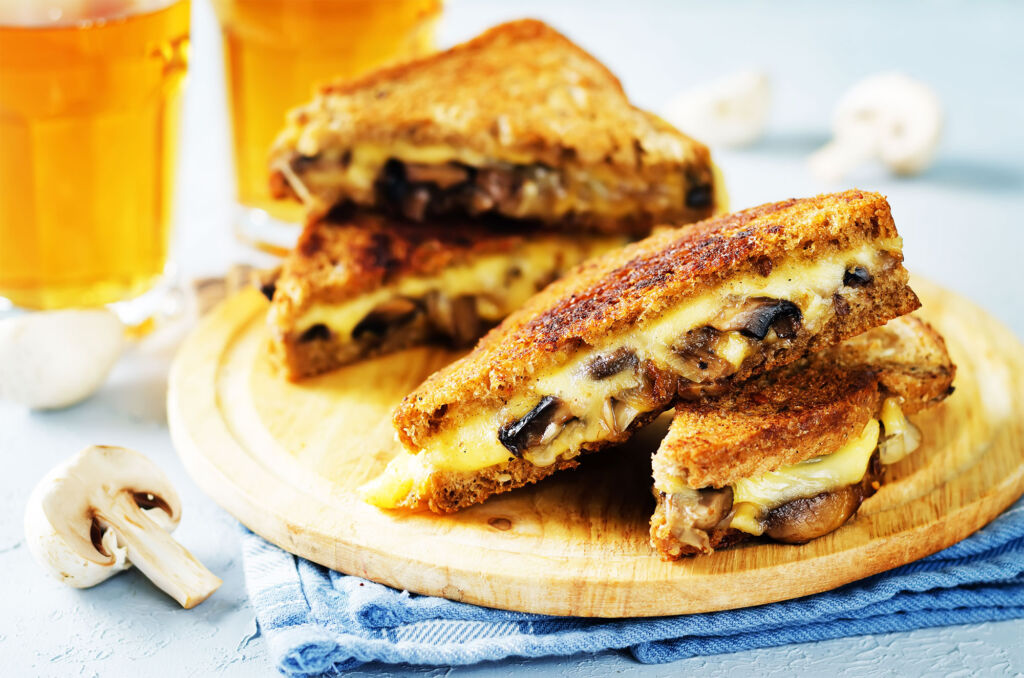 Jump to video
Jump to recipe
Cheesy Mushroom Sandwich Recipe (Video)
This warm meatless sandwich with mushrooms and cheese often got me out of trouble when I had unannounced guests or when I simply wanted to offer a warm and tasty breakfast to my family.
How to prepare this recipe
This fried sandwiches are quick and easy to prepare. We orient ourselves according to what we have in the fridge and we find 1-2-3 suitable combinations.
This time we had mushroom, cheese and butter.
As a child I was used to these warm sandwiches (with mushrooms, cheese, ham, tomatoes, etc.) that my mother made – not very often, unfortunately.
Very good, especially this one with mushrooms and cheese!
Then we bought the sandwich press – sandwich maker, contact grill, and we changed the technological process of hot sandwiches.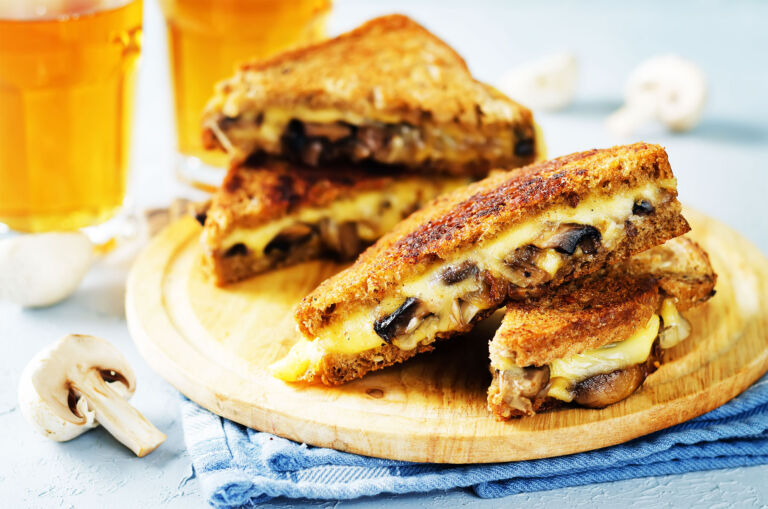 Cheesy Mushroom Sandwich Recipe (Video)
| Prep time | Cook Time | Rest Time | Total Time |
| --- | --- | --- | --- |
| 15 min | 20 min | - | 35 min |
Servings: 2 person
Calories: 357kcal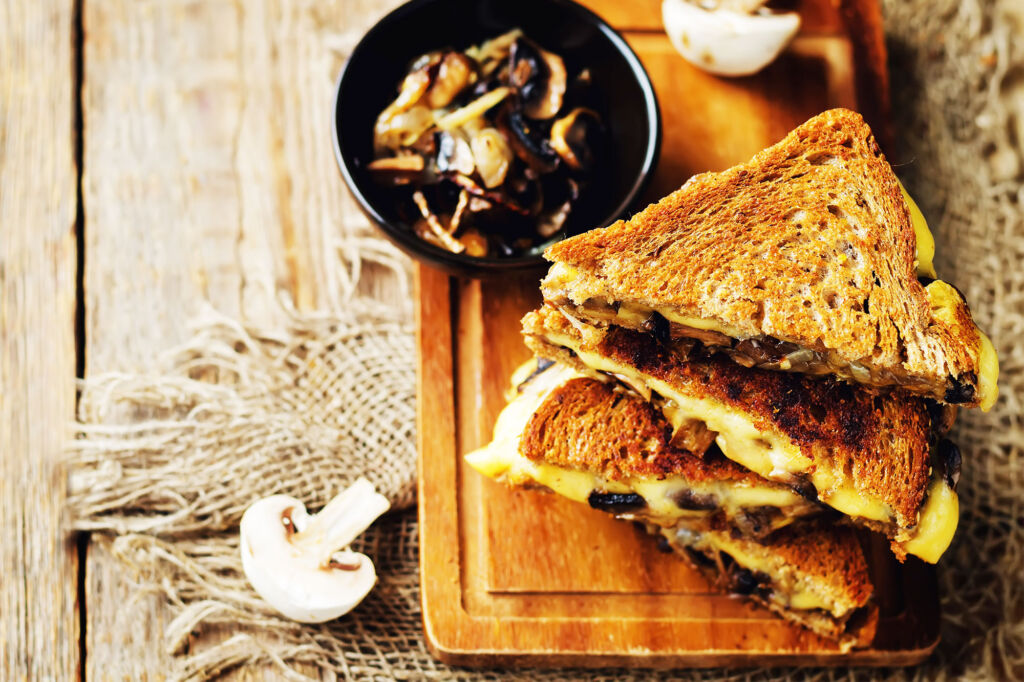 There are certain weekend afternoons when all I want is to sit on the couch. To read a book or watch a movie. And don't waste too much time cooking. For such moments, this warm sandwich was invented.
Because it's simple and very tasty.
It is based on only four ingredients: bread, mushroom, cheese and butter.
In addition, almost anything found in the refrigerator can successfully land in such a sandwich. With very few exceptions (such as this one, in which I previously fried onions and mushrooms), a warm mushroom and cheese sandwich is prepared in a maximum of 10 minutes. And it is eaten in less than 5.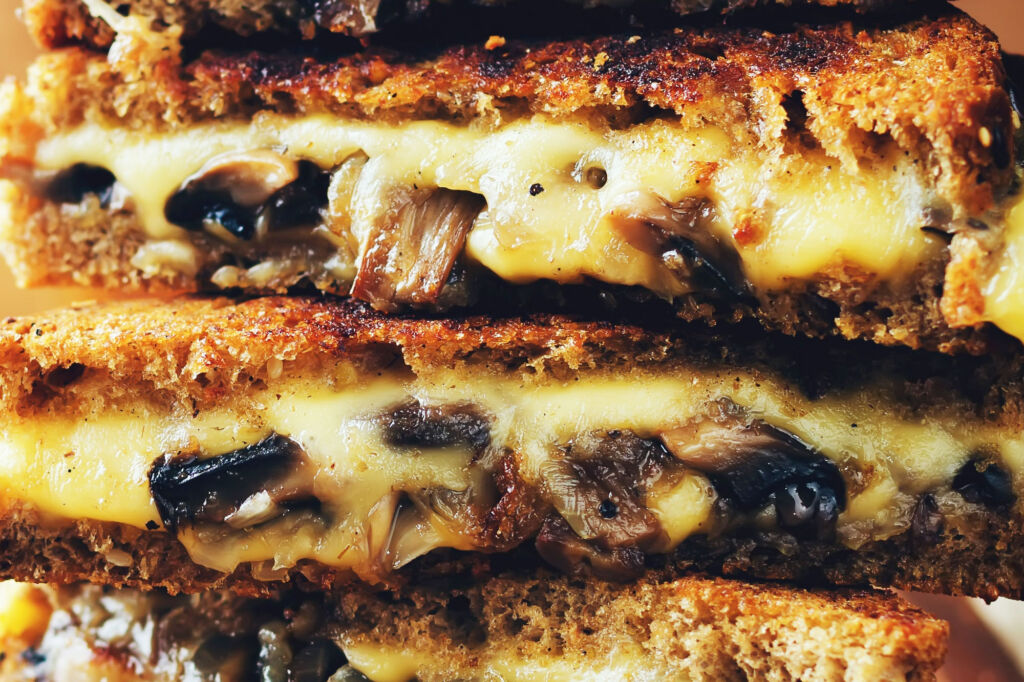 Instructions
Slice the mushrooms and place them in a frying pan with no oil.

Sauté the mushroom on medium high heat.

Peel and fine chop the onion and add to mushroom.

Add butter, the onion, thyme and garlic.
Season with salt.

Toast the bread in the same pan.

Now put together the sandwich.
Place the mushroom mixture on to the 2 bread.

Grate the cheese, and put to the top of the mushroom mixture.

Cover with the other 2 slice of bread. Press gently.
Spread the bread with butter, and fry the sandwich in a pan on both sides.

Serve by itself or with fresh salad.

Enjoy, Good Appetite!