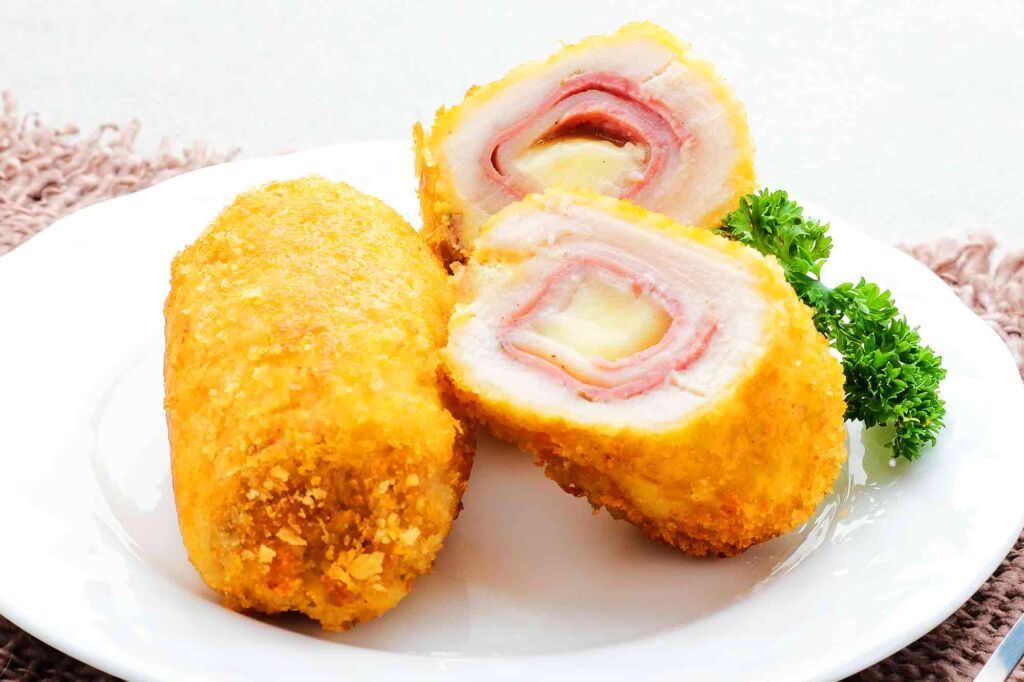 Jump to recipe
Chicken Cordon Bleu Recipe
Chicken Cordon Bleu is a classic French dish consisting of chicken breast stuffed with ham and cheese, breaded and fried or baked to a golden brown. Perfect as a main course or a special occasion dish.
Chicken Cordon Bleu is a classic French dish consisting of chicken breast that is stuffed with ham and cheese, breaded and then fried or baked.
The dish is traditionally made with chicken breast, but it can also be made with veal or pork. The chicken breast is pounded thin and then stuffed with thinly sliced ham and cheese, traditionally Swiss cheese. The stuffed chicken breast is then coated in breadcrumbs and often dipped in egg wash before being fried or baked until golden brown.
The dish is often served with a sauce, such as a bechamel or a mustard sauce.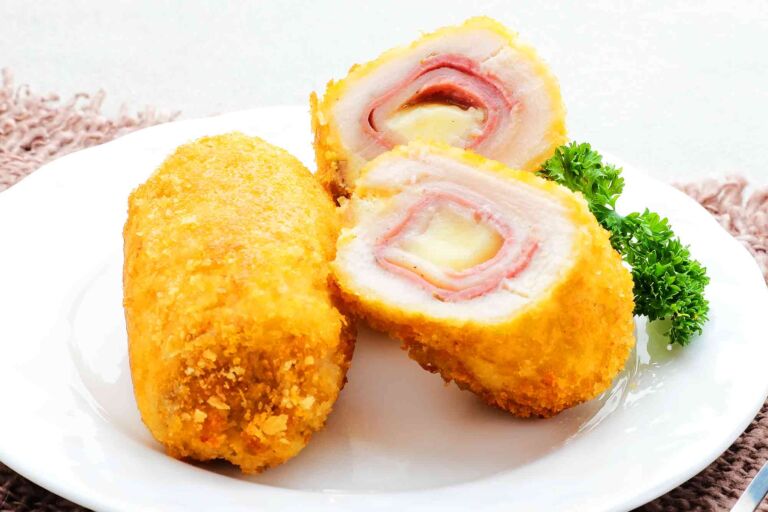 Chicken Cordon Bleu Recipe
| Prep time | Cook Time | Rest Time | Total Time |
| --- | --- | --- | --- |
| 30 min | 30 min | - | 60 min |
Servings: 4 person
Calories: 540kcal
The history of Chicken Cordon Bleu
is somewhat unclear, but it is believed to have originated in France in the 1950s. The dish gained popularity in the United States in the 1960's and 1970's.
The name "Cordon Bleu" is derived from the French "blue ribbon" and it is said to have originated from the French culinary school Le Cordon Bleu. The school has been teaching the art of French cooking since 1895, but it is not clear if the dish was actually created by the school or if it was simply popularized by it.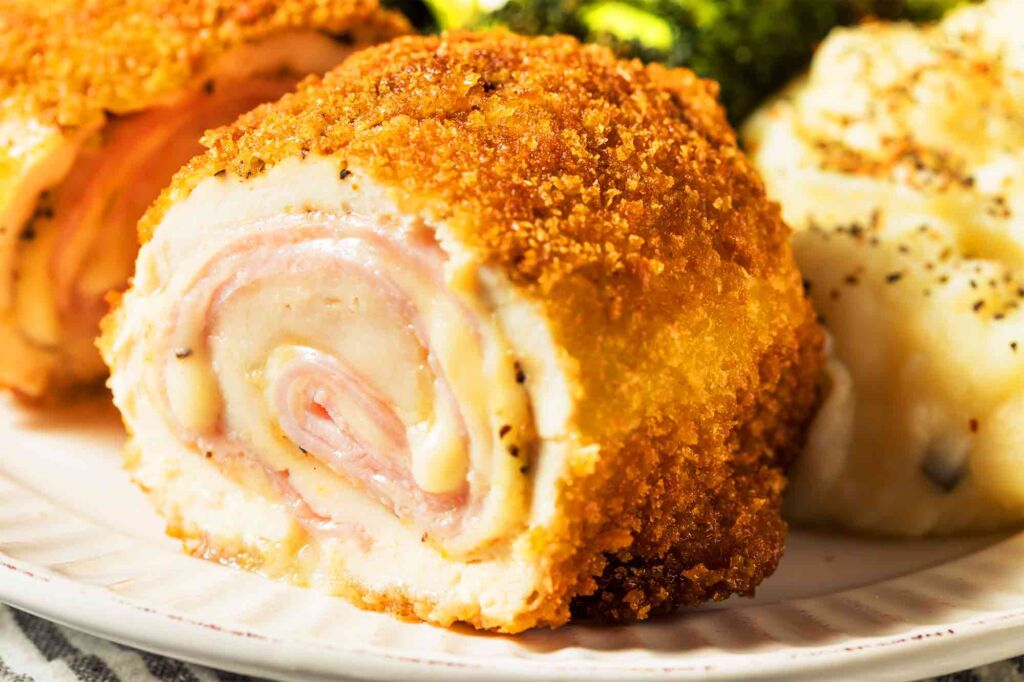 It's believed that the dish was created as a way to use up leftovers, such as ham and cheese, by stuffing them inside a chicken breast and then breading and frying it. It's also said that it's an evolution of the traditional "Schnitzel" which is a thin cut of meat that is breaded and fried.
Nowadays, Chicken Cordon Bleu is a classic dish, often served in restaurants and also made at home, it's considered a special occasion dish and it's enjoyed worldwide.
Instructions
Preheat the oven

to 190°C (375°F) or heat a skillet over medium heat with oil for frying.

Place one chicken breast between two sheets of plastic wrap and pound it with a meat mallet until it is an even thickness.

Repeat with the remaining chicken breasts.

Place a slice of ham and a sprinkle of cheese on top of each chicken breast, leaving a small border around the edges.

Roll up the chicken breast, tucking in the sides, to enclose the filling.

Place the flour, eggs, and breadcrumbs in three separate shallow dishes.

Season the flour and egg with salt and pepper.

Roll each chicken roll in the flour, shaking off any excess. Roll it in the beaten eggs, then roll it in the breadcrumbs, pressing them onto the chicken to adhere.

If baking:

Place the chicken rolls in a baking dish and spray with cooking spray. Bake for 25-30 minutes or until the chicken is cooked through and the breading is golden brown.

If frying:

Heat oil in a skillet over medium-high heat. Fry the chicken rolls for 2-3 minutes per side or until golden brown and cooked through.

Serve with your favourite side dish, salad, spread or sauce.

Enjoy, Good Appetite!