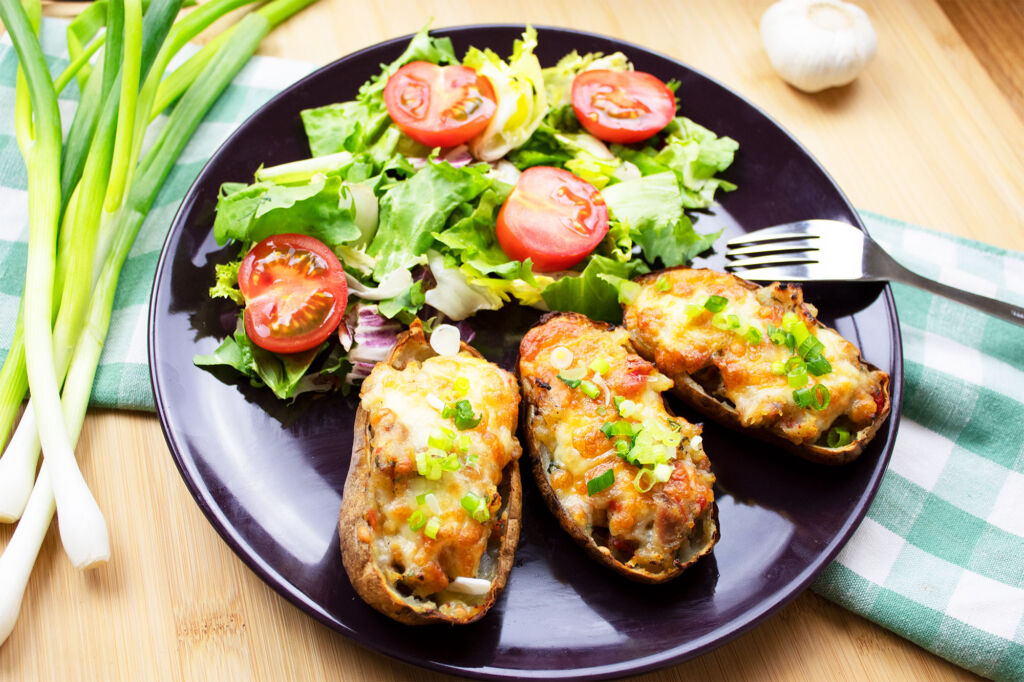 Jump to video
Jump to recipe
Chicken Stuffed Baked Potato Recipe (Video)
We've been making this recipe for years in the family, just by no means to get their turn to post. Otherwise we all adore them and they usually disappear while still warm.
How to prepare this recipe
This Chicken Stuffed Baked Potato recipe it is brilliant to me. These are twice baked potatoes, the first time we bake only the potatoes, then we scoop the interior out of each potato and then we fill them with all kinds of goodies.
Potatoes are extremely loved by everyone and always save us when we want to make something quick to eat.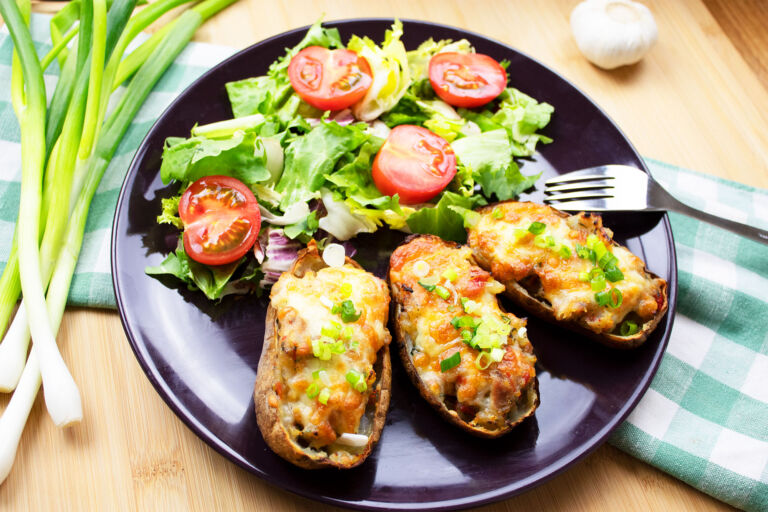 Chicken Stuffed Baked Potato Recipe (Video)
| Prep time | Cook Time | Rest Time | Total Time |
| --- | --- | --- | --- |
| 20 min | 90 min | - | 110 min |
Servings: 4 person
Calories: 417kcal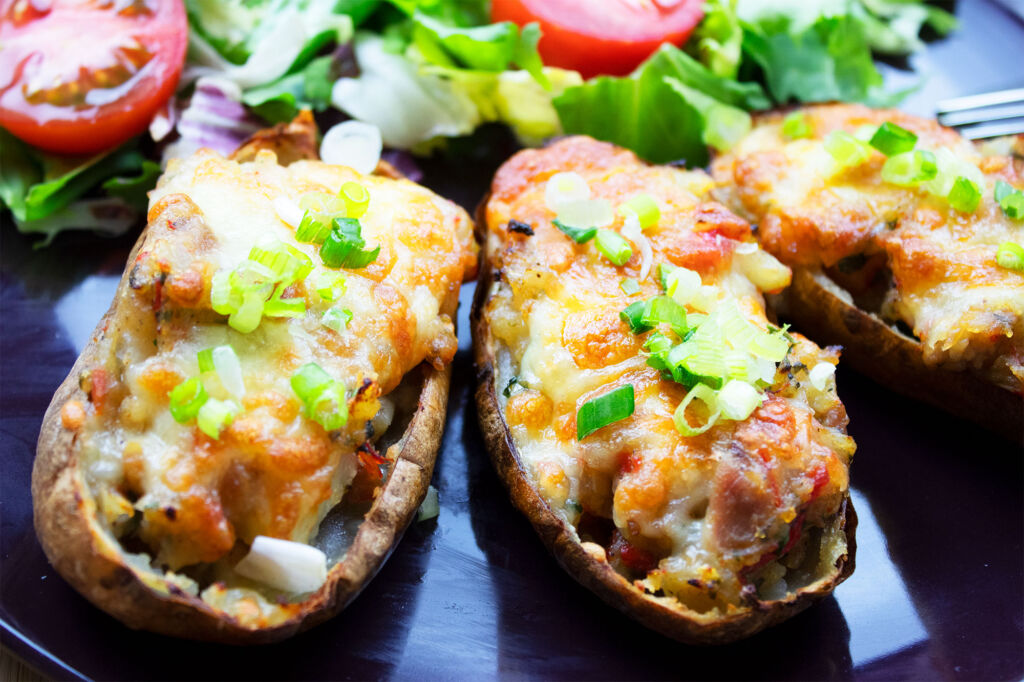 Chicken Stuffed Baked Potato is simply delicious, but mixed with cheese, butter, greens, baked or raw peppers they will be even more delicious. For the baked, stuffed potatoes recipe, choose large, creamy potatoes. Usually I chose white potatoes because I really like baked, and it is really creamy.
The filling choices are endless which makes it great for any season. Serve it right after you take it out of the oven to enjoy its amazing crispy potato shell and flavorful filling alongside your favorite dipping sauce and a fresh salad.
Instructions
Scrub potatoes and place them to a baking tray.

Pierce them with a fork on both sides.

Brush or spray potatoes with oil.

Bake them for 45 minutes in 230°C  (450 °F) preheated oven.

Make the filling for Chicken Stuffed Baked Potato

First, fine chop the onion.

Sauté the onion and minced garlic for about 5 minutes, until soft in olive oil.

Cut chicken is small cubes, and add to the sautéd onion and garlic.
Cut small cubes and add the red bell pepper.
Season with salt and pepper.

Add half of chopped parsley, then cover and cook on medium heat until the chicken is totally cooked.
No need to add water or stock.

Cut the cooked potatoes in half lengthwise.
Scoop off the interior of each half potato, and add to the chicken filling.
Add also the other half of chopped parsley.
Incorporate well, and fill the half potato skins.
Sprinkle the top with the grated cheese.

Bake for 10 to 15 minutes in 250°C  (480 °F) preheated oven, until the top turning to golden brown.
Chop the green onion, and sprinkle the top of the potatoes as you take off from the oven.

Serve with fresh salad, or your favourite side dish or meat or vegetables.

Enjoy, Good Appetite!