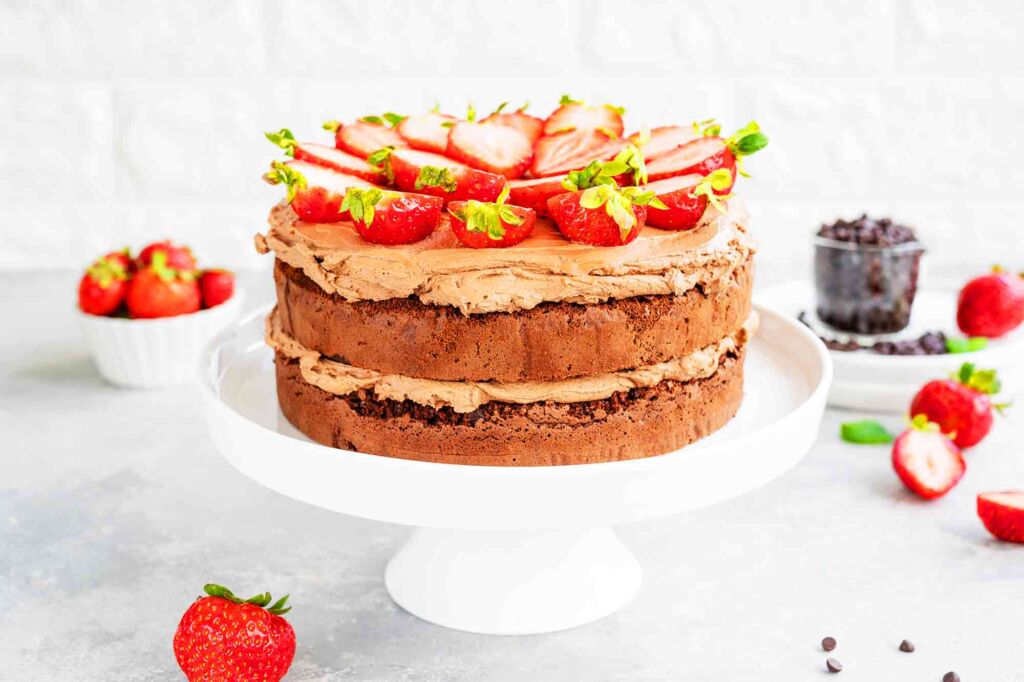 Jump to recipe
Chocolate Cake With Strawberries
Add a pop of color and flavor to your chocolate cake with this recipe that features halved strawberries on top. A moist and delicious cake.
A chocolate cake with strawberries on top is a delicious and visually appealing dessert that is perfect for any occasion. This recipe features a moist and chocolatey cake topped with halved whole strawberries, which add a pop of color and flavor to the dessert.
This chocolate cake with halved whole strawberries on top is a simple yet impressive dessert that is sure to be a hit with any chocolate lover. It is perfect for birthdays, celebrations, or any special occasion.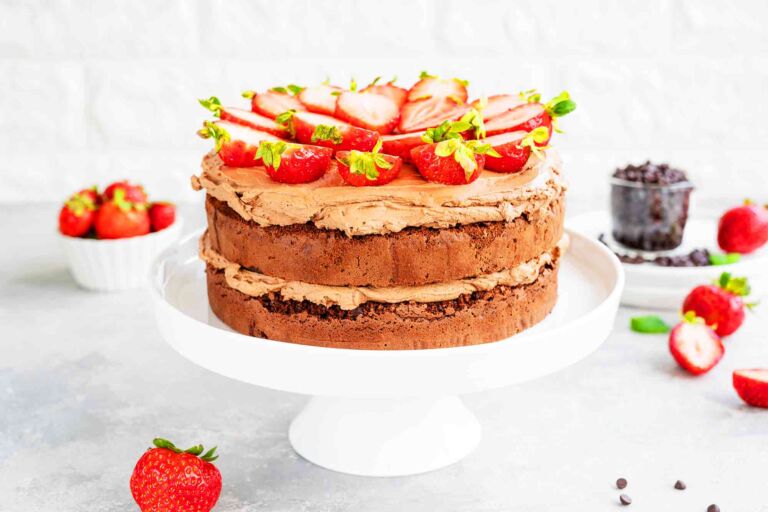 Chocolate Cake With Strawberries
| Prep time | Cook Time | Rest Time | Total Time |
| --- | --- | --- | --- |
| 35 min | 25 min | 20 min | 80 min |
Servings: 12 person
Calories: 470kcal
A Little History of Chocolate Cake
Chocolate cake is a popular dessert that has been enjoyed for centuries. The origins of chocolate cake can be traced back to ancient Mesoamerican civilizations. Chocolate was consumed as a drink made from ground cocoa beans mixed with water and spices.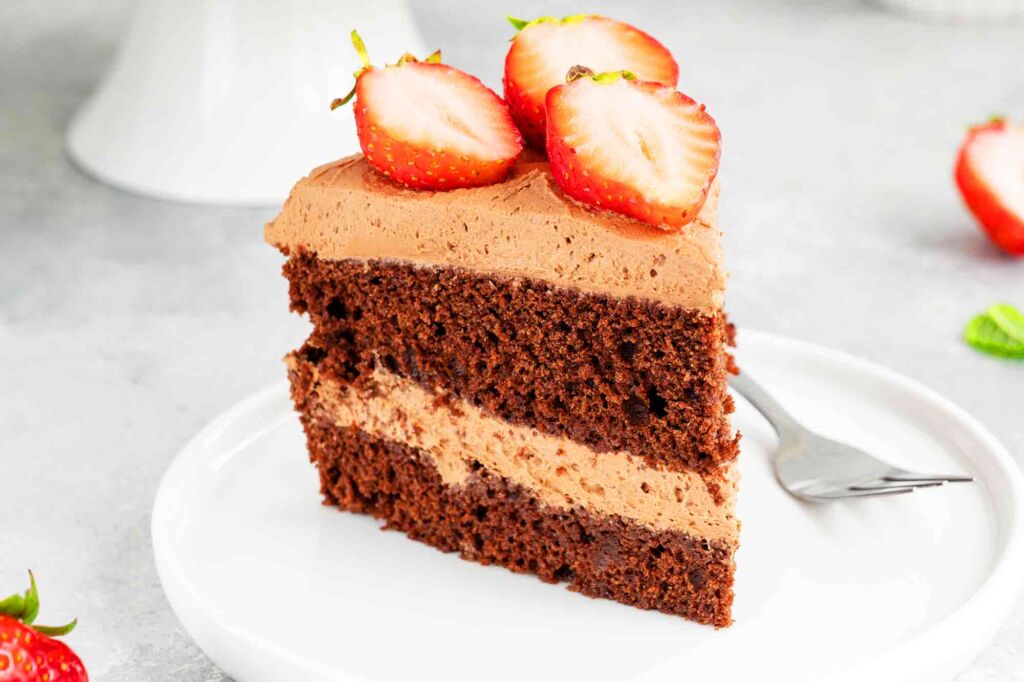 The first recorded recipe for a chocolate cake was published in 1764 by Dr. James Baker. He was one of the first people to manufacture chocolate in the United States.
This recipe called for mixing chocolate with sugar, water, and a small amount of flour to create a chocolate paste, which was then baked in a pie crust.
Over time, chocolate cake recipes have evolved and there are now many variations of the dessert.  It is including chocolate layer cakes, chocolate sponge cakes, and chocolate fudge cakes. Chocolate cake is a popular dessert that is enjoyed all over the world. It is often served at birthdays, celebrations, and other special occasions.
Ingredients
For the chocolate sponge cake
For the chocolate buttercream
Instructions
Make first the sponge

Preheat your oven to 180°C (350°F). Grease and line two 9-inch (23 cm) round cake pans with parchment paper.

In a large bowl, beat the butter and sugar together until light and fluffy. Add the eggs, one at a time, beating well after each addition.

In a separate medium bowl, sift together the flour and cocoa powder. Gradually add the dry ingredients to the wet ingredients, mixing until just combined.

Divide the batter evenly between the prepared cake pans and smooth the tops with a spatula.

Bake the cakes for 25-30 minutes, or until a toothpick inserted into the center comes out clean.

Remove the cakes from the oven and let them cool in the pans for 10 minutes. Then transfer the cakes to a wire rack to cool completely.

To make the chocolate buttercream frosting, beat the butter, icing sugar, and cocoa powder together until smooth. Add enough milk to achieve a spreadable consistency.

Once the cakes are cool, spread a layer of chocolate buttercream frosting on top of each layer, then stack the layers on top of each other.

Cover the top and side (optional) of the cake, and cover with the halved strawberries. Before serving let it chill in the fridge at list one hour.

Enjoy, Good Appetite!