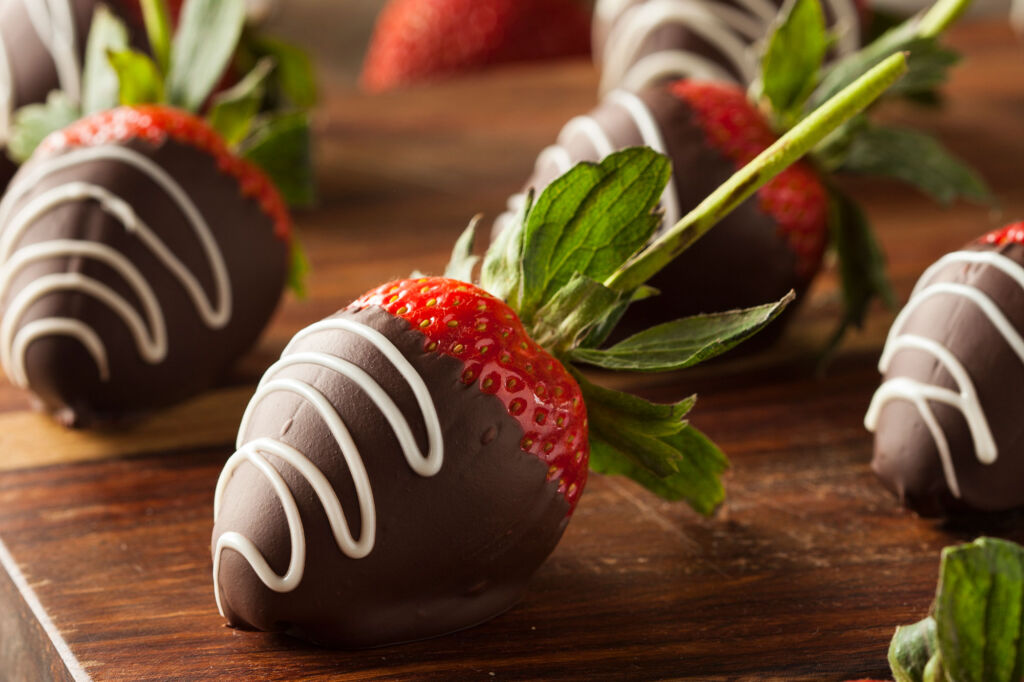 Jump to recipe
Chocolate-Dipped Strawberries
This recipe will show you how to make chocolate-drawn strawberries at home, so you won't have to rely on store-bought ones.
What do you think of fruit that has been dipped in chocolate? And, more specifically, which are your favorites? Mine are chocolate-dipped strawberries, but not store-bought ones, but homemade ones.
I know that most people go with the store option, probably because homemade ones it appears to be the most difficult.
Believe me, not at all, actually it's a piece of cake to make this dessert.
It's a one-of-a-kind dessert that's both simple and refined. As I previously stated, strawberries dipped in chocolate are simple to make, requiring only a few ingredients and little skill.
So I'll show you how simple it is to make, even in your own kitchen, and how inexpensive it is.
I like to make chocolate strawberries for Valentine's Day or a romantic dinner, but they're also great for parties, family gatherings, and when you have guests.
I've always thought of them as a simple dessert, but when I went looking for the recipe for strawberries dipped in chocolate, I discovered that many foodies have reservations about them.
Many people are unsure of how to decorate them, how to store them, or what chocolate to use.
So let's get into the details before making this delicious dessert.
A little history
It was in the 1960's that a lady named Lorraine Lorusso, had an idea. She worked in a small gourmet store in Chicago, called the Stop n' Shop. One day, she dipped some fresh strawberries in chocolate, allowed them to harden and sold them to customers. They were an instant success and started a craze.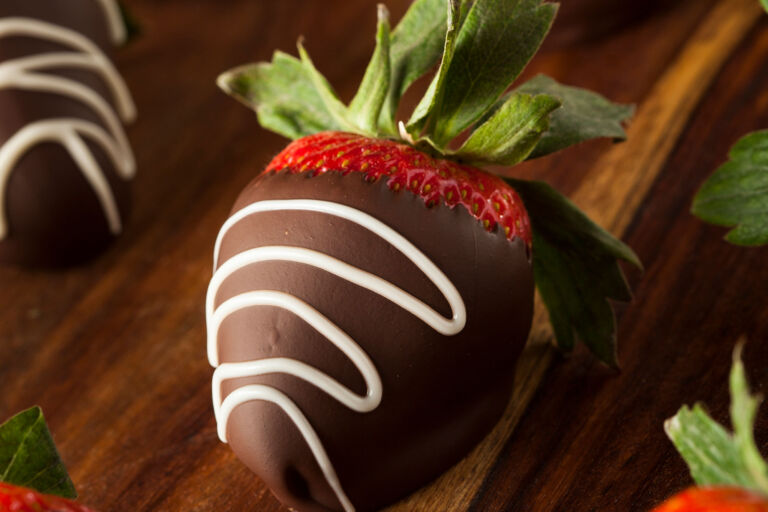 Chocolate-Dipped Strawberries
| Prep time | Cook Time | Rest Time | Total Time |
| --- | --- | --- | --- |
| 10 min | 5 min | 5 min | 20 min |
Servings: 4 person
Calories: 310kcal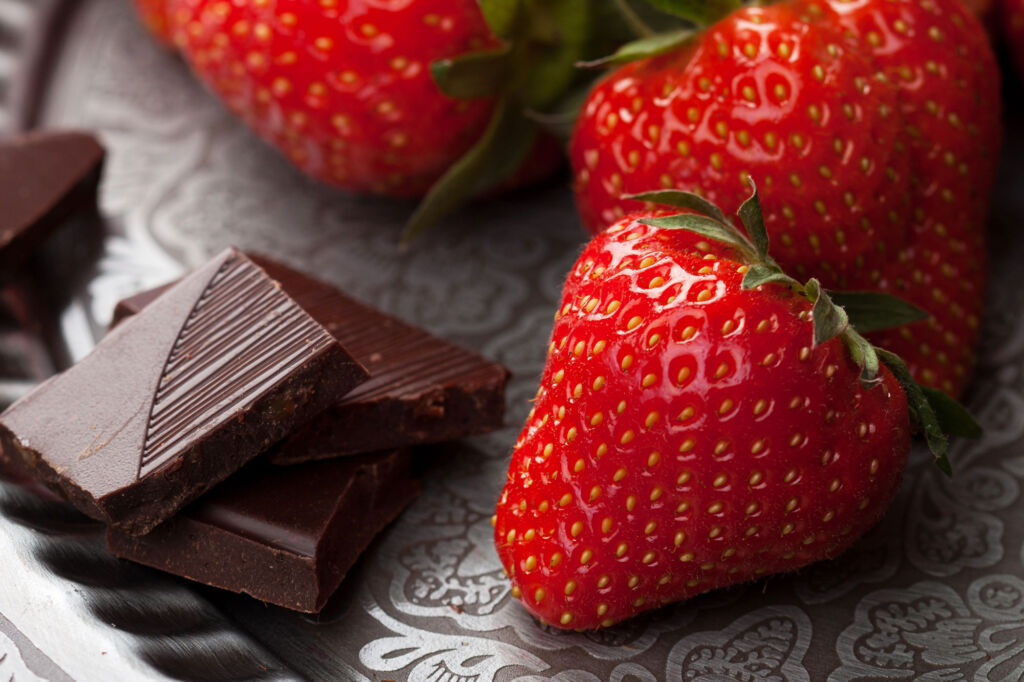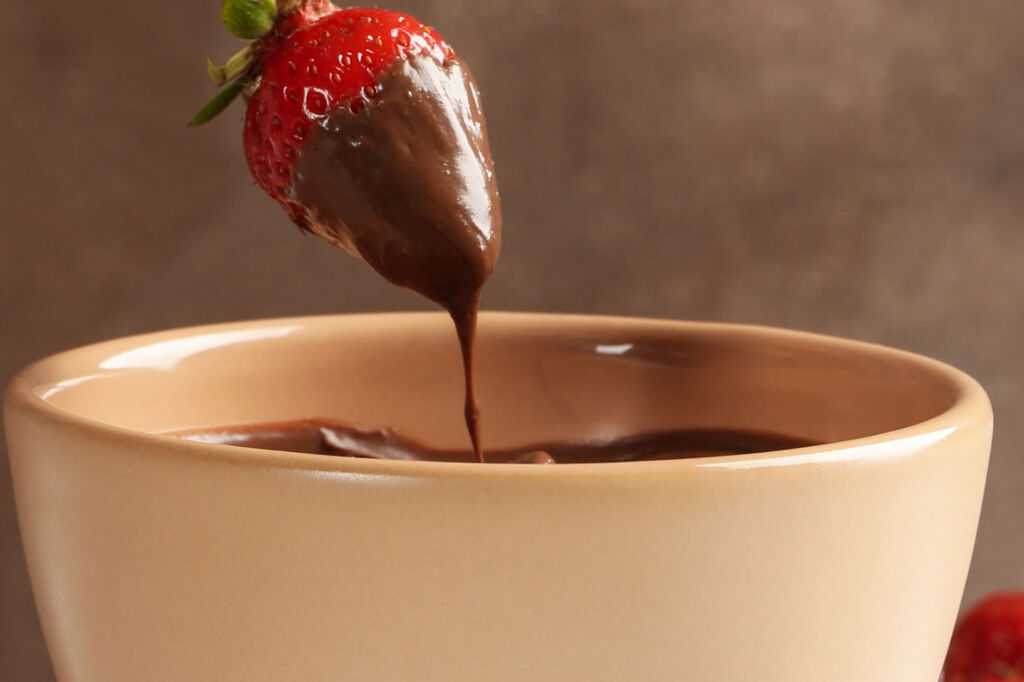 Instructions
Remove a strip of baking parchment and set it aside.

To melt the dark chocolate, fill a small pan with 2cm water and bring to a simmer.

Place the chocolate in a heatproof bowl and place it on top of the pan, making sure the bowl does not touch the water.

Stir the chocolate to melt it gradually.
Alternatively, melt the chocolate in 20-second increments in the microwave, stirring after each one until melted.
Put the melted chocolate in a small deep bowl.

Holding the washed and dried strawberries by the leafy top, gently dip them into the chocolate.

Tap off any excess chocolate and place on parchment paper to set.

If you have any leftover chocolate, pour it onto another strip of parchment and set it aside to cool before using it again.

Melt the white and milk chocolate and drizzle it lightly over the strawberries if you want to decorate them.