Jump to recipe
Classic Mulled Wine Recipe
Worldwide, Mulled wine is known by many names. Usually it is made from red wine, citrus, and spices what are simmered together and then served warm.
Nothing compares to enjoying a warm glass of mulled wine. Even if it tastes nice, taking some time to relax and have a drink is healthy in more ways than one.
Self-care activities serve to ease stress, to support the digestive system, and to lower cortisol levels.
However, you don't have to drink mulled wine by yourself on your couch to reap the psychological and physical rewards. It all comes down to keeping an optimistic outlook.
Mulled wine is a fantastic beverage to provide to guests.
Mulled wine obviously is one of the many joys that the holiday season delivers. Try this recipe if you've never prepared your own to experience how simple and delicious it can be.
With mulling spices, citrus, oak and vanilla notes on the finish, this recipe balances the strong fruity wine with just the right amount of sweetness.
Finally it is a timeless drink for all of your fall and winter gatherings, it is simply awesome!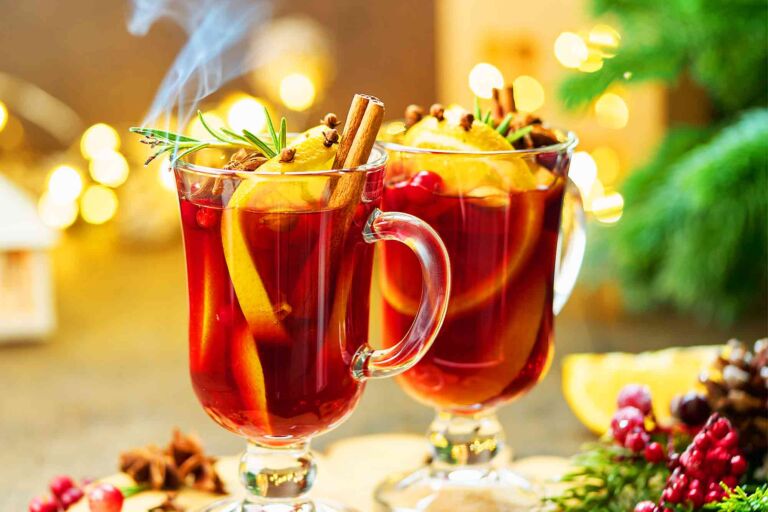 Classic Mulled Wine Recipe
| Prep time | Cook Time | Rest Time | Total Time |
| --- | --- | --- | --- |
| 5 min | 10 min | - | 15 min |
Servings: 6 person
Calories: 210kcal
Origins of Classic Mulled Wine
The comedy Curculio by Plautus, which was composed in the second century BC, contains the earliest mention of the wine being heated and spiced.
Since the Romans crossed Europe, capturing most of it and engaging in trade with the remaining areas. Along with their recipes, the legions carried wine and viticulture up to the Rhine and Danube rivers and to the Scottish border.
Pur fait Ypocras is how the medieval English cookbook The Forme of Cury described making mulled wine: "Grind together cinnamon, ginger, galangal, cloves, long pepper, nutmeg, marjoram, cardamom, and grains of paradise". This is combined with sugar and red wine. The form and quantity unstated.
In several nations, primarily in Europe, before and around the Christmas season, mulled wine is very popular and traditional. It is less common after Christmas. Mulled cider is also served, with a mulled apple juice as a non-alcoholic alternative.
Instructions
Add the wine, spices, and all the ingredients to a saucepan on a medium heat.

Gently stir until the sugar has dissolved.

Leave to simmer for 10 minutes. Avoid bringing it to a boil as this will burn off the alcohol, except if this is the intention.

When you're ready to serve strain while hot into pre-warmed cups.

Add any garnishes you might like. A cinnamon stick and slice of orange or orange peel and a grating of fresh nutmeg is always a winner.

Enjoy, Good Appetite!