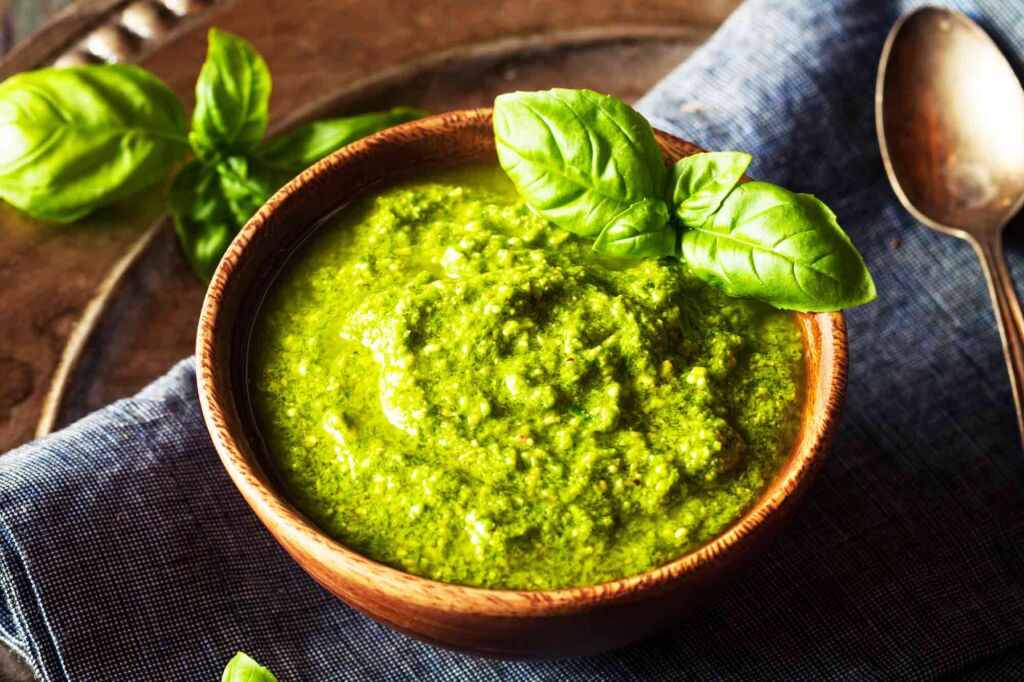 Jump to recipe
Classic Pesto Recipe
Try our classic pesto recipe, made with fresh basil, garlic, pine nuts, Parmesan cheese, and olive oil. Perfect for pasta, sandwiches, and more!
Pesto is a versatile sauce that can be used in a variety of dishes and it is a popular condiment in Mediterranean cuisine. The name "pesto" comes from the Italian word "pestare", which means "to pound" or "to crush" referring to the traditional method of making the sauce, which involves crushing the ingredients together using a mortar and pestle.
Nowadays, pesto is mostly made in a food processor or a blender, making it easier to prepare. The traditional recipe is made with a few simple ingredients and it's a quick and easy way to add a burst of flavor to any dish.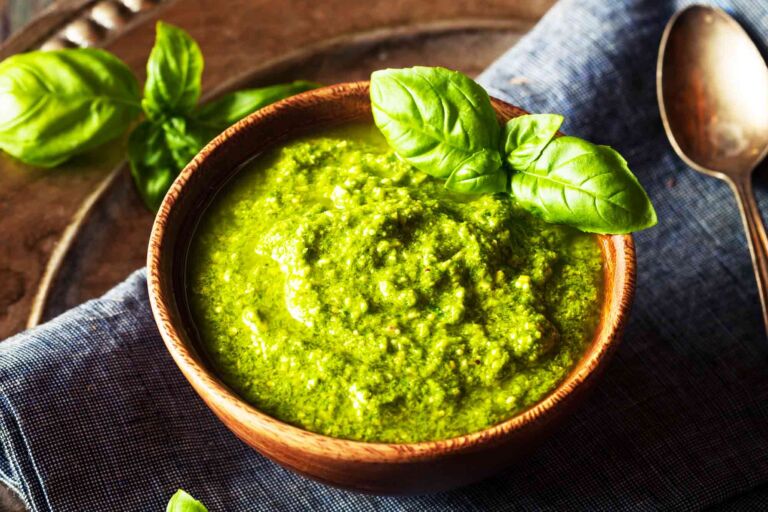 Classic Pesto Recipe
| Prep time | Cook Time | Rest Time | Total Time |
| --- | --- | --- | --- |
| 10 min | | - | 10 min |
Servings: 8 person
Calories: 170kcal
A Little History of Pesto
Pesto is a traditional sauce from the Liguria region of Italy, specifically the city of Genoa. The origins of pesto can be traced back to ancient Roman times, where it was made with a mortar and pestle and served as a condiment for pasta.
The traditional recipe for pesto sauce includes basil, garlic, pine nuts, Parmesan cheese, and olive oil.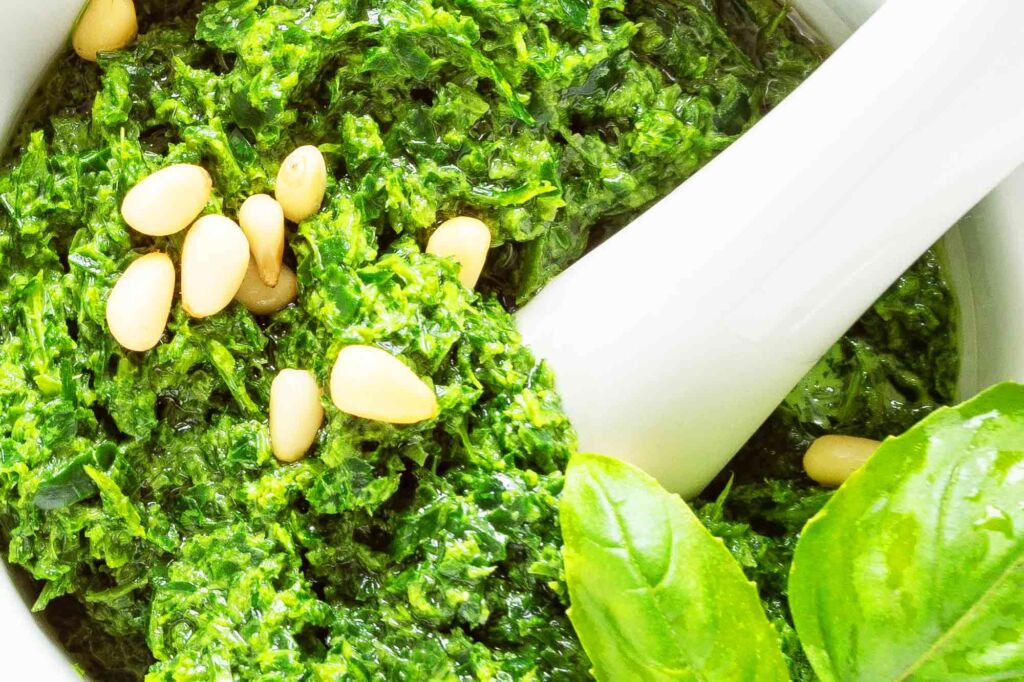 The sauce became popular in the late 19th century and early 20th century, as it started to be exported to other regions in Italy and abroad. Initially, it was mostly enjoyed by the local fishermen and farmers in the Genoa region.
They used it as a sauce for pasta, as well as a condiment for meat and fish.
Pesto reached international fame in the 1980s and 1990s, when Italian cuisine became more popular worldwide, and it gained a reputation as a versatile and flavorful sauce.
Nowadays, pesto is widely used all over the world, and it is one of the most popular Italian condiments.
Pesto has also inspired many variations and adaptations, with different regions and countries adding their own twist to the traditional recipe, using different types of nuts, cheese, and herbs.
However, the classic Genovese pesto remains the most popular and traditional version of the sauce.
Instructions
In a food processor or blender,

add the basil leaves, garlic, pine nuts, Parmesan cheese, and a pinch of salt and pepper.

Pulse until the ingredients are roughly chopped.

With the motor running, slowly pour in the olive oil through the feed tube.

Process until the mixture forms a smooth paste. Taste and adjust seasoning as needed.

Transfer the pesto sauce to a container with a tight-fitting lid and store it in the refrigerator.

It is important to note that pesto is best when made with fresh basil, garlic, pine nuts, and Parmesan cheese.

However, it can be stored in the refrigerator for up to 3 days or in the freezer for up to 3 months.

The color of the pesto may change over time, but it will still retain its flavor.

Enjoy, Good Appetite!