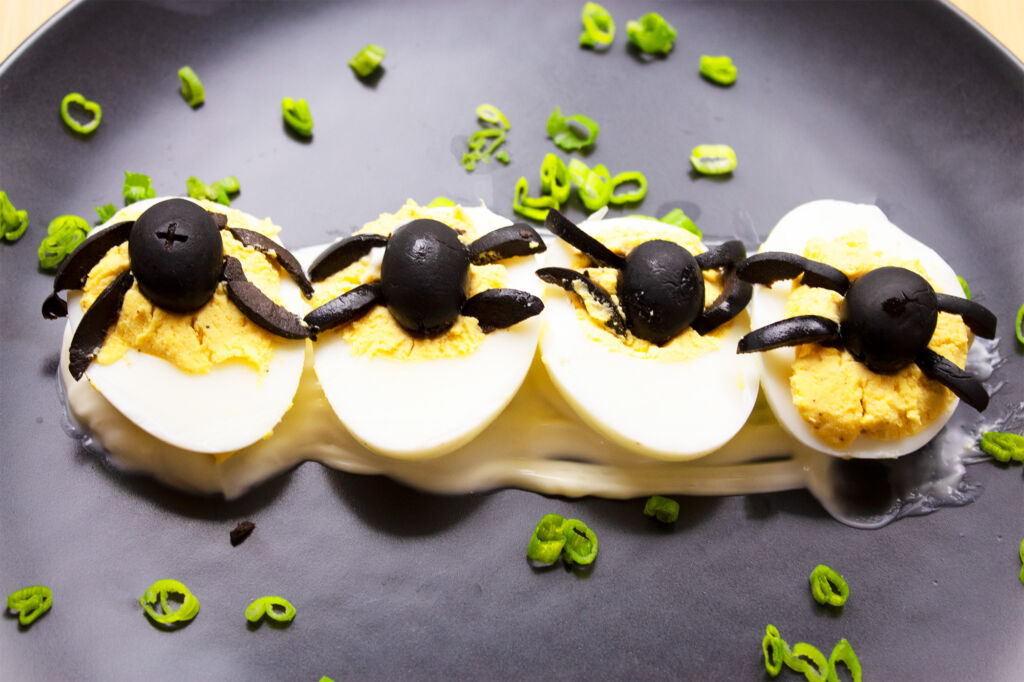 Jump to video
Jump to recipe
Spooky Devilled Eggs Recipe For Halloween (Video)
For simple children's or adults's parties, for Halloween or festive meals, this decorating idea for stuffed eggs will surely delight everyone!
How to prepare this recipe
Fall is here! These Spooky Devilled Eggs are sure to get you in the mood!
That means cooler weather, beautiful coloured and crunchy leaves, hot drinks, pumpkin everything and of course Halloween! :-). Halloween is one of my favourite holiday and I love to throw a ghoulish bash for all my friends!
Halloween get togethers are made extra spooky with scary treats and eats. These Spooky Devilled Eggs are perfect appetisers for any Halloween party.
Made with simple ingredients, these stuffed eggs are sure to impress your guests or family at Halloween.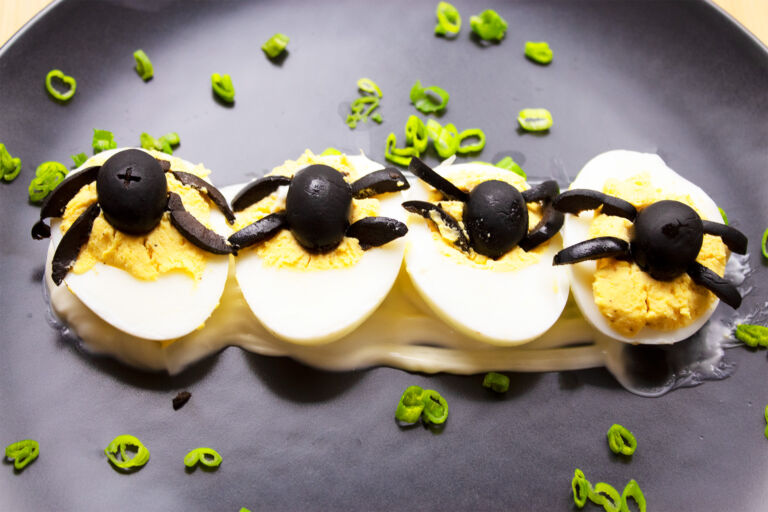 Spooky Devilled Eggs Recipe For Halloween (Video)
| Prep time | Cook Time | Rest Time | Total Time |
| --- | --- | --- | --- |
| 12 min | 8 min | 10 min | 30 min |
Servings: 2 person
Calories: 92kcal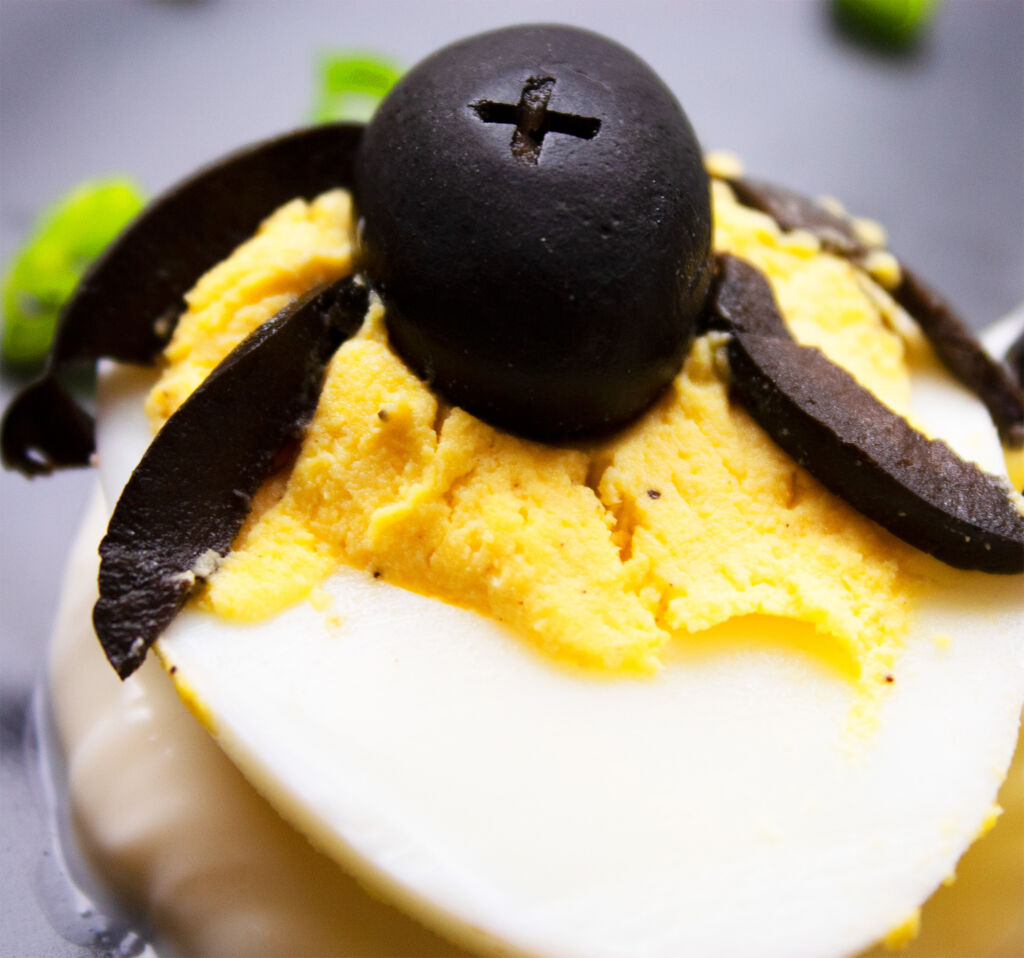 Maybe the holidays
borrowed from abroad are not to everyone's liking, but I invite you to look at the beautiful part of this: the time spent with children's, family, and/or friends, the creativity, the fun obtained by playing, cooking and decorating.
And because I don't want to make this post anything other than what it is, a recipe for children's fun, and not only for them, here's how I prepared stuffed eggs and decorated them with olives.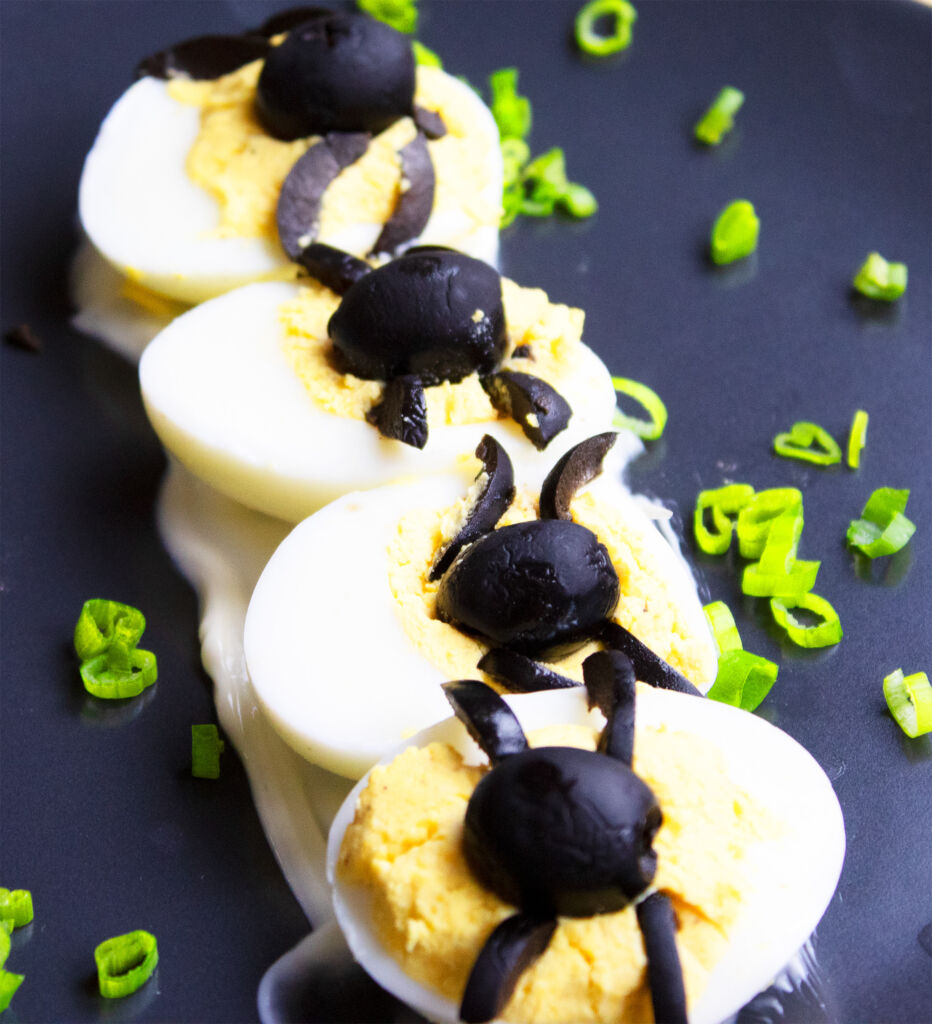 Instructions
Boil the eggs until they become hard, aprox. 8 to 10 minutes. Set them aside until totally cold.
Peel the eggs.

Cut the eggs lengthwise, remove the yolks, put them in a bowl and mix them with the butter, salt and pepper.

Fill the eggs. Can be filled with cake decorating bag, or if you don't have, then use Grandma's method with a teaspoon.

Add in each half egg one pitted olive, this will be the body. Cut the pitted olives in half for the legs, and slice them thinly, this thinly sliced olives become the legs.

Place the decorated eggs on a mayo bed, and sprinkle with green onion.

Enjoy, Good Appetite!
Happy Halloween!