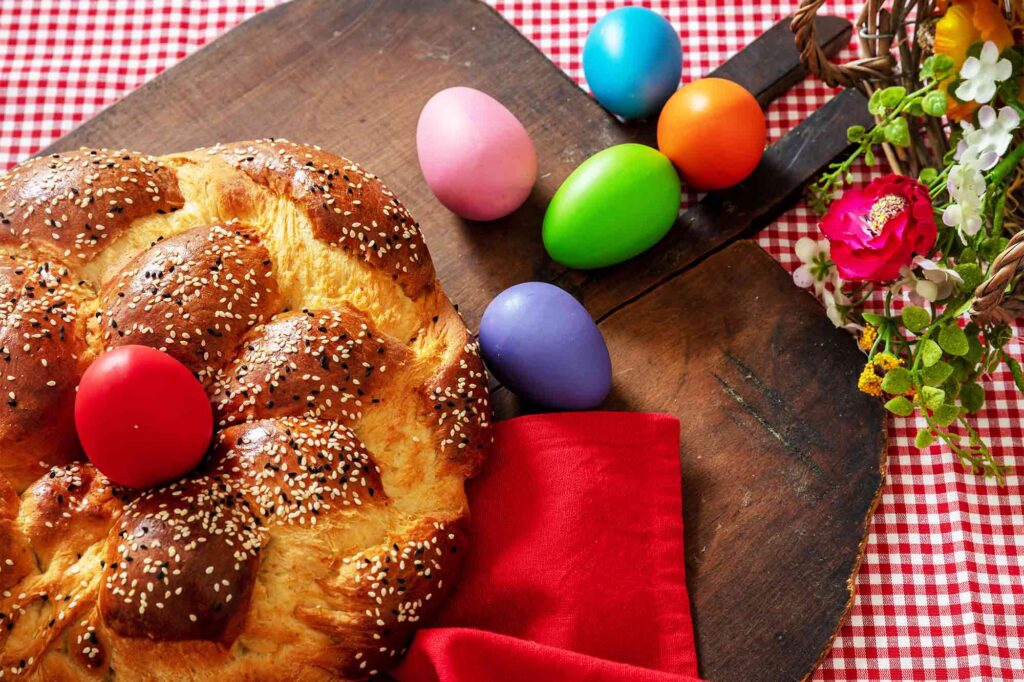 Jump to recipe
Easter Greek Tsoureki Sweet Bread
Experience the rich history and unique flavors of Greek tsoureki, a sweet bread that's a beloved Easter tradition. Discover its significance and try this recipes.
During Easter time in Greece, one of the most cherished traditional delicacies is Easter Greek Tsoureki Sweet Bread that is commonly seen in bakeries and homes throughout the country.
The roots of tsoureki can be traced back to Byzantine times when sweet breads were commonly baked for special events and religious celebrations.
As time passed, the recipe for Tsoureki evolved, and it has now become a popular Easter tradition in Greece and other Orthodox countries.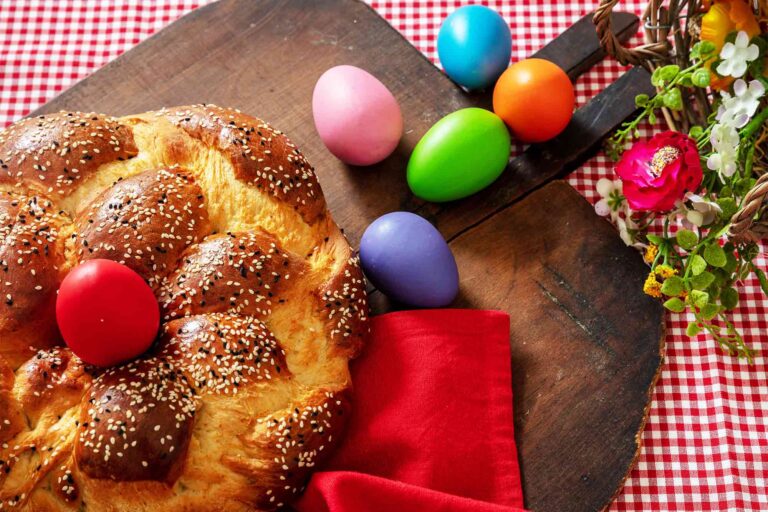 Easter Greek Tsoureki Sweet Bread
| Prep time | Cook Time | Rest Time | Total Time |
| --- | --- | --- | --- |
| 40 min | 35 min | 90 min | 165 min |
Servings: 6 person
Calories: 310kcal
The ingredients for Tsoureki typically include
flour, sugar, eggs, milk, and butter, with additional flavourings such as orange zest and spices like mahlepi and mastic. After being mixed and kneaded, the dough is braided into a unique shape and often decorated with toppings such as sesame seeds or blanched almonds.
Aside from its delicious taste, tsoureki also holds significant symbolic meaning. The braided shape represents the Holy Trinity, while the red-dyed egg that is commonly placed in the center of the bread is symbolic of the blood of Christ.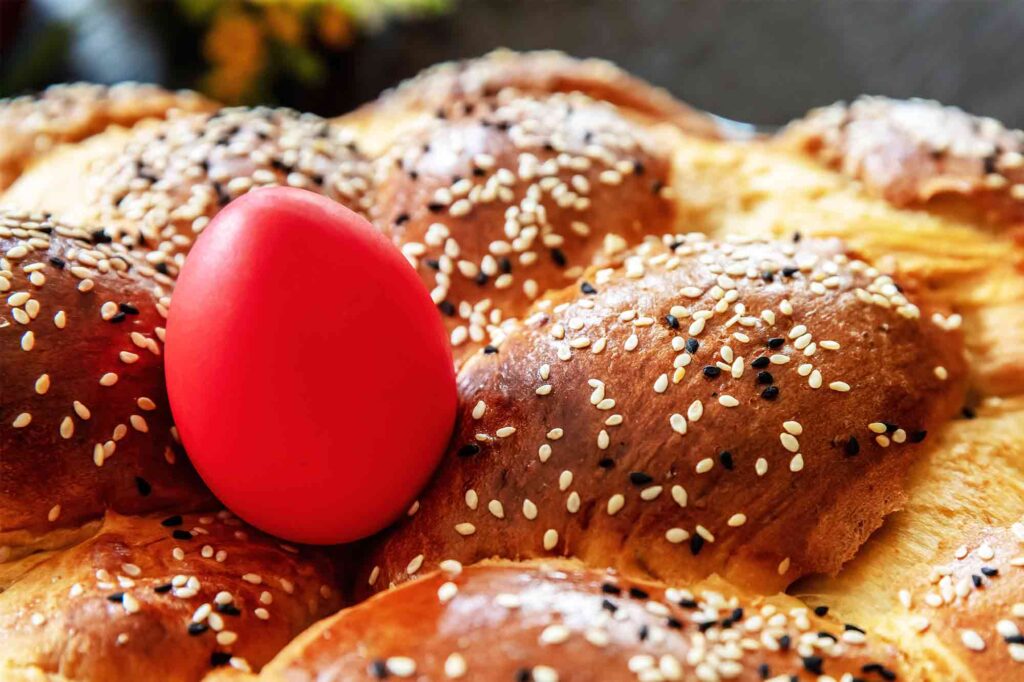 Tsoureki is a beloved tradition for Greeks of all ages, and many families have their own cherished recipes that have been passed down for generations. Whether it's enjoyed as a breakfast treat or a dessert, tsoureki plays an integral role in Greek Easter celebrations and brings together families and communities.
For those interested in making tsoureki at home, there are numerous recipes available online that provide step-by-step instructions.
With its rich history and delectable flavor, this sweet Easter bread is sure to become a household favorite.
Instructions
In a large mixing bowl,

whisk together the flour, yeast, sugar, salt, mahlepi, and mastic (if using).

Add the vanilla extract, orange zest, lukewarm milk, and eggs to the mixing bowl.

Mix with a wooden spoon or a stand mixer fitted with a dough hook until a soft dough forms.

Knead the dough on a floured surface for 10-15 minutes, or until it becomes smooth and elastic.

Place the dough in a greased bowl and cover with a kitchen towel.

Let the dough rise in a warm, draft-free place for 1-2 hours, or until it doubles in size.

Punch down the dough and divide it into three equal parts.

Roll each part into a long rope and braid the three ropes together. Join the ends together to form a circle.

Place the braided dough onto a baking sheet lined with parchment paper.

Cover with a kitchen towel and let it rise for another  50 minutes.

Preheat the oven to 180°C (350°F).

Gently press a red egg in the middle of each braid, or only one egg in the middle of the bread.

In a small bowl, whisk together the egg yolk and water.

Brush the egg wash onto the surface of the dough and sprinkle with blanched almonds or sesame seeds.

Bake the tsoureki in the preheated oven for 30-35 minutes, or until golden brown.

Remove from the oven and let it cool before serving.

Enjoy, Good Appetite!