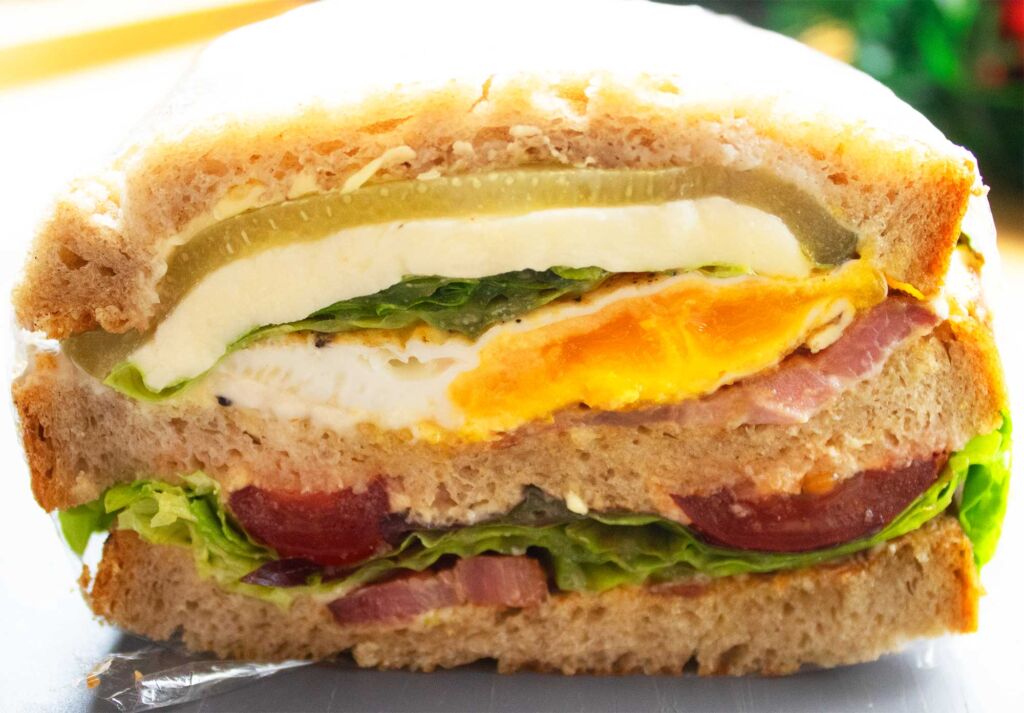 Jump to video
Jump to recipe
Full Breakfast In A Sandwich (Video)
Club sandwich is also a dish that everyone has their own version. This is our version.
How to prepare this recipe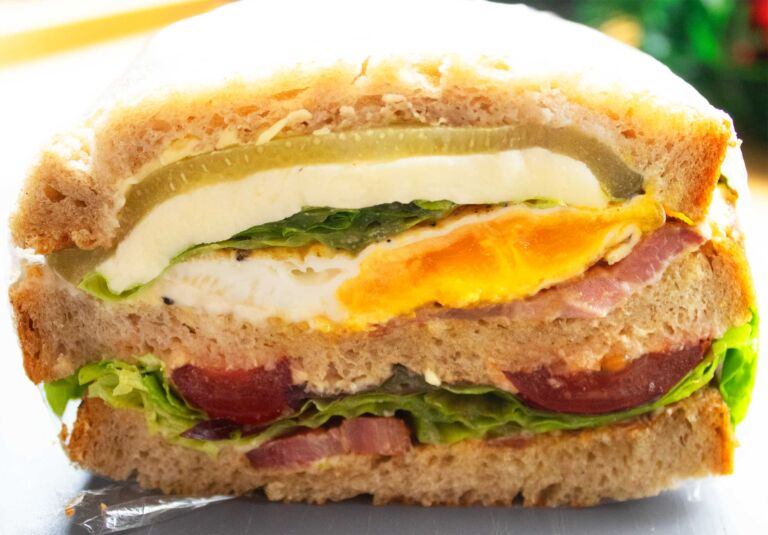 Full Breakfast In A Sandwich (Video)
| Prep time | Cook Time | Rest Time | Total Time |
| --- | --- | --- | --- |
| 10 min | 20 min | - | 30 min |
Servings: 2 person
Calories: 720kcal
This easy breakfast sandwich combines all of the savoury breakfast items in one single sandwich. It's satisfying and very delicious morning meal.
Instructions
First we make the cooking part of this dish.
Toast the bread in a pan in butter.
We need 3 slices of bread/ sandwich. Toast on both sides. Set aside.

In the same pan fry the ham slices, on both sides.
Set aside.

Now make the fried egg. Season with salt and pepper. Cook on both sides. Set aside, let them cool down to room temperature.

Slice the tomato, pickled cucumber and mozzarella.

Now let's assemble our sandwich.
First spread the toasted bread slices with butter. (Optional, as it was toasted in butter).
Place 2 slice of ham first. Cover with 2-3 leaves of lettuce. Tomato slices are next. Place another toast on top. This will be the middle toast of the sandwich. This needs to be buttered on both sides.
Add mayo, spread with a knife.

Add the remaining 2 fried ham slices. Next layer is the fried egg, then again 2-3 leaves of lettuce.
Next layer is the mozzarella slices, then pickled cucumber slices.
On top another toast, this will be the cover.
Wrap the sandwich tightly in cling film.

Good Appetite!