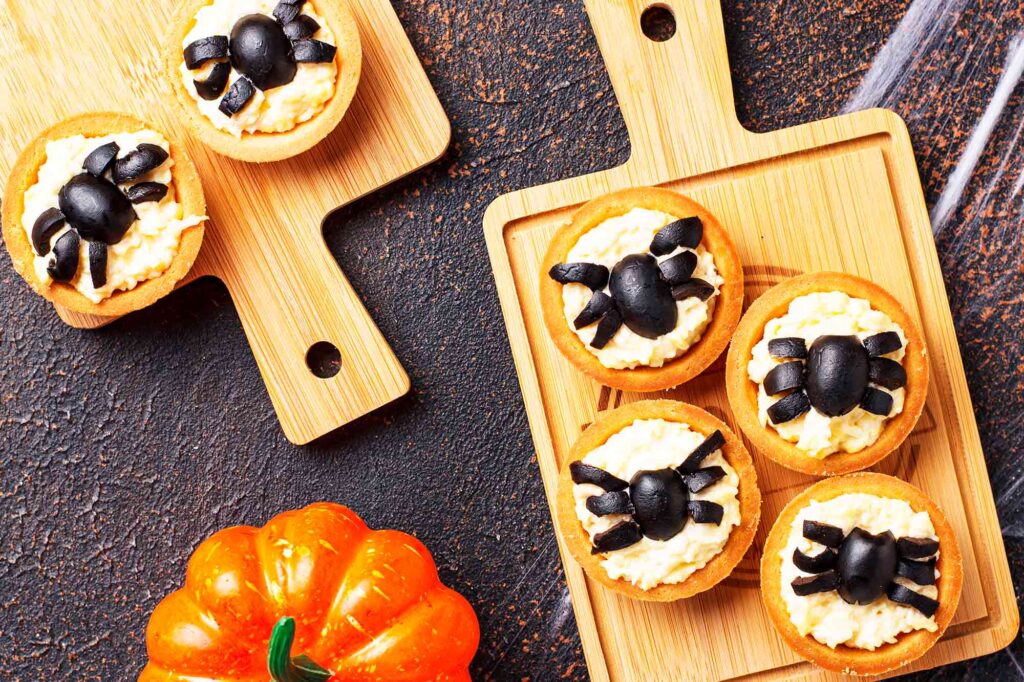 Jump to recipe
Halloween Cream Cheese Tartlets with Olive Spider Decoration
Bite into the spooky charm of Halloween Cream Cheese Tartlets with Olive Spider Decoration - a perfect Halloween party delight!
Prepare to be spellbound by our Halloween Cream Cheese Tartlets with Olive Spider Decoration, a culinary enchantment.
These delectable tartlets are a symphony of flavor and artistry, turning your Halloween celebration into a hauntingly delicious affair.
Visual Feast
Each tartlet is a masterpiece of culinary sorcery. Nestled within its golden pastry shell lies a velvety cream cheese filling, awaiting your indulgence. But it's the olive spiders that steal the show, with their sinister elegance.
Crafted from pitted black olives these six-legged wonders perch atop their creamy abodes, ready to bewitch your senses.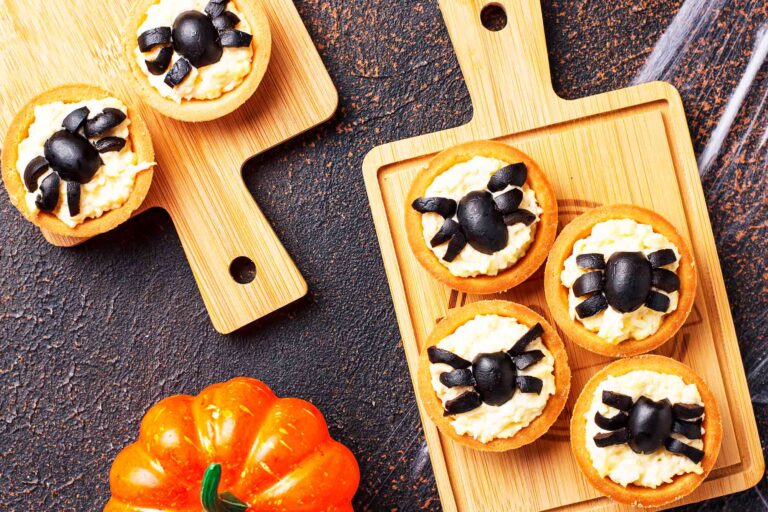 Halloween Cream Cheese Tartlets with Olive Spider Decoration
| Prep time | Cook Time | Rest Time | Total Time |
| --- | --- | --- | --- |
| 20 min | 15 min | 30 min | 65 min |
Servings: 12 person
Calories: 145kcal
Taste Adventure
A single bite will transport you to a realm where savory meets sublime. The cream cheese filling, rich and tangy, is a symphony of flavors enhanced by subtle hints of garlic and onion powder.
The tartlet shell, with its satisfying crunch, provides the perfect canvas for this culinary masterpiece.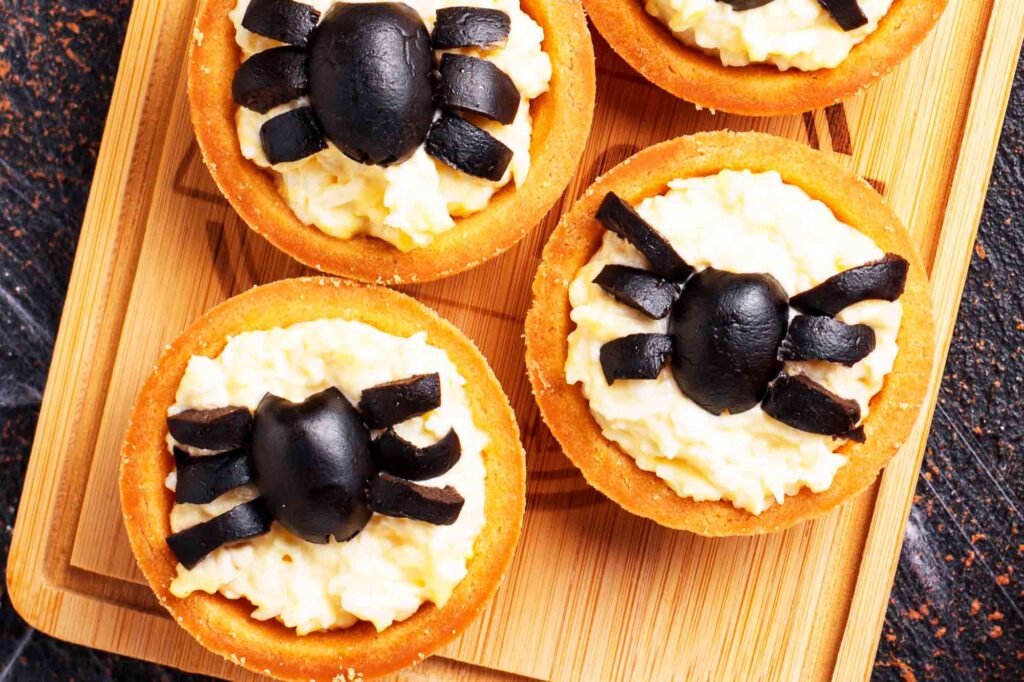 Sensory Thrills
The allure of these tartlets extends beyond taste alone. The olive spiders, with their delicate legs add an element of surprise and intrigue to every bite.
They aren't just decorations, they are culinary companions that introduce a savory, slightly briny dimension to the creamy tartlet.
Halloween Elegance
These Halloween cream cheese tartlets are an ode to creativity and the magic of the season. They're not just treats, they're an edible enchantment that transforms your table into a feast of the macabre.
Your guests will marvel at your culinary wizardry, and children and adults alike will be captivated by the whimsy of the olive spider decorations.
Ingredients
For the Tartlets
For the Olive Spiders
Instructions
Prepare the Tartlet Shells

Preheat your oven according to the instructions on the tartlet shell package.

Usually, it's around 175°C (350°F).

Place the tartlet shells on a baking sheet and bake them according to the package instructions until they are golden brown.

Remove them from the oven and allow them to cool.

Make the Cream Cheese Filling

In a mixing bowl, combine the softened cream cheese. sour cream, mayonnaise, cheddar cheese, grated Parmesan cheese, garlic powder, onion powder, salt, and pepper.

Mix until all ingredients are well combined and smooth.

Fill the Tartlet Shells

Once the tartlet shells are completely cooled, spoon the cream cheese mixture into each shell, filling them almost to the top.

Prepare the Olive Spiders

For each spider, you'll need one pitted black olive (the spider's body) and six thin slices of black olives (the spider's legs).

Take a toothpick and skewer the black olive through the center, then slide on the six black olive slices to create the spider's legs.

You can adjust the length of the legs as desired.

Decorate the Tartlets

Place one olive spider on top of each cream cheese-filled tartlet, pressing it gently into the filling so it stays in place.

Refrigerate the tartlets for at least 30 minutes to allow the cream cheese filling to set.
This also makes the tartlets cool and refreshing when served.

Arrange your Halloween cream cheese tartlets on a spooky platter or serving dish, and watch your guests enjoy this delicious and creepy Halloween treat.

Enjoy, Good Appetite!