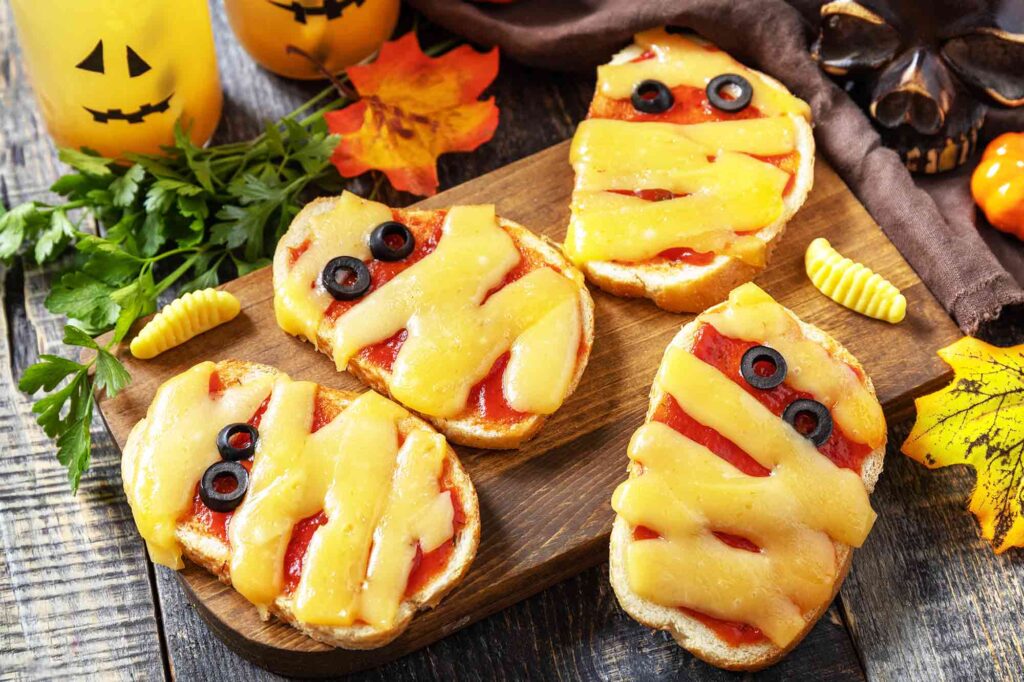 Jump to recipe
Halloween Mummy Bread Pizza
Spook up your Halloween evening with savory Halloween Mummy Bread Pizza – a spooktacular delight! So easy to make and so tasty.
Did you ever tried Halloween Mummy Bread Pizza?
The eerie chill in the air, the rustling of leaves, and the unmistakable scent of pumpkin spice can only mean one thing – Halloween is creeping around the corner.
As the ghoulish festivities approach, we invite you to embark on a culinary journey through the history of a spine-tingling yet delicious treat that has become synonymous with this spooky season: Halloween Mummy Bread Pizza. It's a dish that seamlessly combines fright and flavor, making it a must-have addition to your Halloween menu.
A Bite of History: The Origins of Mummy Bread Pizza
The tradition of crafting mummy-shaped snacks during Halloween can be traced back to ancient Egypt, where the mystical and macabre were intertwined with everyday life. Mummies were a central theme in Egyptian culture, and they often found their way into various aspects of their existence, including their culinary traditions.
The concept of mummy-shaped treats likely influenced the Halloween-themed snacks we enjoy today.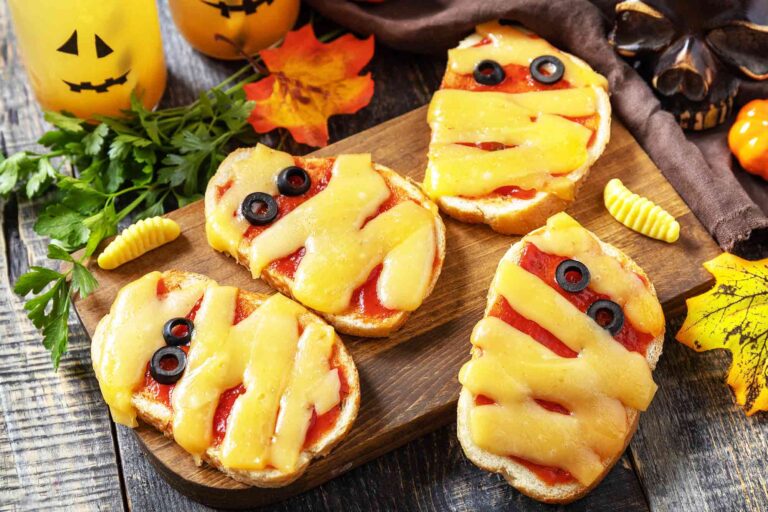 Halloween Mummy Bread Pizza
| Prep time | Cook Time | Rest Time | Total Time |
| --- | --- | --- | --- |
| 15 min | 15 min | - | 30 min |
Servings: 6 person
Calories: 165kcal
Fast forward to the modern era, and Halloween Mummy Bread Pizza is a playful interpretation of these ancient customs.
This savory dish is an ode to the spooky aesthetic of mummies, combining the elements of pizza with a ghostly twist.
The Recipe: Unwrapping the Magic
Creating Halloween Mummy Bread Pizza is simple and fun. Start with a base of bread slices, symbolizing the wrapped mummy, and cover it with rich tomato sauce. Then, take thinly sliced mozzarella cheese to form the bandages, carefully laid across the "body" like ancient wrappings.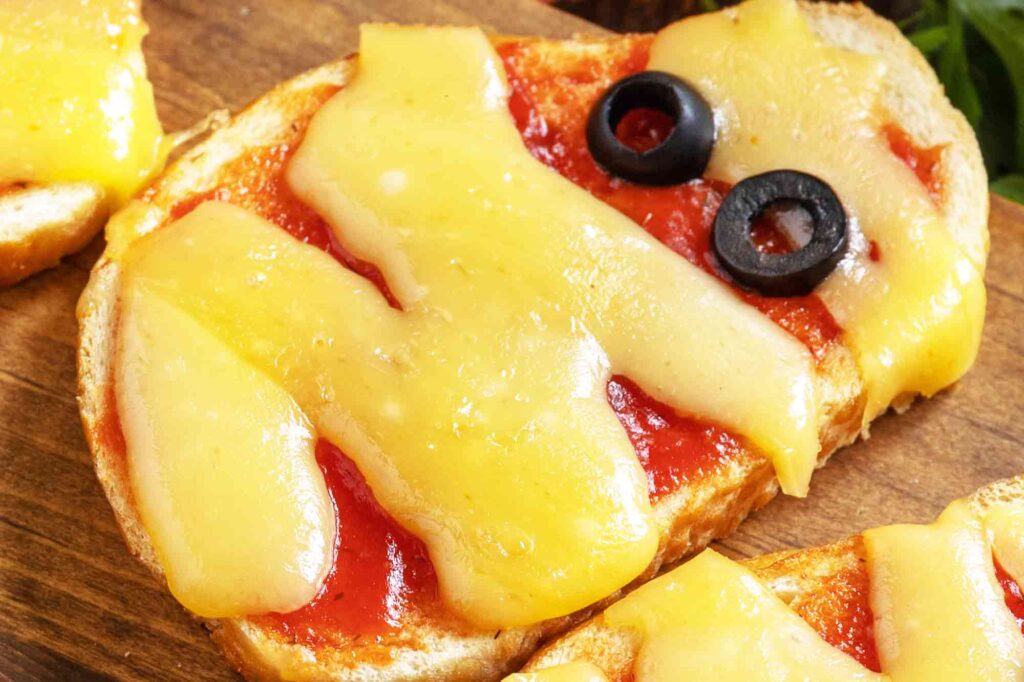 Two black olive slices, strategically placed, bring out the mummy's eyes, peering from beyond the cheese veil. These mini pizzas are a culinary masterpiece that marries flavors and Halloween aesthetics with ease. The result is a snack that both children and adults will adore, embodying the spirit of Halloween with each savory bite.
Serving Up Spooky Delights
A Ghoulishly Good Tradition. As the Halloween season approaches, the allure of mummies, monsters, and all things eerie takes center stage. Halloween Mummy Bread Pizza is a tradition that has evolved through time, resonating with its roots in ancient Egypt while captivating the taste buds of the modern world.
Whether you're hosting a costume party or simply looking for a spooky snack to enjoy by the flickering candlelight, this delightful concoction is sure to cast a delicious spell over your Halloween celebrations.
So, venture into the world of mummy-inspired cuisine, and savor the delectable history and creativity that make Halloween truly enchanting.
Instructions
Preheat the oven

to 175°C  (350°F).

Place bread slices on a baking sheet as the base for your mini pizzas.

Spread pizza sauce or marinara sauce on each bread slice.

Use thin slices of mozzarella cheese to create a crisscross pattern on top of the sauce, resembling mummy bandages.

Place two slices of black olives on each pizza to create the mummy's eyes.

If desired, you can add other toppings under the mozzarella cheese like pepperoni slices for a mouth or bell pepper strips for extra decoration.

Place the bread pizzas in the preheated oven and bake 10-15 minutes or until the cheese is melted and bubbly, and the bread is crispy.

Let the mummy mini pizzas cool for a minute or two before serving.

Enjoy, Good Appetite!