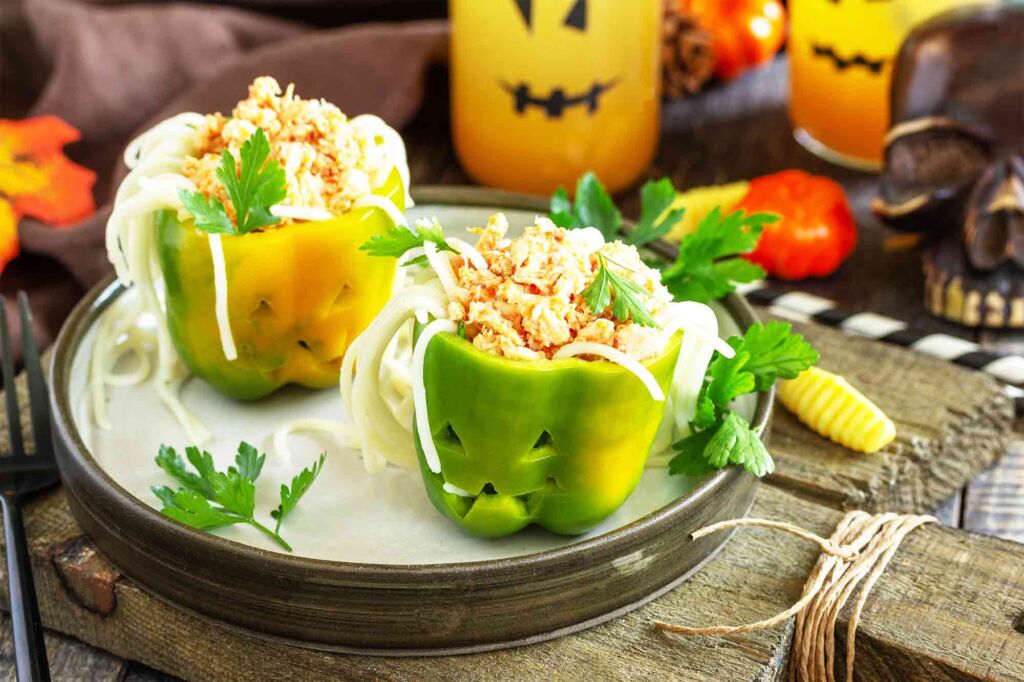 Jump to recipe
Halloween Stuffed Pepper Jack O'Lanterns
Stuffed for Halloween, Jack O'Lantern peppers make a festive and kid-friendly Halloween dinner. Inside are deliciously seasoned chicken, cheese, onions, and rice.
These Halloween Stuffed Pepper Jack O'Lanterns are ideal for serving before trick-or-treating.
We are sure, that Your family will like these Halloween-inspired jack-o'-lantern stuffed peppers since they are both entertaining and delicious!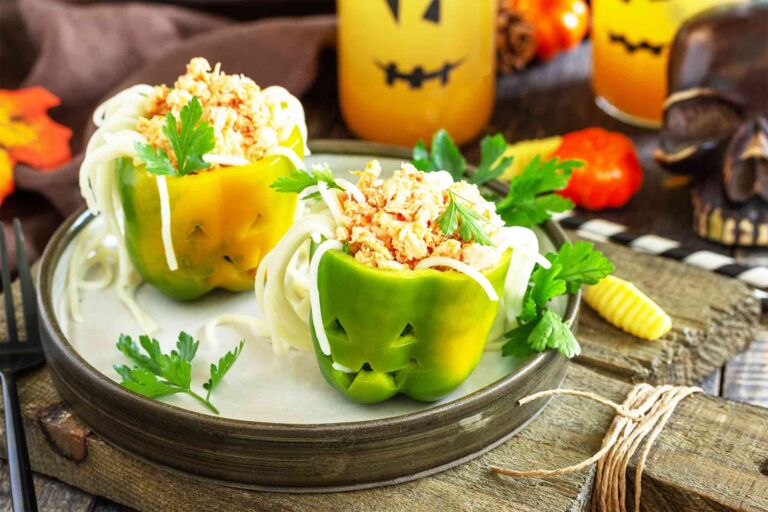 Halloween Stuffed Pepper Jack O'Lanterns
| Prep time | Cook Time | Rest Time | Total Time |
| --- | --- | --- | --- |
| 30 min | 15 min | 15 min | 60 min |
Servings: 2 person
Calories: 343kcal
You can stuff these Halloween Stuffed Pepper Jack O'Lanterns with almost anything. Pasta with red sauce, with optional meat and cheese, but you could load them with meat and bake them. We loved the spaghetti idea since it resembled the intestines.
It sort of fits with the Halloween theme.
Whatever you select, regardless of your age, eating a Halloween Stuffed Pepper Jack O'Lanterns face is ridiculously amazing.
We believe that Jack-O'-Lantern Stuffed Peppers are far more enjoyable than pumpkin carving. These delectable stuffed peppers bring your Halloween feast to new heights.
You may top up the dinner with a  funny or scary Halloween dessert.
We are huge fans of stuffed pepper recipes. In fact, all kinds of peppers in general. Red, yellow, orange, and green all provide great taste and color to meals, and it's a great way to include more vegetables into your diet.
How to Carve These Halloween Stuffed Pepper Jack O'Lanterns
This is not a step we would advise involving your children in. It does need some effort.
We use an extra tiny vegetable carving knife to make carving simple.
If your peppers won't stand up on their own, cut off a tiny piece from the bottom with the carving knife. Just be careful not to cut too much off or you'll create a hole in the bottom, allowing the stuffing to fall out.
Instructions
Prepare spaghetti according to package directions.

Wash thoroughly the rice, (we need nonsticking cooked rice) then cook according to the package instruction.

Remove (and set aside) the tops of each pepper.

Remove the cores and seeds and set them aside. Carve a Jack O'Lantern face into each pepper with a sharp paring knife.

Drizzle oil into each pepper and season well with salt and pepper.

Make the stuffing

In a large nonstick skillet, heat the oil.

Add the onions and sauté until soft, about 5 minutes.
Drop in the garlic, and cook until the garlic is aromatic, approximately 1 minute more.

Add chicken and aubergine, cook, until meat is no longer pink, and break up the meat with a wooden spoon.

Season with salt, pepper, and Italian spice (this is optional) to taste.

Turn off the heat and, if necessary, drain the fat.

Return the skillet to the stove over medium heat.

Mix in the cooked rice and cheese. Stir until the cheese is melted and the mixture is uniformly mixed. If using, you can add the chopped parsley.

Divide the spaghetti among the peppers and pull strands of pasta through the head, but you may also pull strands of pasta through the mouths or eyes of the jack-o-lanterns.

The next step is to fill the peppers. Fill the hollowed-out peppers with the mixture.
Finish with the pepper tops.

Enjoy, Good Appetite!