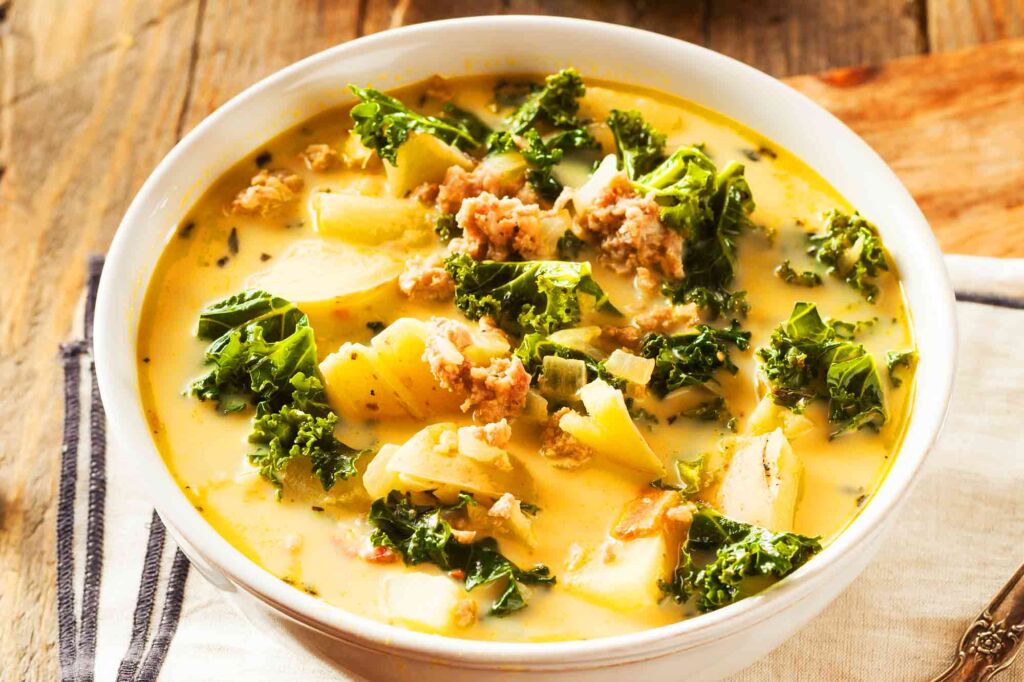 Jump to recipe
Hearty Zuppa Toscana Soup
Zuppa toscana soup is made from Italian sausage, bacon, potatoes and cabbage. This soup is soul-warming with rich flavor you can't resist!
Hearty Zuppa Toscana Soup, this soup, with Italian origins, is a delight. A nutritious and easy-to-digest food.
Soups are always a kind of food sought after, especially by those who do not have time to cook, because they are easy to make and do not require a lot of time spent in the kitchen.
Regardless of whether you prepare vegetable or meat soups, don't limit yourself to just salt and pepper to flavor them. Give them then a new, authentic and mouth-watering taste, using various spices.
Soups are the easiest foods to freeze. Not only is the procedure simple, but after defrosting it does not change its taste or consistency. So You can cook as much soup as you want, even this Hearty Zuppa Toscana Soup without need to worry that you will have to throw it away if you get bored of it.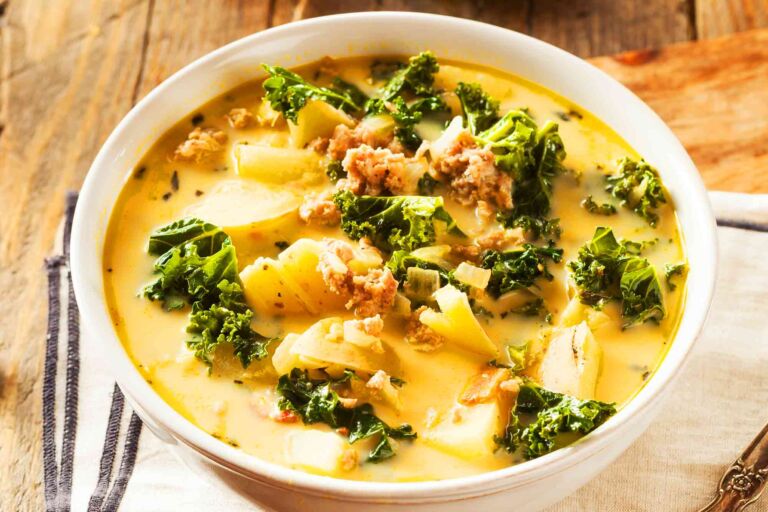 Hearty Zuppa Toscana Soup
| Prep time | Cook Time | Rest Time | Total Time |
| --- | --- | --- | --- |
| 25 min | 70 min | - | 95 min |
Servings: 4 person
Calories: 220kcal
You need look no further than this recipe for the finest Zuppa Toscana ever! This rich and comfortable creamy soup is made with sturdy potatoes, bacon bits, healthy kale, and juicy Italian sausage.
What Exactly Is Hearty Zuppa Toscana Soup?
The  Zuppa Toscana represents one of the oldest recipes of the Italian culinary tradition. Is one of the best dishes that can still be tasted today in the restaurants and trattorias of the region.
This dish is typical of Tuscan cuisine, a region that can be considered in fact the queen of soups. There are many soup recipes in Tuscany, with variations and peculiarities for each village or town that you encounter while traveling through the countryside.
Zuppa toscana, which loosely translates to "Tuscan soup," it is known in Italy also as "Minestra di Pane," which means "Bread Soup." Kale, zucchini, cannellini beans, potatoes, celery, carrots, onion, tomato pulp, extra virgin olive oil, salt, powdered chile, toasted Tuscan bread, and rigatino are typically used to make traditional zuppa Toscana.
Instructions
Make the base for the Hearty Zuppa Toscana Soup

Slice the onion, carrots and celery and then sauté all in the olive oil with salt.

De-core the cabbage of most of the hard white veins, then cut them into strips and add to the soup.

Add the cubed potatoes, the boiled beans, tomato paste and the small chopped rigatino (bacon).

Cook over low heat for about 15 minutes, stirring often and adjust the flavor with the salt and chilli.

Add the chopped courgettes, the finely chopped parsley. Mix and cover with approx 300 ml of boiling water.

Let it simmer for about 30 minutes. After 30 minutes take and blend a quarter of the soup and put it back to the soup, this will thicken the soup a little.

Serve the soup hot in bowls, drizzled with a little extra virgin olive oil and accompanied with slices of toasted bread.

Enjoy, Good Appetite!