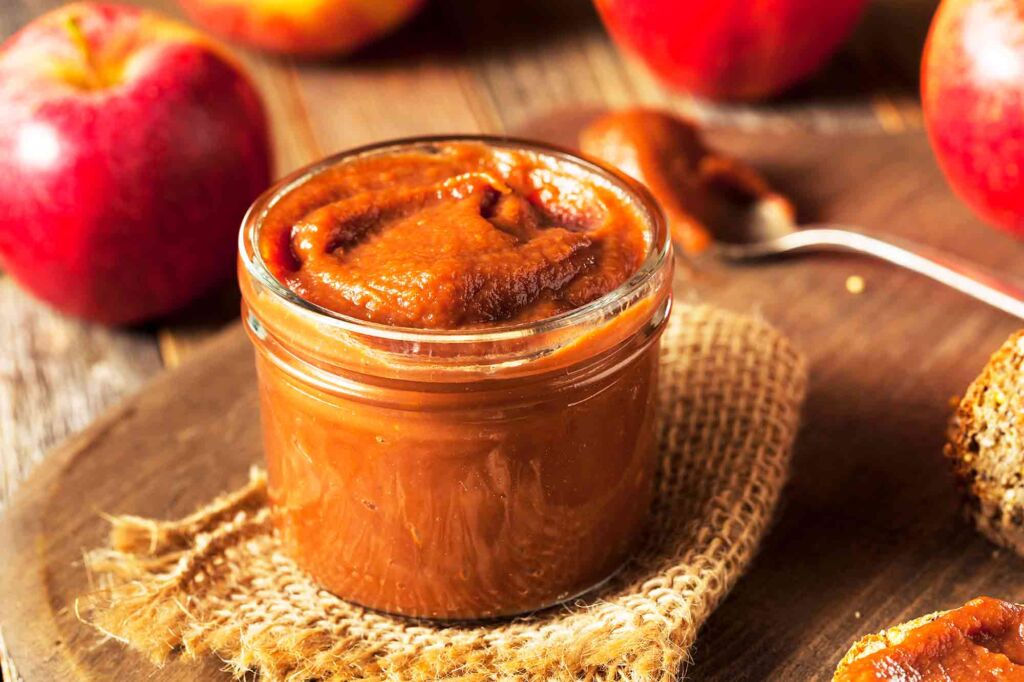 Jump to recipe
Homemade Apple Butter Recipe
You will love this easy and delicious Homemade Apple Butter Recipe! All you have to do is stick some apples in a crock pot with some spices.
Easy and delicious Homemade Apple Butter Recipe. How To Make?
When we have jars of apple butter in the fridge and a steady supply of crackers, I can tell that fall has arrived.
Apple butter is a traditional fall dessert that can be enjoyed in many ways. It is quite simple to prepare and is well worth the effort it takes to create its mouthwateringly rich caramel flavor!
But What is Apple Butter?
Contrary to its name, apple butter is merely a very thick and delicious apple purée, so it is not made with butter.
Imagine spending the ideal Sunday morning at home. What is served during breakfast? When I think of a relaxed, lovely Sunday morning, I have a pretty clear mental picture in my brain.
Obviously, apple butter is served along with coffee, pancakes, bacon, toast, and butter. Therefore, we cannot have pancakes without apple butter.
I like it better than any other jam or jelly because of its clean and distinctive flavor. The fact that this apple butter only contains natural ingredients is what I adore about it so much.
Apples are slowly cooked until their sugars spontaneously caramelize to create the delectable fruit spread known as apple butter. And making apple butter is a fantastic way to preserve your apple harvest and use up all your apples. So easy to prepare and then has so many uses afterwards.
It is very delicious on biscuits and waffles, pancakes or toast, yogurt, and even with ice cream.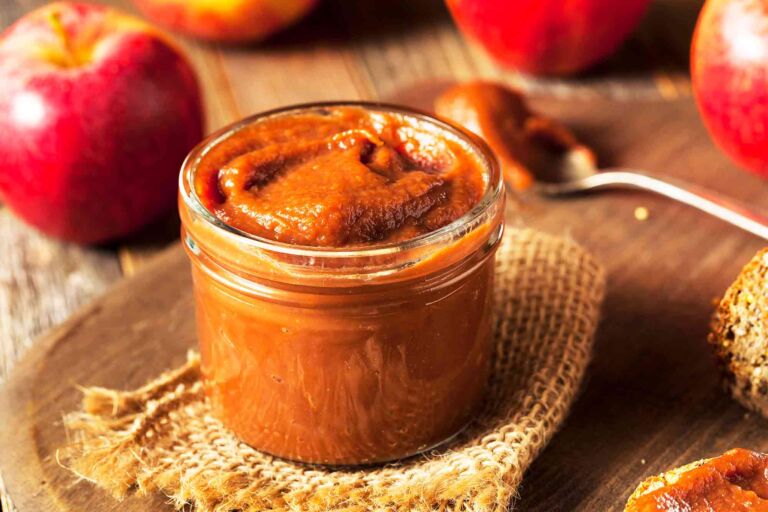 Homemade Apple Butter Recipe
| Prep time | Cook Time | Rest Time | Total Time |
| --- | --- | --- | --- |
| 15 min | 40 min | - | 55 min |
Servings: 1 person
Calories: 29kcal
A little Apple Butter History
The invention of apple butter dates back to the Middle Ages, when the first monasteries (with considerable orchards) developed, in Limburg (Belgium and the Netherlands) and Rhineland (Germany).
When practically every town had its own apple-butter producers, the manufacturing of the butter was an excellent means to preserve a portion of the fruit harvest of the monasteries in that area. 
The word "butter" primarily refers to the product's butter-like thick and soft consistency. And the usage of apple butter as a bread spread, genuine dairy butter is not included in the product.
Sometimes seasoned with cinnamon and clove, and other spices, apple butter it is usually spread on bread, used as a side dish, an ingredient for baked goods, or as a condiment. Apple butter may also be used on sandwiches to add an interesting flavor, but is not as commonly used as in historical times.
Apple Butter in United States
In some areas of the American South, the production of apple butter is a family event, due to the large amount of labor necessary to produce apple butter in large quantities. Traditionally the apple butter was prepared in large copper kettles outside. Large paddles were used to stir the apples, and family members would take turns stirring. In Appalachia, apple butter was the only type of fruit preserve normally rendered into fruit leather.
Apple Butter in Europe
In Germany (known as Apfelkraut) and the Netherlands (known as appelstroop, which translates to "apple syrup"), an apple butter that is more like to thick syrup is traditionally created. It is usually consumed on toast with (or without) thinly sliced cheese and with Sauerbraten.
In Belgium, where it is known as sirop de Liège, a sweeter variation prepared with pears in addition to apples is more often consumed. Apple syrup is a minority food in Western Europe outside of Benelux and the Rhineland (outside of the Rhineland, it is often available at health food stores in Germany), and a related product is made in francophone Switzerland under the name of vin cuit.
Instructions
Prepare the Apples

When using windfall apples, remove any broken or bruised pieces, be sure to leave 1 kg (2 lb) of cooking apples.

After rinsing, slice the apples into bits roughly.

Place in a big pot with water or cider and simmer until tender and fluffy.

The apples should be reduced to a pulp by using a potato masher in the pan before being taken off the heat.

With the back of a wooden spoon, press the pulp through a sieve.

Once the apple has been retrieved, throw away the pith and pips that were left behind.

Add the spices to the Apple Butter

Return the pulp to the cleaned and dried saucepan, along with the sugar, lemon juice, and spices.

Set it over a medium-low heat, bring it to a boil, and stir it for a short while until the sugar dissolves.

With the heat at its lowest setting, let the apple thicken and reduce for about 20 minutes stirring occasionally.
When the mixture is finished, it will be brown and coat the back of a spoon.

Pour into sterile jars after taking from the heat. Once opened, store in the refrigerator, and use within 3 to 4 weeks.

Enjoy, Good Appetite!

How to sterilize?

Wash the jars and lids in hot, dish-soapy water. After a thorough rinse, put them on a baking sheet. Heat the oven to 100°C (212°C) and put in the oven the tray with the jars for 30 minutes, or until the jars are completely dry.  Spoon the finished apple butter into the hot, clean jars, and seal them tightly with the lids. The preserves should last a year if they are kept in a cold, dark cupboard or pantry.