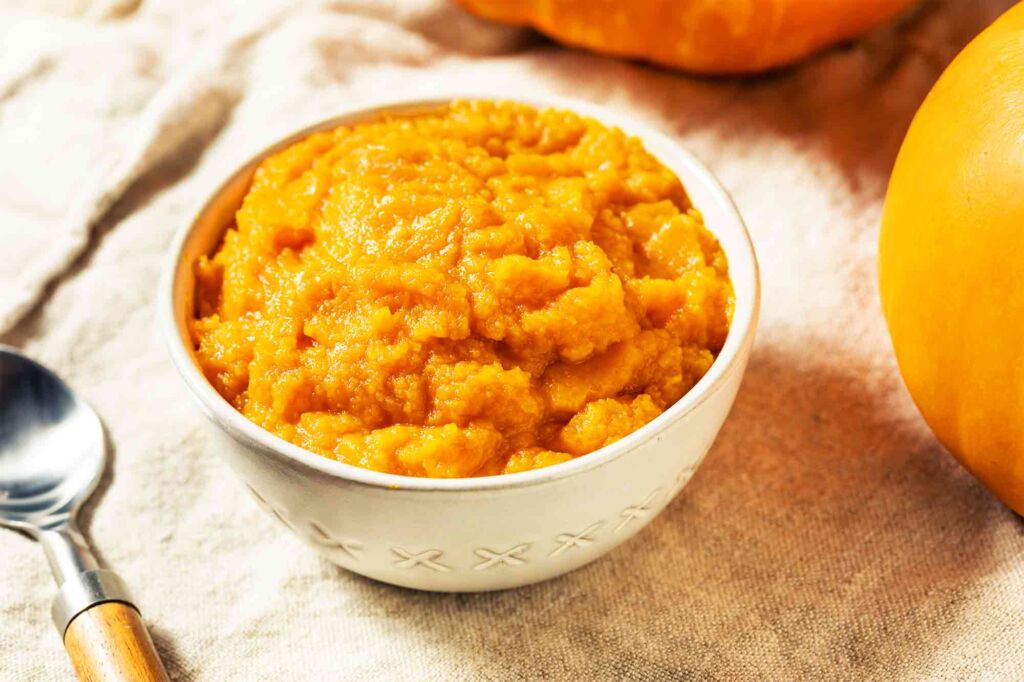 Jump to recipe
Homemade Pumpkin Purée Recipe
Pumpkin puree freezes beautifully without any change in texture or flavor after thawing, so just put the leftovers in an airtight freezer bag and freeze them.
What can you do with any leftover pumpkin now that pumpkin season soon is finished for another year?
Make your own pumpkin purée to have on hand all year because fresh pumpkins are only available from late summer to early winter.
Additionally, during Halloween, pumpkins frequently show up on every doorstep. Families enjoy carving them with spooky faces, while others prefer painting them to fit a new interior design fad. What to do with the pumpkin inside once you've removed the stringy interiors?
There are many delectable varieties to choose from, including cheesecake, muffins, and cupcakes in addition to the traditional pumpkin pie. Additionally, you can prepare delectable savory dishes like pumpkin soup or pumpkin gnocchi.
What is the best way to keep pumpkin if you have too much of it to use immediately, such as at Halloween?
Have you ever wondered how cook or bake a pumpkin and make your own homemade pumpkin puree from carved Halloween leftowers? It's simple!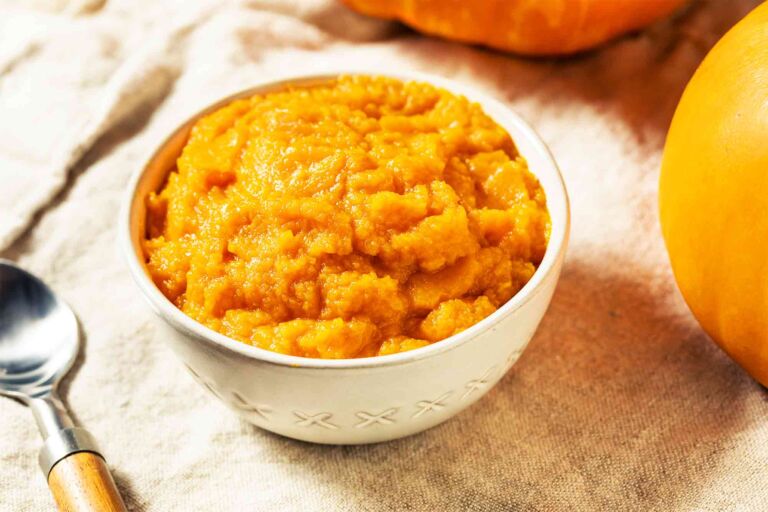 Homemade Pumpkin Purée Recipe
| Prep time | Cook Time | Rest Time | Total Time |
| --- | --- | --- | --- |
| 10 min | 40 min | - | 50 min |
Servings: 16 person
Calories: 38kcal
Can Pumpkin Purée be frozen?
You can, and it's really easy to accomplish because pumpkins can be frozen in a variety of forms, including cooked, pureed, and raw chunks.
Scoop out the pumpkin and cut it into chunks if you want to freeze it raw. It will remain fresh for up to 6 months in your freezer in a freezer bag or box.
It's simpler than you might think to make homemade pumpkin puree. However, you may be thinking, "Why would I do that?"
The best flavor and texture for your favorite pumpkin recipes will come from freshly roasted pumpkin, of course.
You won't regret it, and you'll probably never buy canned food again. You will can use it from rich, creamy pumpkin soups and sauces to moist bread and muffins and of course pumpkin pie.
Making it from scratch also makes it considerably healthier. No preservatives or unknown ingredients are present.
Fresh Homemade Pumpkin Puree is incredibly simple to make! Pick up a pumpkin, roast  and purée it. It is that simple.
You'll be prepared for the season if you fill your freezer. Enjoy in any of your favorite fall recipes.
Instructions
Set the oven's temperature to 200°C (400°F).

Take the stem out of pumpkin. Cut each pumpkin in half lengthwise, and then cut into slices.

To remove all of the seeds, use a large spoon.

On a large sheet pan covered with parchment paper, arrange the pumpkin halves flesh side up.

Roast the pumpkins for 35 to 45 minutes, or until they begin to partially collapse and separate from the skin.

Scoop out the pumpkin flesh using a spoon. The skin should separate from the flesh easily.

Place the flesh in the bowl of a large food processor or blender. Puree until smooth. Don't forget to scrap down the sides of the bowl with a spatula.

If you use in a week, place the puree in an airtight container in the refrigerator for up to 1 week. 

Place in freezer bag or box and put in the freezer, if you want to stock up. Will be good for up to 6 months.

Use the puree in any of your favorite pumpkin recipes.

Enjoy, Good Appetite!