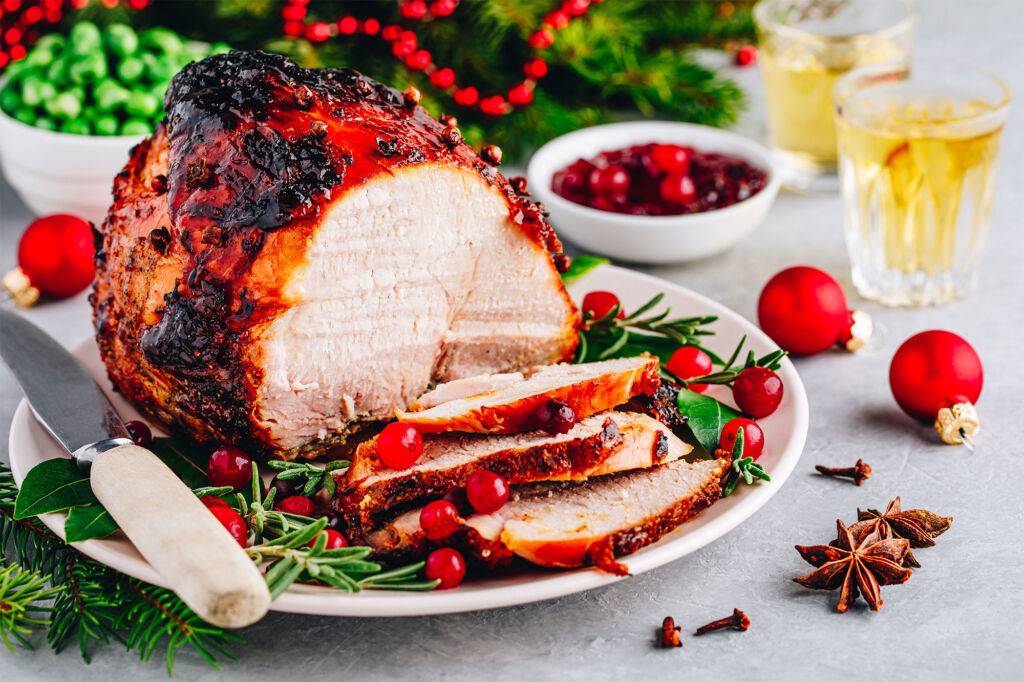 Jump to video
Jump to recipe
Honey Glazed Ham Recipe (Video)
This week sees us getting into the Christmas spirit (well, it is December next week :-) and bringing you a lip-smacking festive favourite :-)
How to prepare this recipe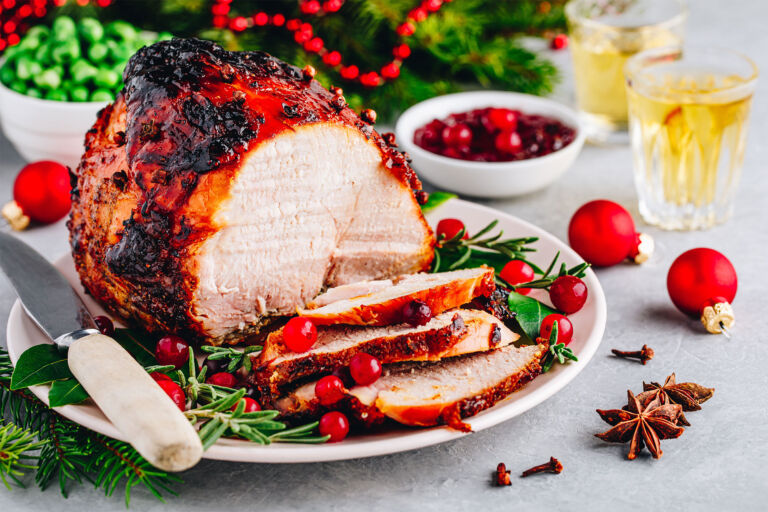 Honey Glazed Ham Recipe (Video)
| Prep time | Cook Time | Rest Time | Total Time |
| --- | --- | --- | --- |
| 10 min | 195 min | 15 min | 220 min |
Servings: 15 person
Calories: 148kcal
Christmas Honey Glazed Ham! What sets a Christmas ham apart from any common or garden ham, is the glaze.
Instructions
Place the ham, and all the ham ingredients in a large pan.
Cover with water. Add the cinnamon stick.
Bring to the boil on high heat, and when is boiling, reduce the heat to low, and simmer for 3 hours.

Meanwhile we make the glaze.
Put all the ingredients in a sauce pan, and cook for 15 minutes.

Lets go back to the ham.
After 3 hours of simmering remove the ham from water. Peel  from skin (if is case, or if you want, its optional).

Score the fat into diamonds. Place a clove of blueberry into the center of each diamond.
Place the ham into a roasting tin. Pour the glaze over the ham.

Place the ham in 200 °C  (390 °F) preheated oven for 45 minutes.
After 45 minutes of roasting, glaze the ham again. Place back in oven, and reduce the heat to
180 °C  (360 °F).
Roast for another 35 minutes, and is done.

Serve with your preferred Christmas side(s), and sauce(s).

Good Appetite!