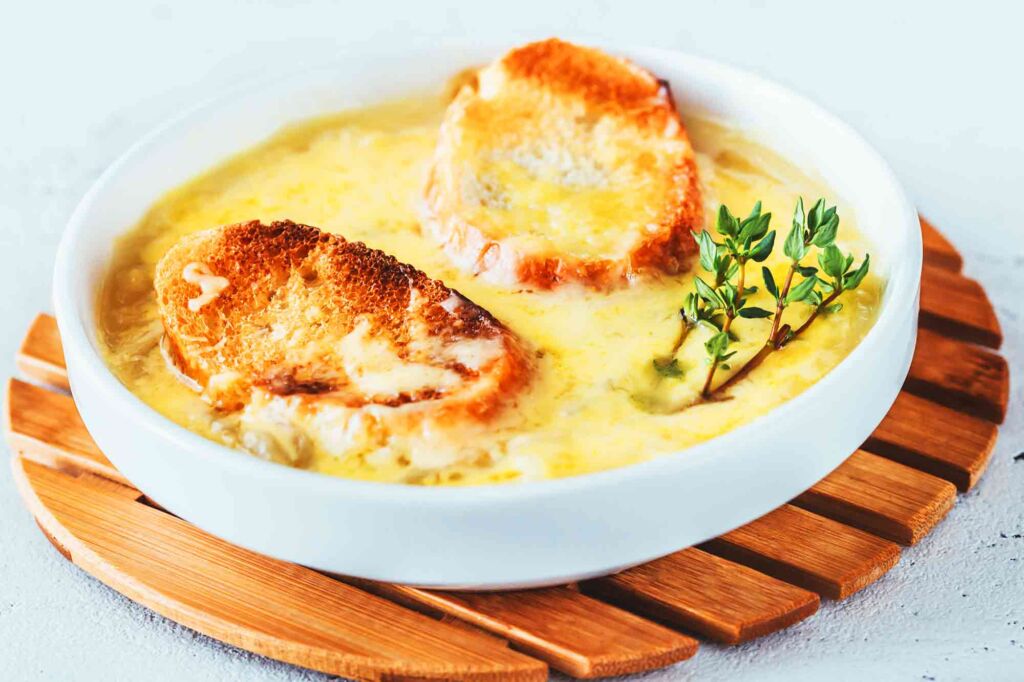 Jump to recipe
How To Make Authentic French Onion Soup
Making a traditional French onion soup with caramelized onions that become mellow and sweet in a white wine-infused broth is one of the most comfortable things you can do.
This Authentic French Onion soup recipe is truly comforting food in a bowl. Despite the banal onion, a common and cheap ingredient, ends up being transformed into a kind of refined food.
I chose an authentic French onion soup recipe, presented by the famous Chef Raymond Blanc and I can tell you, hand on heart, that I was deeply impressed by the result.
What Is The Secret Of A Good Authentic French Onion Soup?
The secret to the good taste of this soup obviously is the good ingredients like fatty butter, quality wine, and onions with a sweet taste.
It is very important also that the onion does not stick to the pan during cooking. You have to take into account the fact that although it seems like a lot of onion at the beginning, its volume decreases a lot.
Typically made with meat stock and onions, French onion soup is frequently gratinéed and topped with croutons or a slice of baguette with cheese.
The dish, which is centuries old, got a rebirth in popularity in the United States in the 1960s as a result of an increased interest in French cuisine.
French onion soup can be consumed as a first dish or as a whole meal due to its consistency.
A Little History Of French Onion Soup
Onion soups have been popular at least as far back as Roman times.
Onions have a long history of being associated with poverty since they are abundant and simple to cultivate.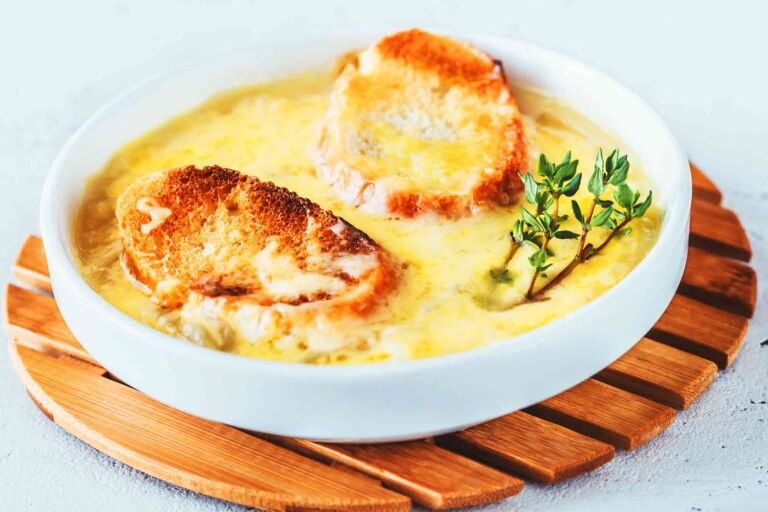 How To Make Authentic French Onion Soup
| Prep time | Cook Time | Rest Time | Total Time |
| --- | --- | --- | --- |
| 20 min | 70 min | - | 90 min |
Servings: 6 person
Calories: 180kcal
The soup that is served today was first produced in the 18th century in Paris, France, with beef broth and caramelized onions.
Henri Mouquin's New York restaurant, where his wife Marie Julie Grandjean Mouquin was the cook, it was first served to Americans in 1861.
Of course it is frequently served with croutons and melted Comté on top, beneath a salamander in a ramekin.
Instructions
Making the French Onion Soup Broth

Peel and finely slice the onions.

Melt the butter in a large sauté pan.
Add the onions and let them sautéing gently until they take on a nice golden color.
Mix very regularly.

Caramelize

The onions must be well caramelized, and not burnt. This is what gives flavor and color to the soup.

Add the flour, and mix. Pour in the white wine, then add the broth, thyme, bay leaf, salt and pepper, and a few pinches of nutmeg (optional).

Bring to a boil and simmer covered for 45 minutes.

Grilling The French Onion Soup

Preheat the oven grill. Fill the soup bowls with the soup, and sprinkle the top with cheese. 

Put 2 slices of baguette to the top of the cheese, and sprinkle the baguette slices also with cheese. 

Put in the oven, and let them spend a few minutes under the grill to a golden brown.

Serve immediately. (The croutons can be toasted beforehand and rubbed with a clove of garlic.)

Enjoy, Good Appetite!