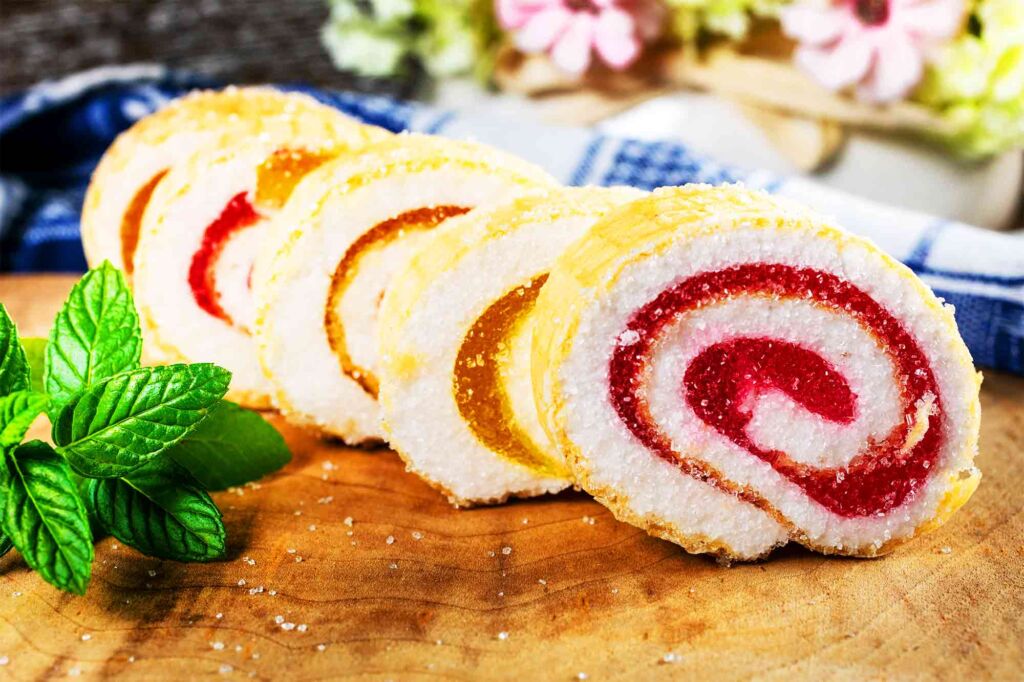 Jump to recipe
How To Make Homemade Classic Swiss Roll
A classic bake that brings a pleasant sense of nostalgia. This Swiss roll is so simple to bake and perfect for children.
Have you ever tried to prepare Homemade Classic Swiss Roll cake at home? It is so good!
Here's how you can prepare this very tasty and quick Swiss Roll with fasting jam!
This recipe has been in my mind for some time, I've made the strawberry roll before, but the Homemade Classic Swiss Roll is simply the best. 
A roll full of refinement, with indescribable flavors, and yet relatively easy to make if you follow the steps exactly. 
I recommend it with confidence.
A Little History Of Classic Swiss Roll
First of all, I want to talk about the origin of this wonderful dessert and surprise you with the following information: the Swiss roll is not from Switzerland. Shocking, I know, and I was just as surprised.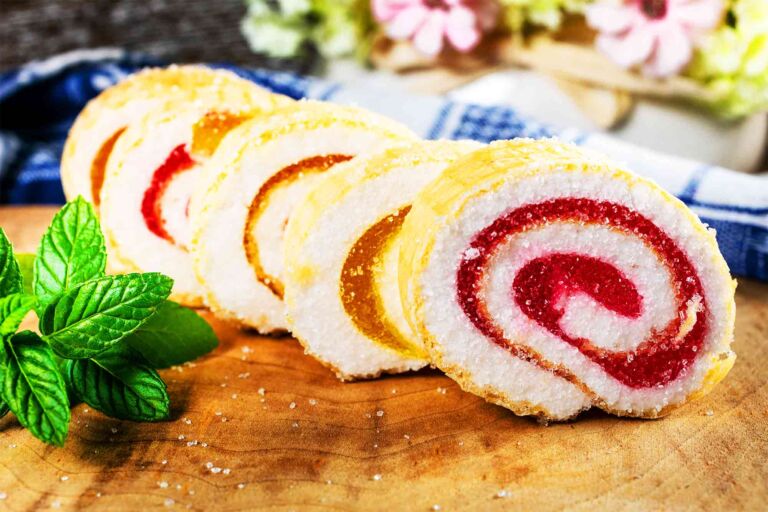 How To Make Homemade Classic Swiss Roll
| Prep time | Cook Time | Rest Time | Total Time |
| --- | --- | --- | --- |
| 15 min | 10 min | 15 min | 40 min |
Servings: 6 person
Calories: 165kcal
A rolled cake covered with jelly was first mentioned in print in the Northern Farmer, a publication from Utica, New York, in December 1852. Called "The instructions for "How to Make Jelly Cake" state to "Bake quickly and while hot spread with jelly. Roll it gently, then cover it with a cloth. Slices should be made for the table while cool."
The terminology evolved in America for many years. Such a delicacy was known by the names Jelly Cake (1852). Roll Jelly Cake (1860), Swiss Roll (1872), Jelly Roll (1873), and Rolled Jelly Cake between 1852 and 1877.
In the end, the moniker "Jelly Roll" was chosen.
From Where Swiss Roll Came From?
It is uncertain where the phrase "Swiss roll" came from. The Birmingham Journal published the first mention of a baked good by that name in Britain on Saturday, May 10, 1856.
The American Home Cook Book, which was released in Detroit, Michigan, in 1872. Also included a recipe for "Swiss roll" in the US during the same year.
Many London, England recipes from the 1880s and 1890s only referred to Swiss rolls by that name.
Instructions
Preheat the oven to 180°C  (356 °F). 

Grease a 16 x 28 cm Swiss roll pan and line it with baking paper.

 Using an electric mixer, whisk for 5 minutes to thicken and lighten the mixture of eggs and sugar.

With a large metal spoon carefully fold in the flour and baking powder in two batches.

Fill the tin with the mixture and carefully ease it into the corners.

Bake for 10 to 12 minutes, or until firm and golden. Avoid over baking to prevent the sponge from breaking when rolled.

Sprinkle 2 tbsp of sugar over parchment paper while the sponge bakes.

For 20 seconds, microwave the jam to a warm state (not hot).

As is ready, place the baked sponge onto the sugared paper.

Remove the baking paper from the sponge and then spread the heated jam on the sponge.

Using the paper to help, roll up from the short edge, then allow to cool on a wire rack.

Enjoy, Good Appetite!