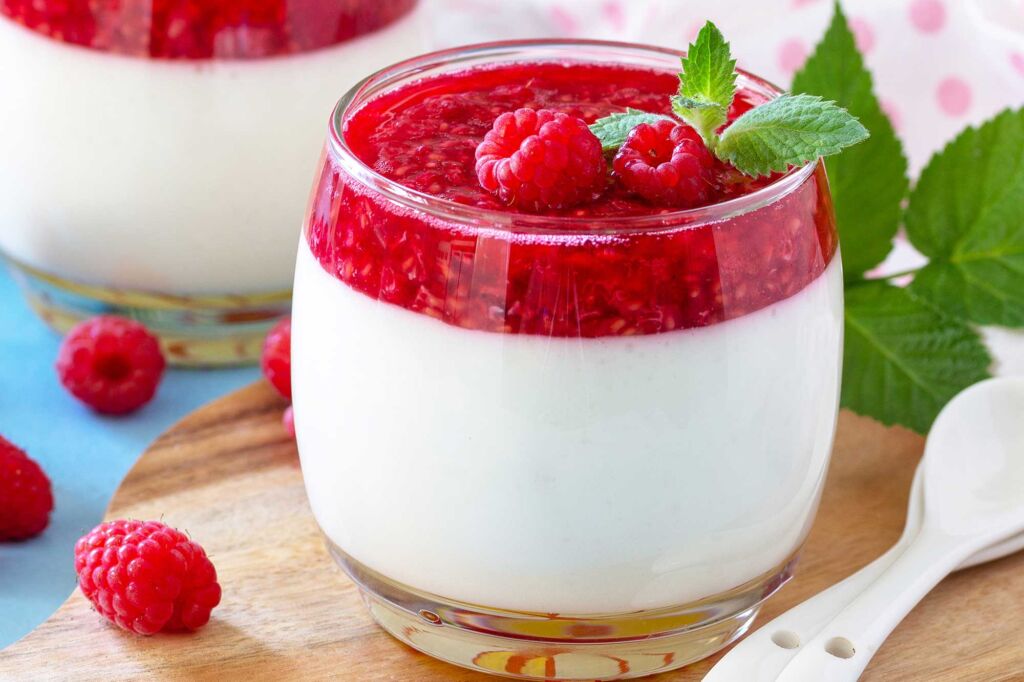 Jump to recipe
How To Make Panna Cotta With Raspberries Sauce
Panna Cotta With Raspberries sauce is a perfect spoon dessert for summer.
Summer has its charm. Apart from the sun, heat, sea, fun, summer is also the season of fruits and vegetables that are found in abundance in the fresh state either in our gardens, if we are luckier, or in markets or supermarkets.
So it is also the time when we should include these small summer gifts in our every day diet.
Panna cotta with raspberries is a delicious summer dessert from Italy, the preparation is that of a very common panna cotta to which raspberry sauce is added.
Then, fresh raspberries are used as a decoration.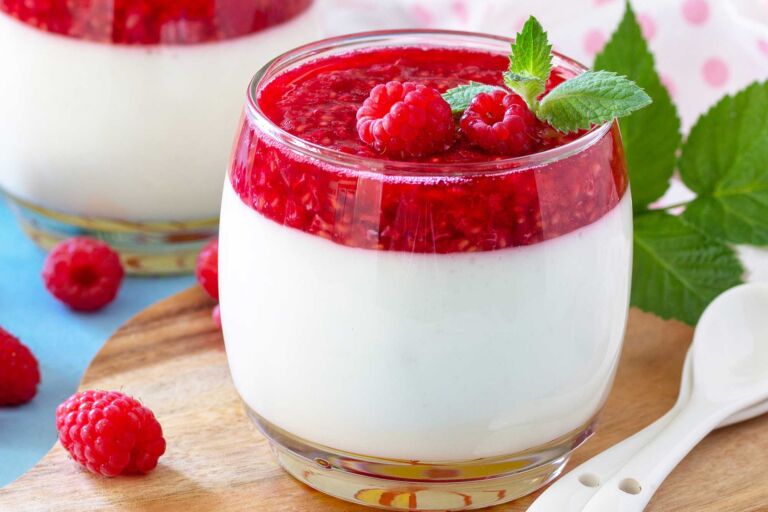 How To Make Panna Cotta With Raspberries Sauce
| Prep time | Cook Time | Rest Time | Total Time |
| --- | --- | --- | --- |
| 25 min | 5 min | 300 min | 330 min |
Servings: 6 person
Calories: 240kcal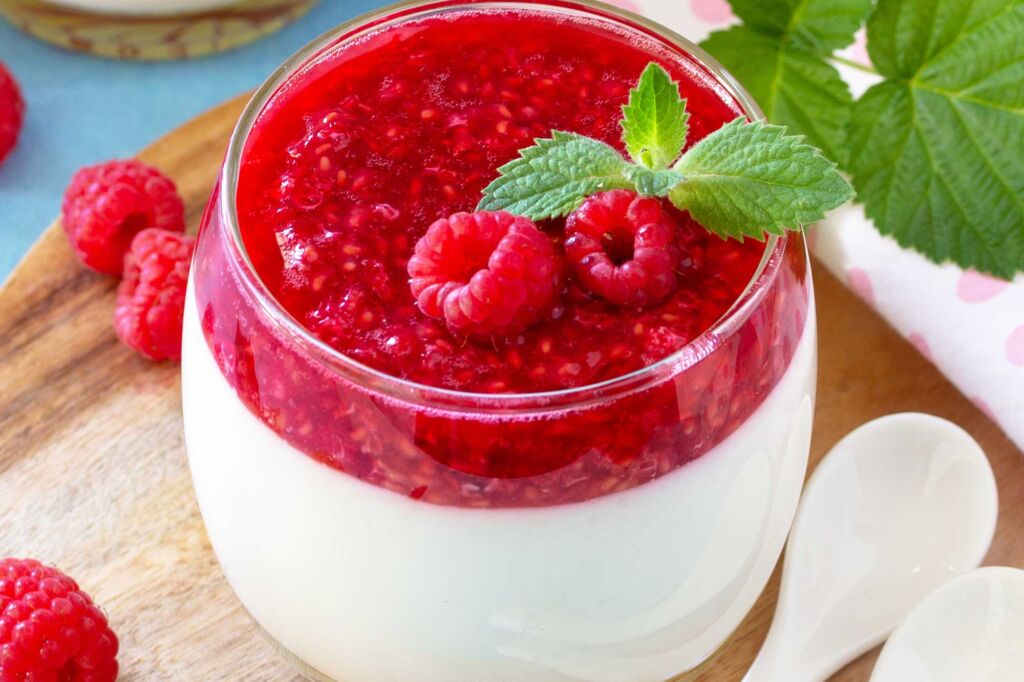 For a greater scenographic effect, but also for practicality, we advise you to use single-portion cups. After having cooled the panna cotta in the refrigerator you simply have to wet the molds on the outside and then turn them upside down on a plate. Or keep them is cup or glass, and decorate the top.
Ingredients
Panna Cotta
Raspberries sauce
Instructions
First put the gelatine in the bottom of a glass, cover with cold water and let it rest for 10 minutes. 

Meanwhile, pour the milk into a saucepan, put on the fire and just before boiling turn off the heat. Add the gelatine (if is  hard, place in microwave for 15-20 seconds, or until is liquify) and stir so as to dissolve them well.

Pour the double cream and sugar into another saucepan.
Turn on the fire/heat and bring to a boil, stirring constantly to dissolve the sugar.

When the sugar is completely dissolved, turn off the fire/heat, let it cool just for a few minutes then add the milk in which you melted the gelatine.

Wet the molds/cups/glasses for panna cotta with a little water and pour the milk and cream mixture into it. 

Put the cups in the refrigerator and let it rest for at least 5 hours.

After 5 hours passed, you can remove the panna cotta from the refrigerator, quickly immerse them in boiling water, flip on a plate and gently unmould, or you can leave them in the cups or glass, pouring the raspberry sauce on top.

Pass three quarters of the raspberries through a sieve, (or use a blender) collecting the pulp and juice in a bowl, sweeten the sauce with icing sugar to taste, mix well and put the sauce into the fridge as well.

Decorate the panna cotta with a few tablespoons of raspberries sauce and raspberries left whole.

Enjoy, Good Appetite!