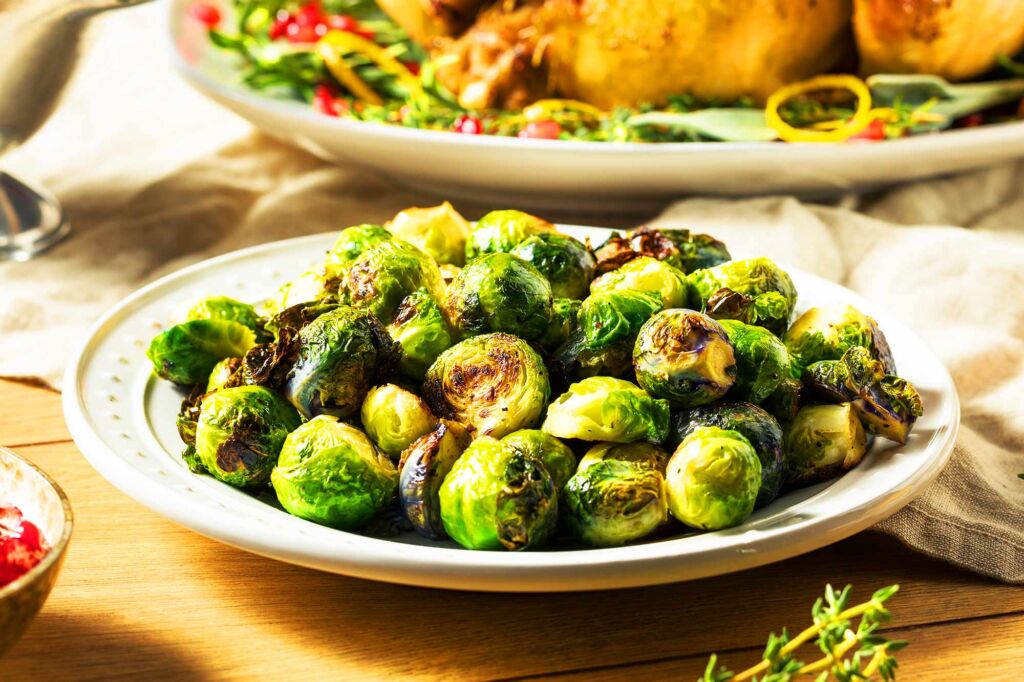 Jump to recipe
How To Make Roasted Brussels Sprouts
Roasting Brussels sprouts is one of the greatest ways to cook them. It's quite simple. A tasty twist on these everyday vegetables.
For the greatest oven Roasted Brussels Sprouts, you only need a few ingredients. Just a tasty, uncomplicated side dish, nothing difficult.
Most people either love or hate brussel sprouts. The majority of us ate frozen, underseasoned, mushy Brussels sprouts. It makes sense that most of people find them nasty.
If you're looking for recipes for roasted brussels sprouts, you probably adore them. I think you soon will if you don't already.
The basic sprout may be a wonderful veggie on its own for some people, but for me, it requires more. Without a little help, a sprout isn't a sprout.
I vividly remember the meals when I had to eat at least only one sprout as a child. I fussed and fought over whether eating the sprout was really necessary.
Since I make in this way, in our household, roasted Brussels sprouts are always welcomed, it goes well with just about every dinner during the winter.
Roasted Brussels Sprouts are so simple to make, inexpensive, healthful, and very adaptable. Even though they are easy enough for a weekday supper, Roasted Brussels Sprouts are sweet, flavorful, and elegant enough for special occasions.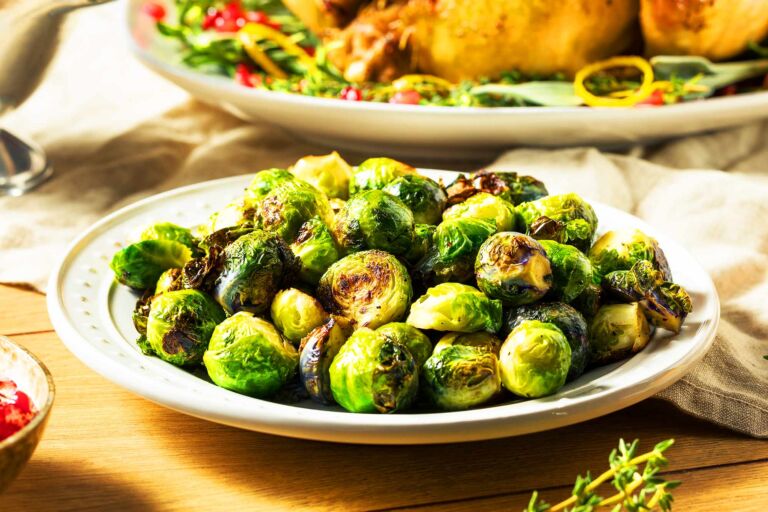 How To Make Roasted Brussels Sprouts
| Prep time | Cook Time | Rest Time | Total Time |
| --- | --- | --- | --- |
| 15 min | 45 min | - | 60 min |
Servings: 6 person
Calories: 54kcal
A Little History Of Brussels Sprouts
Cultivation
Europe
The Netherlands and Germany are the two biggest producers in continental Europe.
Although the output in the United Kingdom is equivalent to that in the Netherlands, its harvest is often not exported.
North America
When French immigrants brought Brussels sprouts to Louisiana in the 18th century, American farmers started growing them.
The Central Coast of California had its initial plantings in the 1920s, and considerable production didn't start until the 1940s. Several thousand acres have been planted in California's San Mateo, Santa Cruz, and Monterey counties' coastal regions because they provide the optimal mix of year-round cool temperatures and coastal fog. June through January is the harvest season.
The majority of American production—between 80 and 85 percent—goes to the frozen food market, with the remainder for fresh consumption.
After being harvested, sprouts last for three to five weeks in optimal near-freezing conditions before drooping and losing their color, and only last approximately half that time in the refrigerator.
Instructions
Preheat the oven to 200 °C (400 °F).

We preparing the ingredients

Trim the brussels sprouts and take off any leaves that are yellow.

Peel the onion and garlic.

Mash or grate the garlic (you can use garlic and onion powder also, ½ tsp garlic and 1 tsp onion powder), and finely chop the onion.

Put the brussels sprouts, onion, garlic, olive oil, salt, and pepper in a large bowl.
Mix the ingredients with your hands until all are evenly coated. Instead of a bowl, you can put them in a large resealable plastic bag. Seal, and shake to coat.

Arrange on a baking sheet the brussels sprouts in a uniform layer.

Bake the brussels for 30-45 minutes, turning them every 5 minutes. Lower the heat if the brussels sprouts are browning too quickly.

When finished, make a taste test and season with salt and pepper if needed before serving.

Enjoy, Good Appetite!