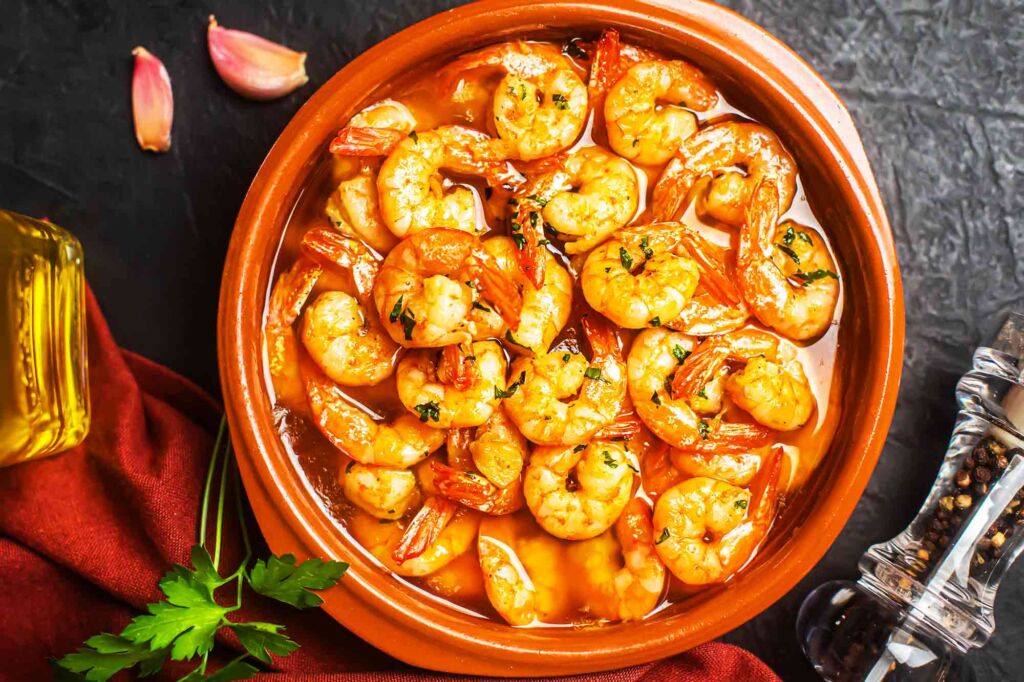 Jump to video
Jump to recipe
Spanish Garlic Shrimp – Gambas al Ajillo (Video)
Garlic and Chilli Shrimp is the easiest low carb weeknight or weekend meal. A garlic sauce with a smack of chili, just chop some aromatics, sear shrimp, and combine with the sauce.
How to prepare this recipe
Spanish Garlic Shrimp (Gambas al Ajillo) it's commonly offered as an appetizer at Spain's tapas establishments. This meal, however, is so popular that it is occasionally served as an entrée.
Although I've seen garlic prawns prepared in a variety of ways, probably this is one of the easiest to make dishes in Spain. It is frequently paired with delicious bread drenched in oil flavoured with fish and garlic.
A piece of bread topped with shrimp and garlic may be an amazing tapa.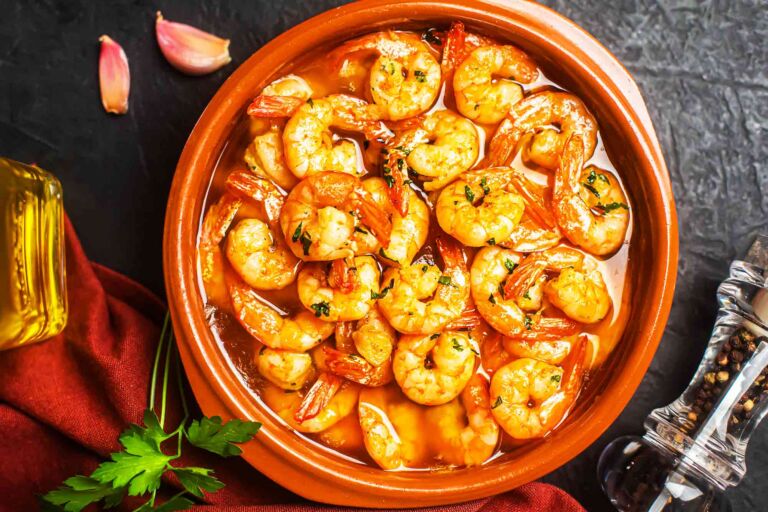 Spanish Garlic Shrimp – Gambas al Ajillo (Video)
| Prep time | Cook Time | Rest Time | Total Time |
| --- | --- | --- | --- |
| 10 min | 10 min | - | 20 min |
Servings: 1 person
Calories: 305kcal
It is normally served with the shrimp already peeled, while it is sometimes served with the shrimp's head in Spain. You get more taste this way, but it's a little more harder to consume.
Tapas are commonly served as an appetizer or as a main entrée in pubs and restaurants.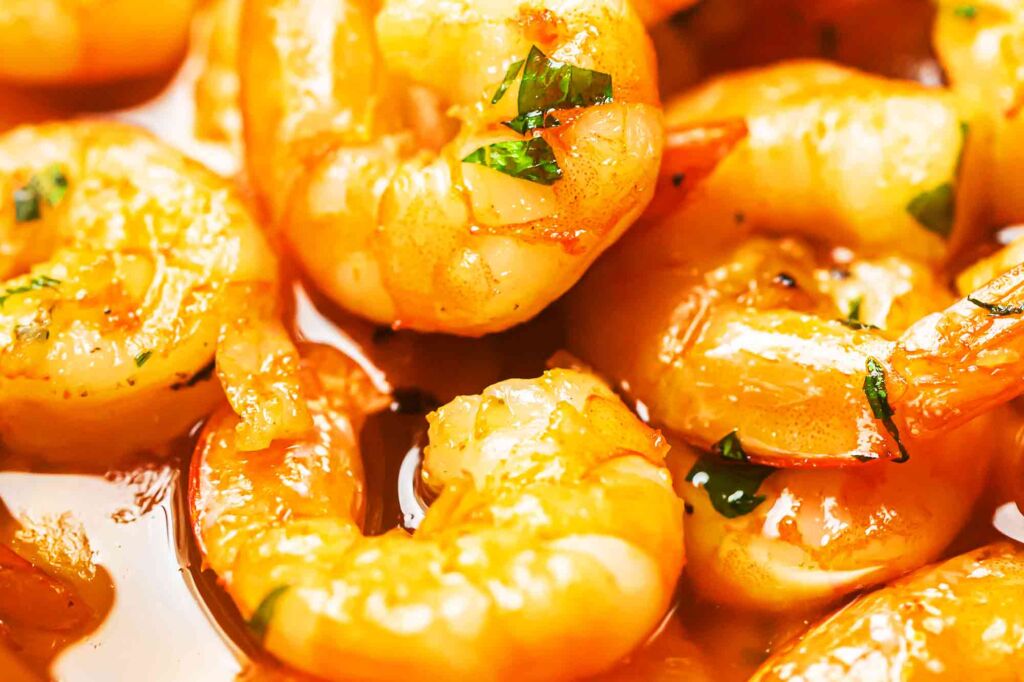 The key of this recipe is in the quality of the ingredients, you may start with fresh prawns, but if your household budget does not allow for it, you can also produce very nice results using quality frozen prawns.
A nice extra virgin olive oil, well-browned garlic, and a spicy and crispy touch will make the prawn moist, while also creating a superb taste combination.
I hope you are inspired by this dish, which is always a hit at home and serves as the foundation for other foods in addition to being ready in 10 minutes.
Instructions
Shrimp cleaning before starting with the recipe

We have two options as I have mentioned, fresh or frozen shrimp. If the prawn is fresh, we remove the head and tail. If they are peeled, you will skip this step.

Put the prawns in a bowl and wash to remove impurities. Dry with a cotton cloth or absorbent paper.

If the prawn is frozen, it is best to leave them the day before in the fridge and let them unfroze little by little. For this, use a bowl with a strainer or any other container in which the water can drain without being in contact with the prawns.

Drain the water well the next day. Dry it as if they were fresh.

In any of the 2 options we remove the intestine (if is not removed) and season with salt to taste.
Set aside.

Preparation of garlic prawns

In a casserole put the extra virgin olive oil with the roughly chopped chillies.

Peel the garlic cloves and cut into thin slices. Heat and brown the sliced  garlic cloves, let them golden brown, but do not burn, we do not want them to give us a burned taste.

Add the previously drained prawns. Raise the heat and season with salt and pepper to taste. Cook it for 2-3 minutes, then turn off the heat.

Serve immediately with a good slice of bread and a good cool white wine. 

Enjoy, Good Appetite!