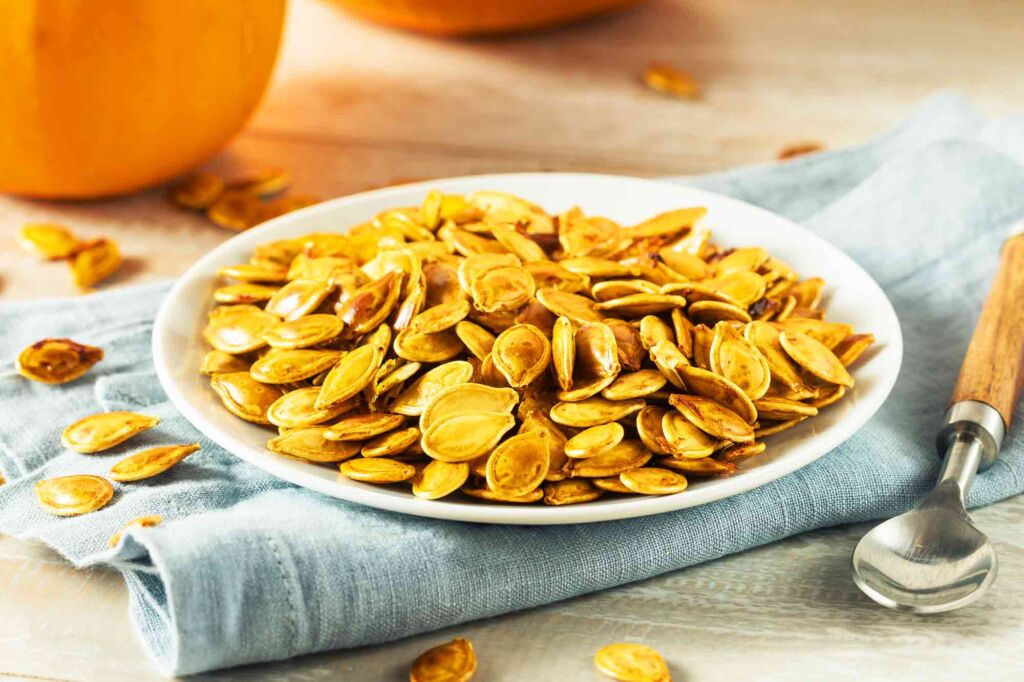 Jump to recipe
How to Roast Pumpkin Seeds
Although pumpkin seeds can be consumed raw, they are best roasted. Here is How to Roast Pumpkin Seeds step by step.
The best roasted pumpkin seeds are those that are roasted on their own with a little olive oil. However, they can be roasted with salt, black pepper, paprika and even garlic powder.
Have you ever attempted to roast your own pumpkin seeds?
More than 7,500 years ago, in the Oaxaca Highlands of Mexico, pumpkin seeds were first used for food.
Keep your Jack-O-Lanterns for a little while longer. Try to roast your own pumpkin seeds.
Don't forget to keep those pumpkin seeds before tossing them away if you're carving pumpkins for Halloween, or making homemade pumpkin puree, or just using them as decorations for the fall.
Especially when roasted, pumpkin seeds are a wonderful and nutritious snack that is crispy, crunchy, and highly addictive. They are simple to make, ready to eat in just 30 minutes, and are great for granola, trail mix, and salads. Basically any recipe that requires a little crunch.
It is possibly simpler than you think to clean pumpkin seeds and prepare them for roasting. The seeds don't need to be soaked in water and let to dry overnight, it's a rapid procedure.
We had a lot of pumpkin seeds last week when we carved faces into our pumpkins. I've been getting ready to roast pumpkin seeds for weeks, both for ourselves and for our friends who have never tried them.
In our family, toasting pumpkin seeds during the fall has been a tradition for as long as I can remember.
Health Benefits of Roasted Pumpkin Seeds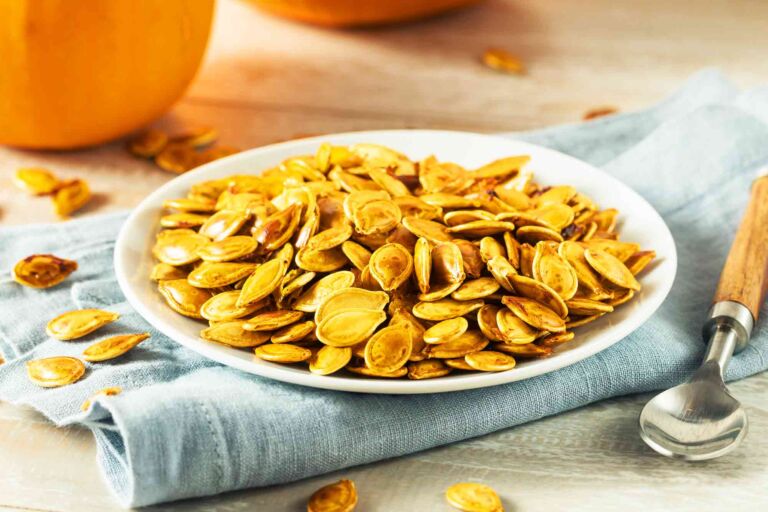 How to Roast Pumpkin Seeds
| Prep time | Cook Time | Rest Time | Total Time |
| --- | --- | --- | --- |
| 15 min | 10 min | - | 25 min |
Servings: 4 person
Calories: 466kcal
Health Advantages of Roasted Pumpkin Seeds
A modest dose of pumpkin seeds has high quantities of several critical vitamins and minerals, making them a strong source of numerous nutrients. However, they are also high in calories, so consume them in moderation to maintain a healthy weight.
Add a few to your meal for a range of possible health advantages, including:
Effects that reduce inflammation
Antioxidants, which shield our cells from harm that could cause disease and lessen inflammation in our bodies, are abundant in pumpkin seeds. Additionally, they're a fantastic source of dietary fiber, which can strengthen this impact.
According to studies, the anti-inflammatory properties of pumpkin seeds can support the maintenance of healthy liver, bladder, intestine, and joint function.
Diabetes Risk Is Reduced
Magnesium, which the majority of people don't receive enough of in their diets, is abundant in pumpkin seeds.
The presence of magnesium lowers your chance of developing diabetes by regulating blood sugar levels. According to studies, pumpkin seeds assist diabetics in managing their condition by helping them maintain blood sugar control.
Cancer-Preventive Qualities
Pumpkin seeds have been shown in lab research to be able to halt the growth of breast and prostate cancer cells. They also cause apoptosis, or the death of cancer cells. The strong antioxidant activity of pumpkin seeds is largely responsible for these effects, although much more investigation is required to examine a wider variety of malignancies.
Optimal Heart Performance
Pumpkin seeds' high magnesium concentration helps in regulating and lowering blood pressure. This result explains why diets rich in magnesium are linked to a reduced risk of heart attack and stroke.
According to studies, the antioxidants in pumpkin seeds also raise your body's nitric oxide levels. This acts to maintain the health, flexibility, and smoothness of your blood vessels, enhancing blood flow and lowering your risk of heart and circulation issues.
Enhanced Sleep
Having a snack of pumpkin seeds before bed may improve your quality of sleep. Tryptophan, an amino acid that helps people fall asleep, can be found naturally in pumpkin seeds. Pumpkin seeds contain zinc, copper, and selenium, which may also influence the quantity and quality of sleep.
Finally, research indicates that magnesium can help lower stress and anxiety, two factors that contribute to insomnia.
Instructions
Set oven temperature to 220°C (400°F).

The seeds must be carefully cleaned, and any stringy pumpkin flesh needs to be removed.

Using kitchen towel, dry thoroughly.

Spread the seeds on a baking tray and mix with the olive oil.

It is best consumed within a week or so. Keep them in an airtight container. You can put them back in the oven if they become soft.

If you like, serve as a snack with a little seasoning, or add as a garnish to salads, soups, or any other dish that calls for pumpkin seeds.

Enjoy, Good Appetite!