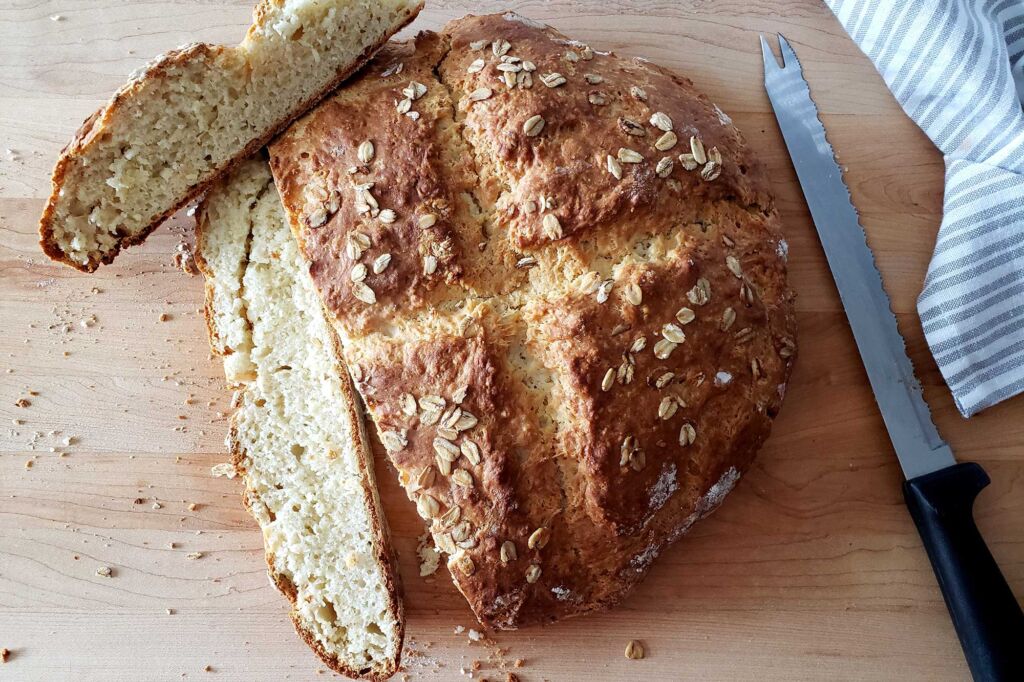 Jump to recipe
Irish Soda Bread Recipe
Here's a quick recipe for Irish bread with baking soda that can replace the traditional bread.
The Irish soda bread recipe is very simple! This bread is a type of fast bread in which yeast is replaced by baking soda. 

The main ingredients of this bread are: flour, baking soda, egg, salt and buttermilk.
Bread without yeast and without kneading?
Yes, it is possible. This is the well-known Irish bread with baking soda and buttermilk is a compromise solution when you don't have bread at home and no yeast available to bake something.
It is not a fluffy bread as you usually do when baking with yeast or buying from the store. On the contrary, it is a dense bread and because of density, a little is enough to fill the stomach.
Soda bread, as its original name, increases due to the sodium bicarbonate in the composition that reacts with the acid of the buttermilk, the chemical reaction between the two ingredients having this result.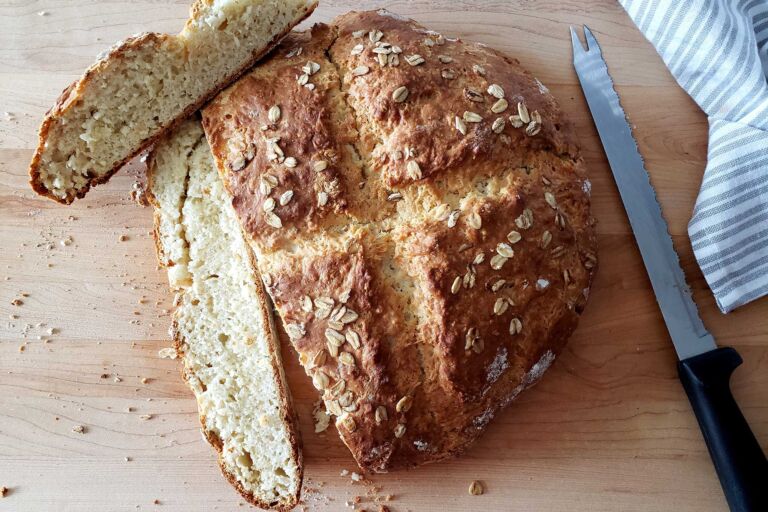 Irish Soda Bread Recipe
| Prep time | Cook Time | Rest Time | Total Time |
| --- | --- | --- | --- |
| 15 min | 35 min | - | 50 min |
Servings: 8 person
Calories: 207kcal
The History Of Irish Soda Bread
Ireland…also known as the "emerald island" because it has always been green, have gained an international reputation for their wonderful meadows. 
Typical Irish things includes also soda bread.
Although most of the time we find out – and we like to believe this – about some products that have a millennial tradition, it should be noted that baking soda (and then baking powder) were introduced to Ireland only after 1840.
Just like many other countries, Ireland also was a very poor country at the time, so this bread was in fact a bread of the poor people. 
It was made only from few ingredients: flour, buttermilk, butter, egg baking soda and salt.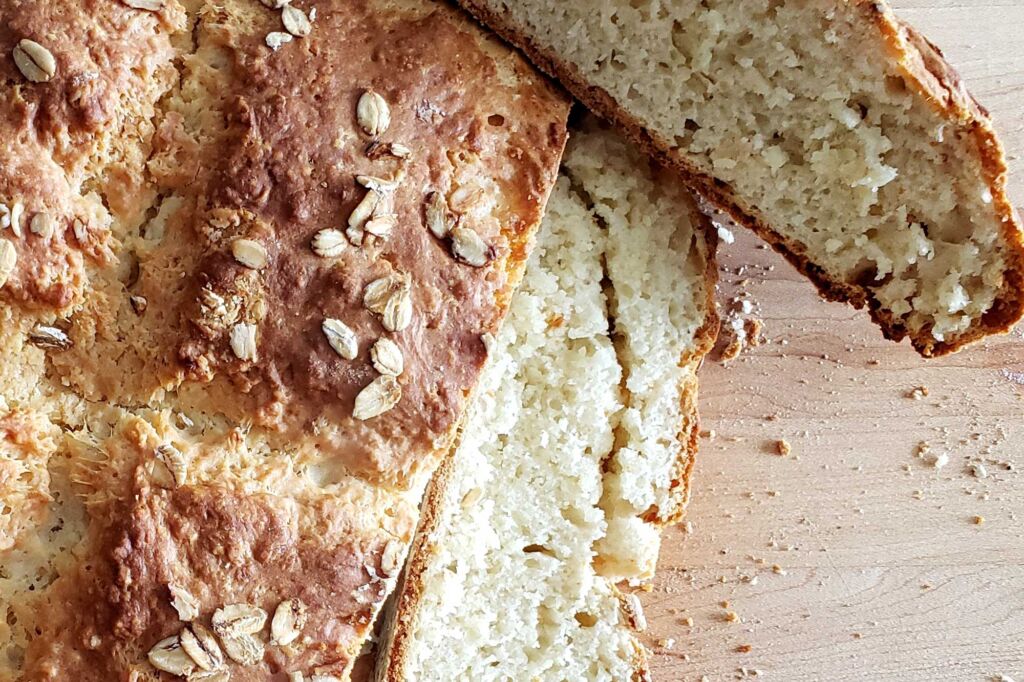 What about baking soda, though?
Maybe our grandparents or great grandparents remember that it was a real blessing to find yeast somewhere to buy. 
From a fair where they went once a month or two, could be bought a one-pound bag of baking soda. 
The yeast was quite expensive and would have spoiled for so long, while the baking soda has been undamaged for years and is also cheap.
In this way, they had a yeast substitute from which they could make their own bread. 
And here's another discussion. They did not have a special oven for baking bread, but they did have stoves for cooking and heating in their homes. That's why they baked their bread in improvised "ovens" of everything: in a cauldron, in a pan, even in various shapes invented for their everyday bread.
But regardless of the specific bread forms of each rural region in Ireland, they did not forget to score a deep cross in the top of the bread, so that the evil spirits would avoid their house and God would bless them with his mercy.
Instructions
Pre-heat the oven to 200ºC (400ºF) or Gas Mark 6.

In a large mixing bowl, combine the salt, flour and baking soda.
With your fingertips, rub the butter into the flour mixture until it resembles bread crumbs.

In a separate jug, whisk together the egg and buttermilk.

Make a well in the center of the dry ingredients and pour in the liquid, 3/4 at a time. If you don't have buttermilk, you can use half-and-half plain yoghurt mixed with milk.

Bring the flour and liquid together with an open hand to form a loose dough.
|The dough should be soft but not overly sticky. You'll know if it requires more liquids at that point.

Turn onto a floured work surface and gently shape it into a flat, round loaf.

Put the loaf on the baking sheet and score a deep cross in the top. Traditionally, this lets the bad spirits out, but it also helps the bread to cook through.
Poke a hole in each of the four corners of the bread to release the fairies and prevent them from cursing your lovely bread.

Glaze the bread with the remaining buttermilk in your jug and top with rolled oats.
This is optional.

Bake for about 30 minutes, or until the loaf sounds hollow when tapped on the bottom. Allow to cool on a wire rack.

Transfer to a wire rack to cool, and cover with a clean tea towel, because this keeps the soda bread nice and soft.