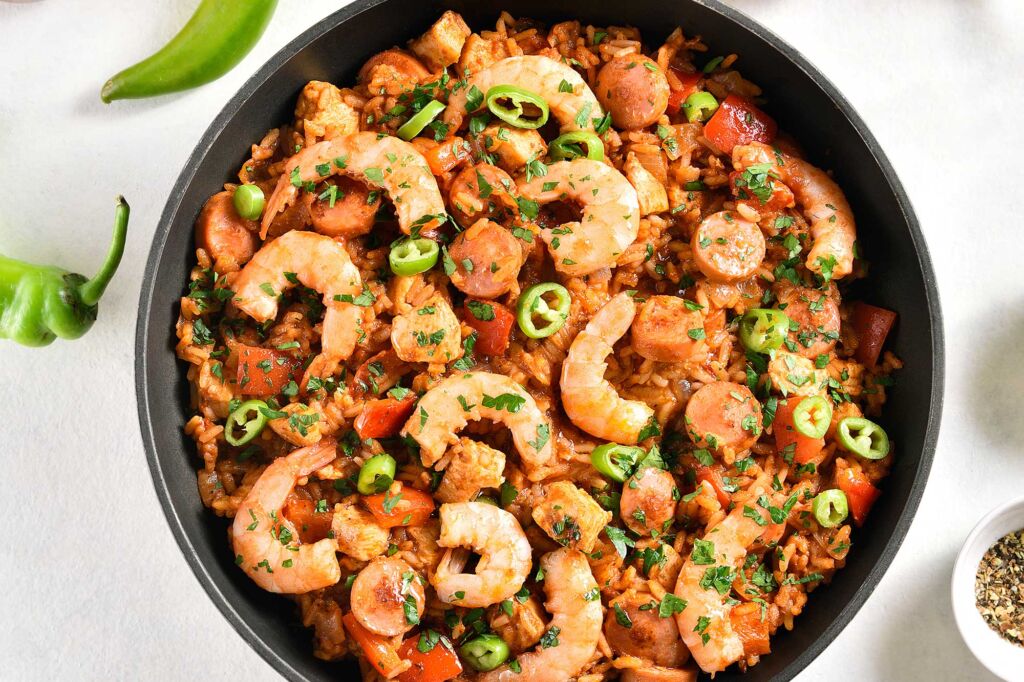 Jump to recipe
Jambalaya, The Orleans Creole Recipe
Jambalaya is a delicious and filling dish specific to Creole cuisine. 
Creole cuisine originates in the state of Louisiana, located in the southern United States, and is characterised by a mixture of culinary cultures, the predominant being the French, Spanish, Italian, Portuguese, African and Native American cuisines have also left their mark on Creole cuisine. 

In Jambalaya, one of the most popular dishes in Creole cuisine, we will always find meat (chicken, pork), vegetables (celery celery, bell peppers, onions), smoked sausages (Andouille or Chorizo), shrimp or prawns and rice with beans. 
All these ingredients combine so well that it is almost impossible not to want to try the Jambalaya food recipe at least once.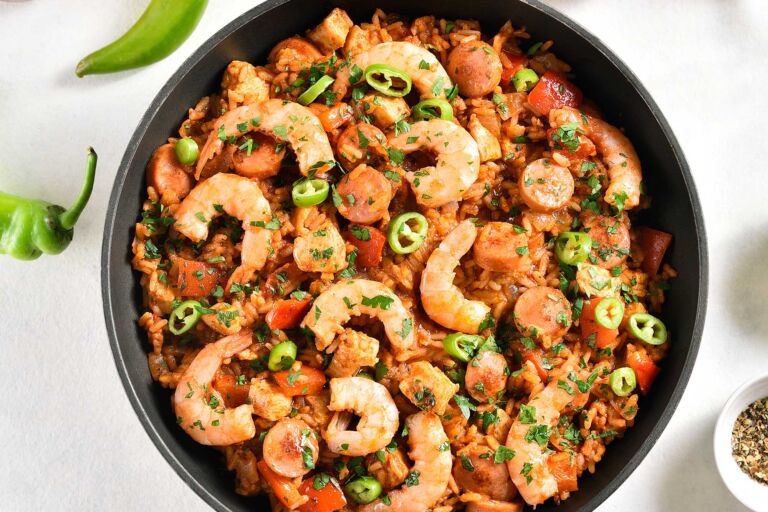 Jambalaya, The Orleans Creole Recipe
| Prep time | Cook Time | Rest Time | Total Time |
| --- | --- | --- | --- |
| 10 min | 45 min | - | 55 min |
Servings: 6 person
Calories: 520kcal
Origin
Jambalaya is a Louisiana-born dish with historical influences from France and Spain.
Jambalaya gets its name from the Provence region of southern France, where it was originally spelled jambalaja, and it may have descended from Provençal French pilaf and the Spanish dish paella.
Jambalaya's origins can be traced back to the French and Spanish empires. However, due to the unfortunate trans-Atlantic slave trade, many sources trace the dish's origins back to West Africa, where it bears unmistakable similarities to Jollof rice.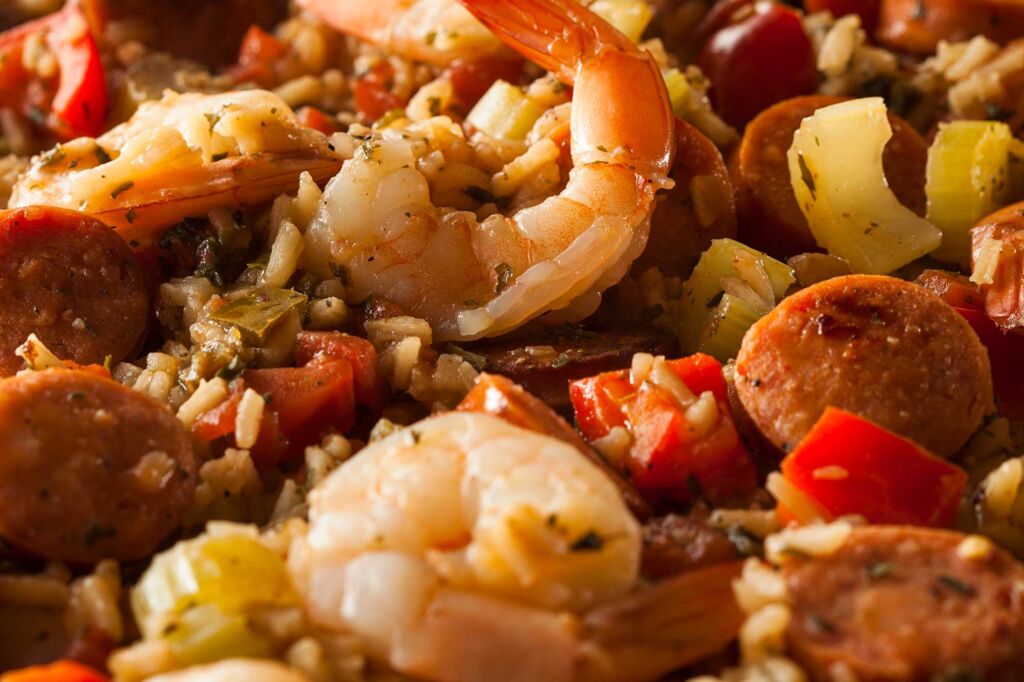 Instructions
Cut the skinless, boneless chicken breasts into bite-sized pieces.
Slice the chorizo.

In a large stock pot, heat the half of the oil over medium-high heat.
Sauté the bite-size chicken and sausage for 5-7 minutes, stirring occasionally, until the chicken is cooked through and the sausage is lightly browned.
Set aside on a clean plate.

Pour the remaining oil into the stockpot.
Add the sliced celery, jalapeño, diced onion and minced garlic.
Cook, stirring occasionally, for 5 to 6 minutes, or until the onions are softened.

Stir in the crushed tomatoes, chicken stock, rice, cajun seasoning, salt, and pepper to taste.

Continue to cook the mixture until it reaches a simmer. Reduce the heat to medium-low, cover, and cook for 25-30 minutes, or until the rice is nearly done.
Stir every 5 minutes to prevent the rice from burning.

Add and stir in the shrimp to combine. Continue to cook, stirring occasionally, until the shrimp are fully cooked and pink.

Stir in the chicken and sausage, and cook for 1 to 2 minutes.

Season the jambalaya to taste with salt, pepper, and additional cajun seasoning if desired.

Turn off the heat.

Garnish with desired garnishes and serve warm.

Enjoy, Good Appetite!