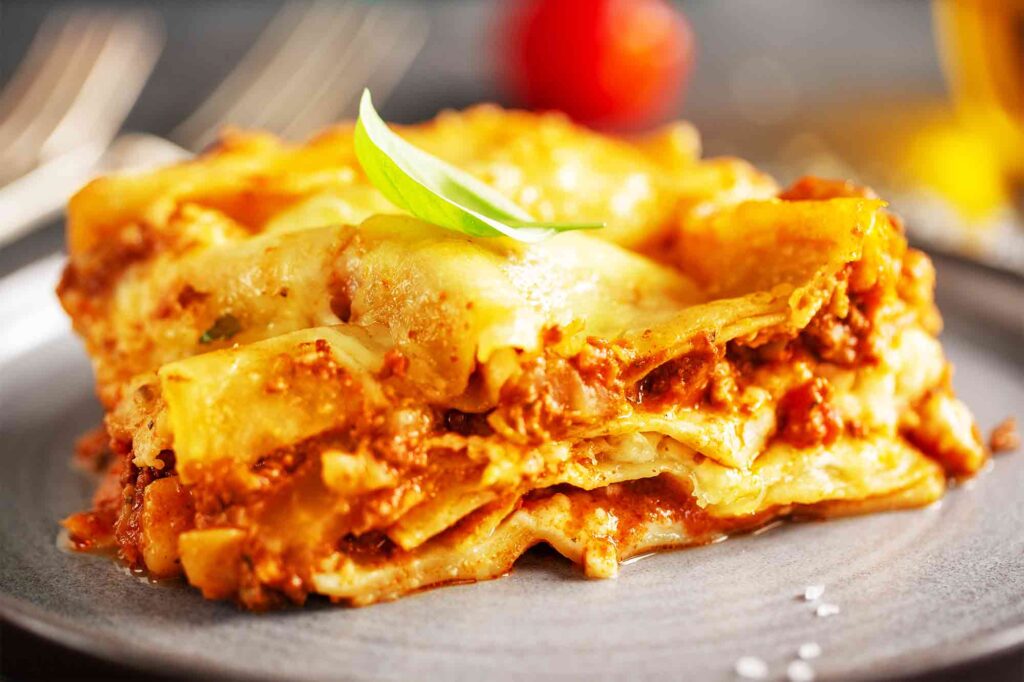 Jump to recipe
Lasagna Bolognese
Savor tradition with Lasagna Bolognese: Egg pasta, delectable ragù, and creamy béchamel create a symphony of flavors straight from Italy.
Lasagna Bolognese represents a classic initial dish characteristic of Emilian cuisine, made using fresh egg pasta combined with minced meat ragù.
One of Emilia Romagna's quintessential first courses is Lasagna Bolognese, distinguished by the delightful essence of egg pasta, harmoniously paired with a savory Bolognese ragù, abundant creamy béchamel sauce, and a generous sprinkling of grated Parmigiano Reggiano.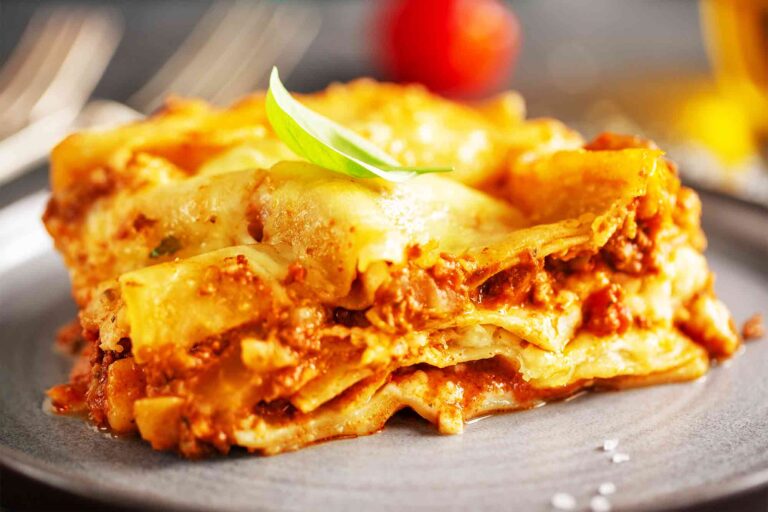 Lasagna Bolognese
| Prep time | Cook Time | Rest Time | Total Time |
| --- | --- | --- | --- |
| 90 min | 180 min | 60 min | 320 min |
Servings: 4 person
Calories: 510kcal
Lasagna Bolognese boasts a subtle, refined flavor
enjoyed by the entire family, doubling as both a first course and a hearty standalone meal due to its opulent array of ingredients. While the process might demand a bit of effort, especially in the meticulous preparation of the ragù which demands time and patience, it's undoubtedly a recipe worth attempting.
To streamline the process, you can opt for pre-made egg pasta sheets, but if you're inclined to embrace the complete creation of this dish, you can even fashion the egg pasta dough yourself.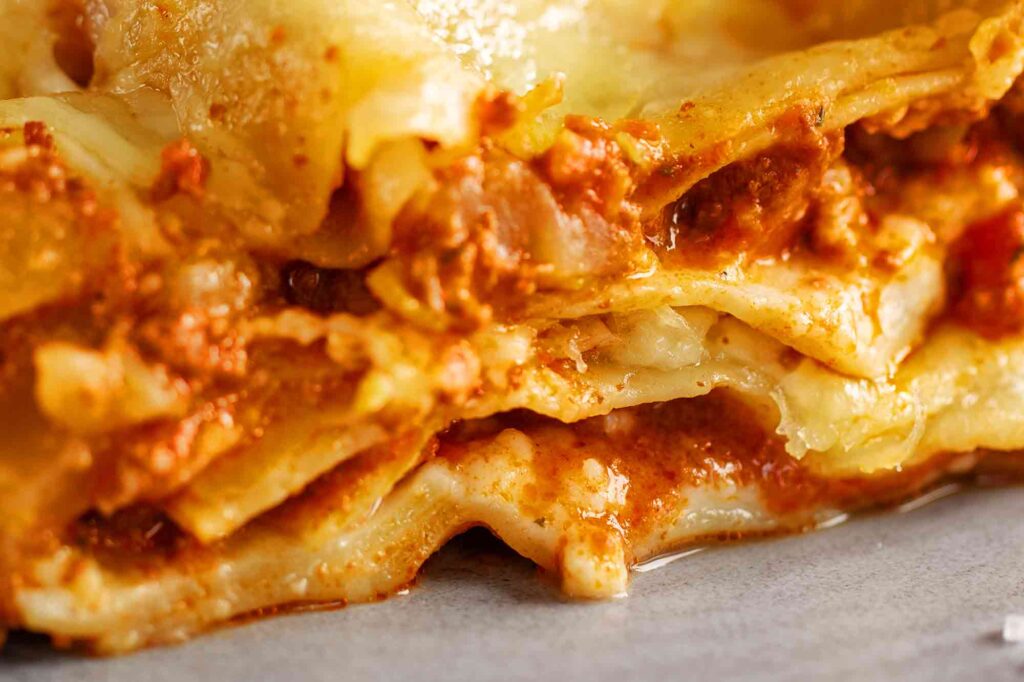 How to Make Lasagna Bolognese
Lasagna Bolognese necessitates an ample supply of sauce, as the pasta sheets necessitate immersion within the sauce itself for cooking. Consequently, it's crucial to prepare a ragù that's neither overly thick nor excessively dry.
Should the sauce exhibit signs of evaporating during cooking, introduce ladlefuls of hot broth gradually, ensuring you augment the broth as the previous additions assimilate. Nevertheless, exercise prudence to prevent an excessively fluid consistency.
If you opt for a slow simmer for the ragù, the inclusion of broth might not be a requisite at all.
The choice of egg pasta
for Lasagna Bolognese has sparked debates, oscillating between simple egg pasta and green egg pasta. In this instance, we'll explore the utilisation of the former, which is also conveniently accessible in stores.
However, for those inclined to venture into novel gastronomic territories, experimenting with green pasta sheets is certainly an option.
Ingredients
For the sauce
For pasta sheets (or you can use fresh, ready bought)
For Béchamel sauce
Instructions
Begin by heating the oil and butter

in a deep-bottomed saucepan over medium heat.

Toss in the diced onion, allowing it to gently brown. Following this, add the chopped celery and carrot, and brown them.

Add the bacon and, after a minute, the minced meat. Brown over high heat, stirring constantly with a spoon. When it changes colour, add salt and freshly ground pepper.

Pour in the white wine and let it evaporate. Add the tomato purée and the two tablespoons of concentrate.
Stir and bring to the boil, then cover and cook for about two hours over a very low heat.

In the meantime, (if you use, if not, skip this step) transfer the spinach to a saucepan with a finger of water, add salt and cook, lightly covered, until tender.

Drain them, put under running cold water to stop cooking and squeeze them very well, so that they do not release anymore water.

Put them in the blender and process them finely.

Prepare the pasta: mix the ingredients by hand or with a standing mixer until you obtain a homogeneous, smooth and elastic paste, which you will put inside a tightly closed plastic food bag. (If you don't use spinach, just use the egg and the flour)
Leave to rest for at least 1 hour at room temperature.

Roll out the dough with a rolling pin on the floured surface bringing it to a thickness that is not too thin.
Then with a sharp kitchen knife or a pasta wheel, cut out some sheets which must have the pan or dish shape and must be slightly smaller than the pan.

Arrange a first pasta sheet inside the heat resistant pan or dish to cover the bottom. Add a layer of béchamel, taking care to reach the edges well and cover with the ragù.

Sprinkle with plenty of grated Parmesan.

Cover with another sheet of pasta dough and continue in this way until all the ingredients are used up.

You will have to do 5-6 layers in all. Finish by covering everything with a last sheet of pasta dough and sprinkle with parmesan cheese.

Preheat the oven

to 180°C (350°F).
Bake for about 45 minutes. Check frequently and, if it takes too much color, cover with aluminum foil.

Remove from the oven, let it rest for 5 minutes and serve your lasagne alla bolognese immediately.

Enjoy, Good Appetite!