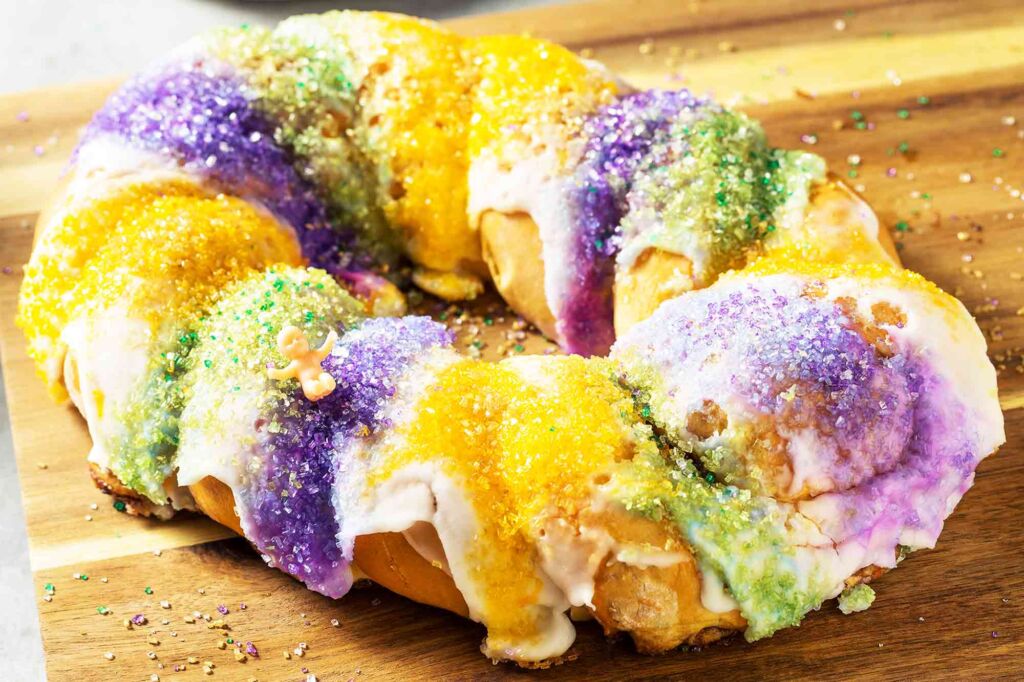 Jump to recipe
Mardi Gras King Cake Recipe
Celebrate Mardi Gras with a delicious Mardi Gras King Cake made with cinnamon and/or cream cheese filling that's better than store-bought.
Savor the delectable Mardi Gras King Cake prepared at home and indulge in the festive spirit!
The recipe calls for a delightful brioche dough and a filling of either cinnamon or cream cheese, making it the ultimate king cake recipe that surpasses any store-bought or bakery-made options by a thousand times.
This recipe makes two King Cakes.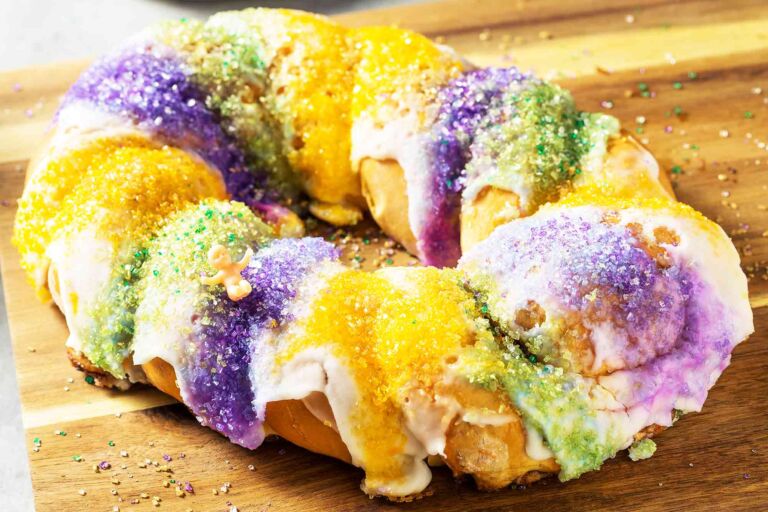 Mardi Gras King Cake Recipe
| Prep time | Cook Time | Rest Time | Total Time |
| --- | --- | --- | --- |
| 40 min | 25 min | 180 min | 245 min |
Servings: 20 person
Calories: 307kcal
A Little History of Mardi Gras King Cake
The history of the King Cake is ancient, with its origins tracing back to pre-Christian winter festivals in Europe.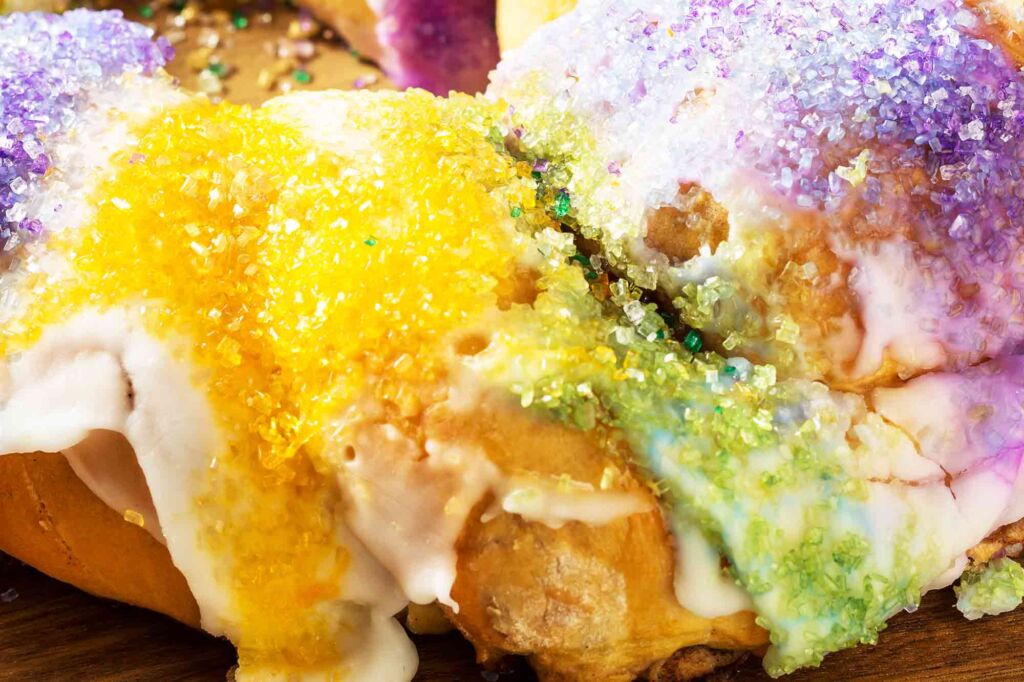 Originally a symbol of renewal and rebirth, the cake later became part of the Christian tradition of celebrating Epiphany in the Middle Ages. A small trinket is traditionally baked inside the cake, and the person who finds it in their slice is said to have good luck for the coming year and must provide the next cake for the celebration.
In Louisiana, the cake is a symbol of the Mardi Gras season and is often decorated with purple, green, and gold icing to represent justice, faith, and power.
Although King Cakes are enjoyed worldwide, they are most closely associated with the American South, particularly New Orleans, where they are a vital part of the Mardi Gras festivities.
Ingredients
For the dough
For Cinnamon Filling Option
For Cream Cheese Filling Option
For The Frosting
Instructions
Make The Dough

Heat milk and butter for 60-90 seconds in a microwave safe bowl. Add the salt, then set aside to cool until just warm.

In a separate bowl, combine the warm water, about 1 tablespoon of the sugar, and the yeast.

Stir, then let it sit for 5-10 minutes until the yeast is foamy.

Once the yeast is foamy, add the milk and butter, the remaining sugar, eggs, vanilla, and 120g (4.2 oz) flour.

Mix well, then continue adding flour while kneading with the dough hook attachment, 120g (4.2 oz) at a time. Only add the additional 60g (2.1 oz) of flour if the dough is really sticky.

Knead for 5 minutes on medium speed or 8-10 minutes by hand to create a very soft dough that starts coming away from the sides of the bowl.

Turn out the dough onto a floured surface and knead a few times by hand until a smooth, round ball forms.

Clean and lightly oil the bowl, then return the dough to the bowl, turning to coat.
Cover with plastic wrap and let rise in a warm place for 1-2 hours or until doubled in size.

Make The Filling

For the cinnamon filling, combine the brown sugar, granulated sugar, flour, cinnamon and butter, mixing to combine.
Set aside.

Only use half of the amounts if you are only filling one king cake with this filling.

For the cream cheese filling, combine the softened cream cheese, powdered sugar, softened butter, and vanilla in a bowl.

Beat well until smooth. Set aside. Only use half of the amounts if you are only filling one king cake with this filling.

Assembly The Mardi Gras King Cake

Line two baking sheets with parchment paper and set aside.

Once the dough has doubled in size, punch it down and divide in half. Remember, this recipe makes Two king cakes.

Roll out one half of the dough into a large rectangle on a lightly floured surface, roughly 10×16-inches.
Use a pizza cutter to divide the dough in half lengthwise to create two long rectangles.

Crumble the cinnamon filling or spread cream cheese filling evenly over the dough and roll up into two long cylinders, just like when making cinnamon rolls.

Twist the two logs together into a rope braid, then transfer to the prepared baking sheet, shaping into an oval and pinching the ends together.

Repeat with the remaining dough and filling.
Cover lightly with plastic wrap and let rise for 30-45 minutes until puffy.

Preheat oven to 170°C (335°F) while the king cake is rising.
Bake for 25-30 minutes until golden brown and baked through.

The cake should be done when it reaches 90°C (190°) on a digital thermometer inserted into the center of each loaf. Remove from oven and cool completely before frosting.

Make The Frosting

Beat the powdered sugar, milk, butter, lemon juice, and vanilla in a medium bowl until smooth.

The frosting should be pourable but thick.

Stick a plastic baby figurine into each cake, pushing it down in to hide it.

Drizzle the frosting over both king cakes, spreading it with a spatula if needed for good coverage.

Sprinkle with the purple, green, and gold sugar while the frosting is still wet before it has a chance to set.

Enjoy, Good Appetite!

NOTE:
Freezing: To freeze a finished King Cake, wrap it tightly with plastic wrap and store it in an airtight container for 2-3 months. Let it thaw for 2-3 hours on the counter before serving.

Colored sugar: If you can't find colored sugar, make your own by adding a few drops of food coloring to 120g (4.3 oz) of granulated sugar in a jar with a tight-fitting lid.
Shake well to evenly dye the sugar.