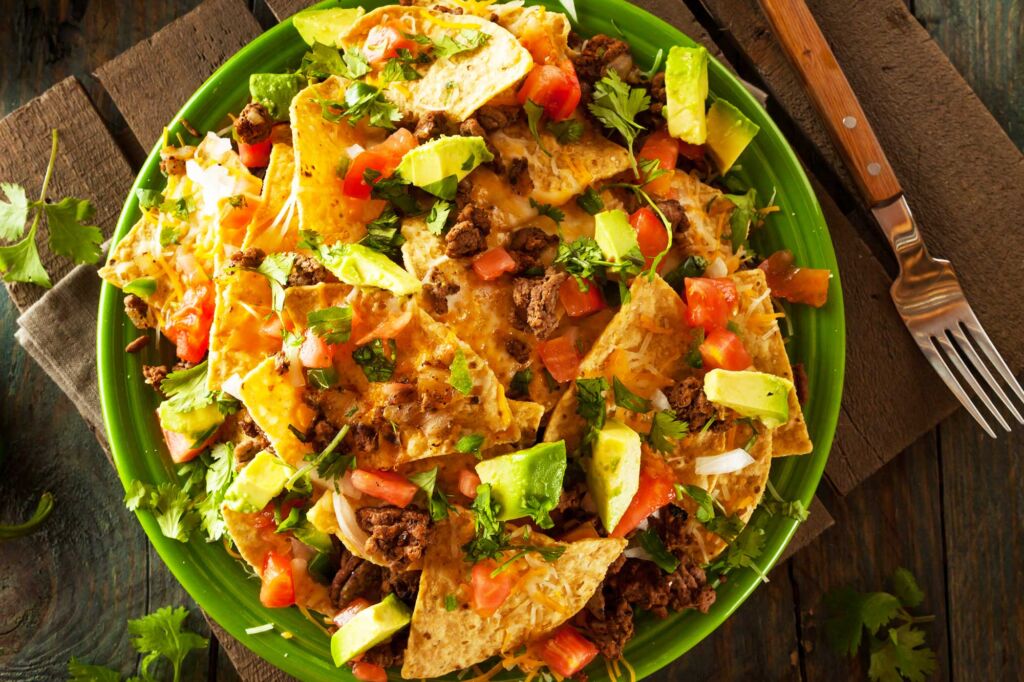 Jump to recipe
Nachos With Cheese
Nachos with cheese in the oven is a simple and tasty recipe. This tasty appetiser from Mexican cuisine is very easy and quick to prepare.
It is a delicious snack, suitable for summer evenings, although I would not refuse a portion even in the middle of winter when the spicy sauce and hot pepper will put my blood in circulation better.
In the Mexican cuisine, nachos topped with cheese or not just with cheese were found until 1990, but also with a bowl of tomato salsa next to them. 
Currently they are consumed with various toppings, and the sauces that accompany them can be cheese sauce, guacamole, salsa pico de gallo.
Sometimes I also prepare other Mexican recipes like: pork carnitas, chicken fajitas, quesadilla, taco.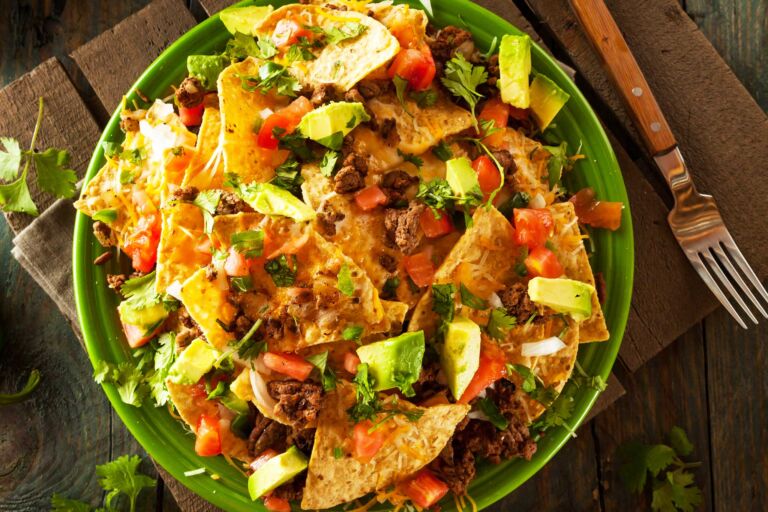 Nachos With Cheese
| Prep time | Cook Time | Rest Time | Total Time |
| --- | --- | --- | --- |
| 5 min | 15 min | - | 15 min |
Servings: 5 person
Calories: 483kcal
The contrast here is fantastic, shredded cheese melts into a bubbly blanket over the tortillas, while the guacamole adds a salty kick. It's a show-stopping dish for coffee table dining; keep it all on the baking pan and serve as a shared platter.
Nachos – tortilla chips – people usually buy when they are going to the cinema, but I say that on summer evenings also this is ideal for treat our guests.
Instructions
Place tortilla chips on a baking sheet, top with salsa, and scatter with sliced spring onions.

Slice the avocado and Jalapeño, and sort them on the top of the tortilla and salsa evenly.

Scatter with parsley or coriander.

Scatter generously with grated cheese.
Place in 200°C  (392 °F) preheated oven for 10 minutes or until the cheese is totally melted.

Serve with soured cream or guacamole (optional).

Enjoy, Good Appetite!