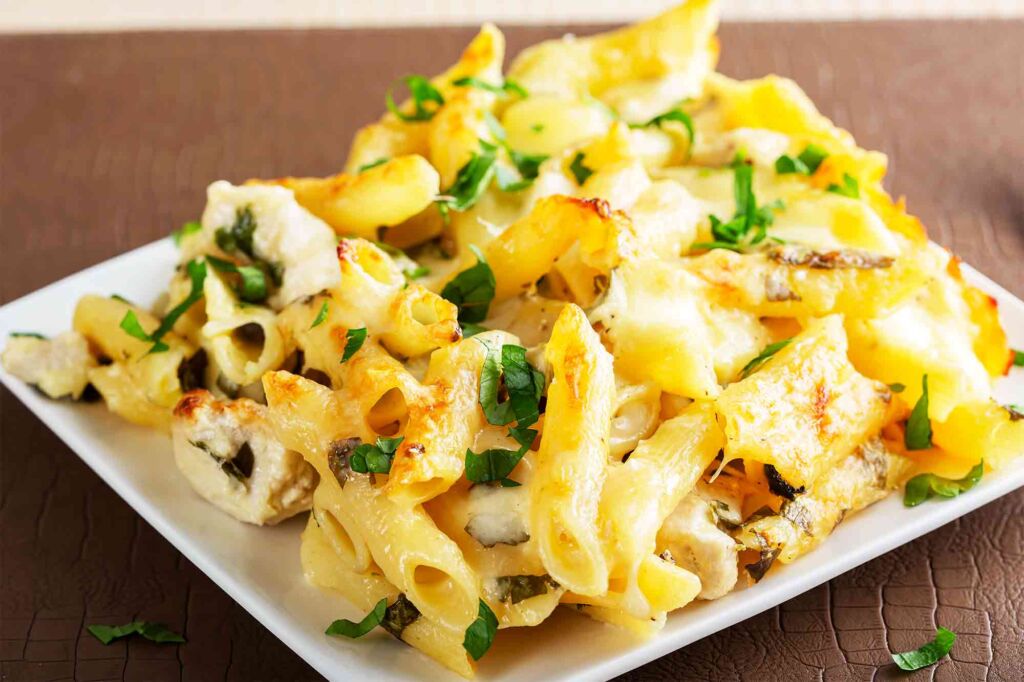 Jump to recipe
Penne Pasta With Chicken And Cheese
Indulge in a comforting plate of Penne Pasta With Chicken And Cheese, rich cream sauce and melted cheese. Perfect for a quick dinner.
Penne pasta with chicken, cream and cheese is a classic Italian–American dish that is easy to make and perfect for a quick dinner.
The dish is made by cooking penne pasta al dente, sautéing chicken in a pan with butter, garlic and herbs, creating a creamy sauce by mixing double cream, grated cheese, and some seasoning, then combining all the ingredients together to create a delicious and comforting dish.
The pasta is usually tossed with the sauce to coat it evenly and often garnished with fresh parsley or grated Parmesan cheese. The dish is typically served hot, and it can be enjoyed with a side salad or bread.
This dish is perfect for those who love a creamy pasta dish with a crispy chicken. It can be considered as a comfort food and can be a great way to enjoy pasta night.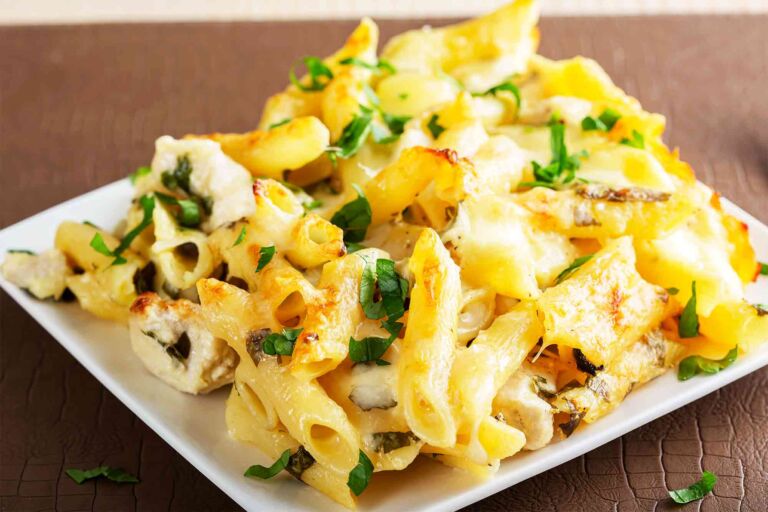 Penne Pasta With Chicken And Cheese
| Prep time | Cook Time | Rest Time | Total Time |
| --- | --- | --- | --- |
| 15 min | 45 min | - | 60 min |
Servings: 4 person
Calories: 760kcal
The history and origin of Penne Pasta With Chicken And Cheese
is not well-documented. However, it is likely that the dish has its roots in Italian–American cuisine.
Penne pasta is a traditional Italian pasta shape that originated in the southern region of Italy. It has been a popular pasta shape in Italy for centuries.
Creamy pasta dishes, on the other hand, have been a staple of Italian cuisine for a long time, with dishes such as Fettuccine Alfredo and Penne alla Vodka becoming popular in Italy and eventually spreading to other countries.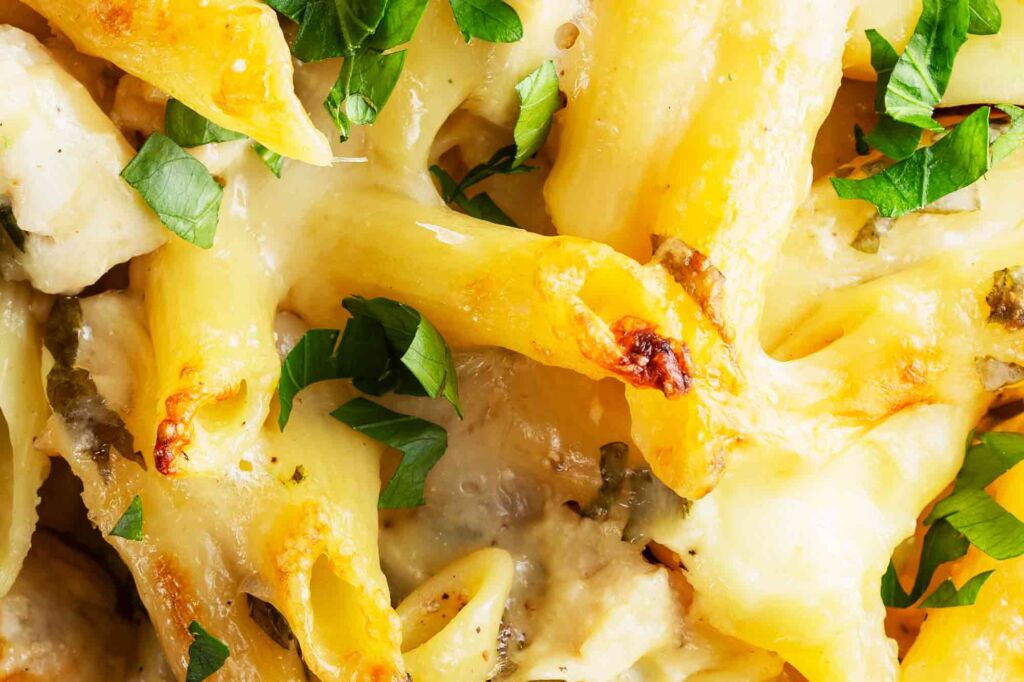 The dish as we know it today, with the addition of chicken, likely originated in the United States, where Italian immigrants brought their traditional dishes with them and adapted them to suit the ingredients and tastes available in their new home.
It is possible that this dish was created as a way to make use of ingredients that were readily available in the US such as cream and cheese, and to add protein to the dish.
It is also worth noting that this dish is not a traditional Italian recipe, it is more of an Italian–American creation, and it can vary depending on the region and the chef who prepares it.
Instructions
Preheat the oven

to 190°C (375°F).

Cook the pasta according to package instructions until it is al dente.
Drain and set aside.

In a large pan, melt the butter over medium heat. Add the chicken, garlic, salt, and pepper, and cook until the chicken is golden brown and cooked through, about 8-10 minutes.

Add the cream, Parmesan cheese, and mozzarella cheese to the pan.
Stir until the cheese is melted and the sauce is smooth.

Add the cooked pasta to the pan and toss everything together until the pasta is evenly coated with the sauce.

Transfer the pasta mixture to a 9×13 inch (23×33 cm) baking dish. Sprinkle the breadcrumbs on top.
You can sprinkle the top with extra cheese also.

Bake in the preheated oven for 20-25 minutes, or until the breadcrumbs are golden brown and the pasta is heated through.
If you sprinkled with cheese also, then bake until the cheese is melted, and is golden brown.

Serve hot, garnished with fresh parsley.

Enjoy, Good Appetite!

Note

You can use any kind of pasta you like, such as fettuccine, rigatoni, or spaghetti.
You can use different kind of cheese like cheddar, gouda or fontina instead of mozzarella cheese.
You can use olive oil instead of butter for a healthier option.
You can also add vegetables like mushrooms, bell peppers, or broccoli to the dish for added nutrition and flavor.
You can also use cooked and shredded rotisserie chicken instead of cooking the chicken.
You can also add some spices like oregano, basil or thyme to the breadcrumbs for more flavor.