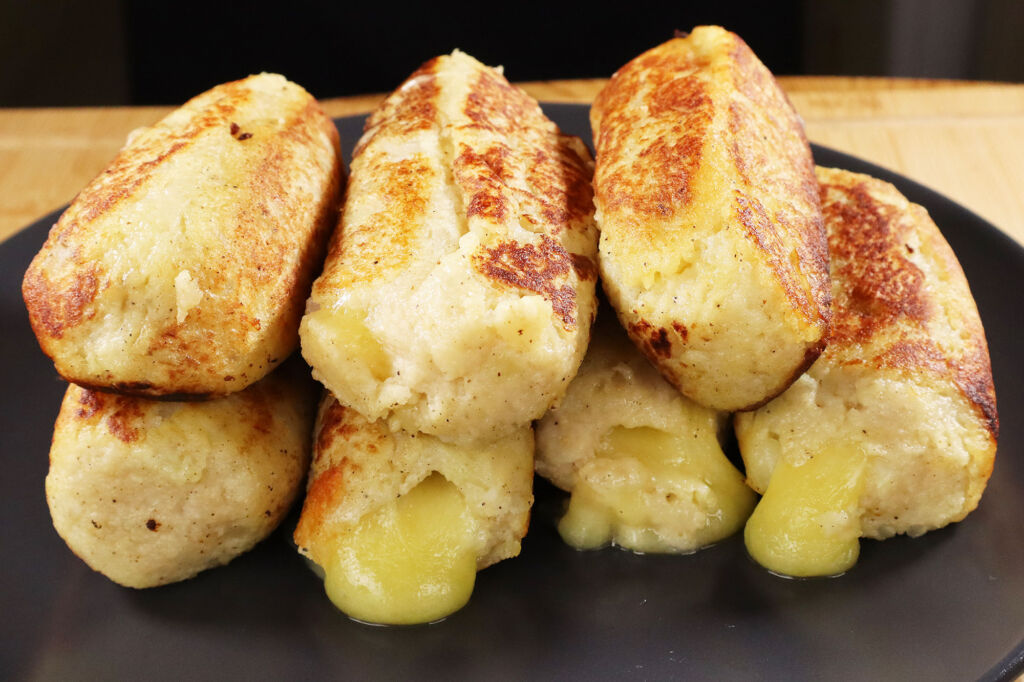 Jump to video
Jump to recipe
Mashed Potato Sticks Stuffed With Cheese (Video)
Potato sticks is one of the finest garnishes without any extras, and is not time consuming to make. The Youtube video has subtitles available in many languages, please turn on subtitles and please select your language.
How to prepare this recipe
One of my favourite potato garnishes is potato stick. I admit I'm not a big french fries fan, but potato sticks can be easily take me off of my feet, especially if it's accompanied by cheese.
You couldn't wish for anything better than the stuffed version: the melted cheese and the soft potatoes are in perfect harmony. One thing you just have to pay attention to: don't flour the potatoes too much, because then the dough will be hard, heavy, unenjoyable.
The potato stick recipe with cheese is ideal to make also when we have mashed potatoes left in the fridge and we don't know what to do with it.
We usually leave it in the fridge for a few days and then end up throwing it away and it's such a pitty.
We can reuse the puree in different ways, and this time I show you a super potato stick recipe, easy to make and very tasty. This time we don't make from leftover potatoes, we making it freshly, but the process is the same.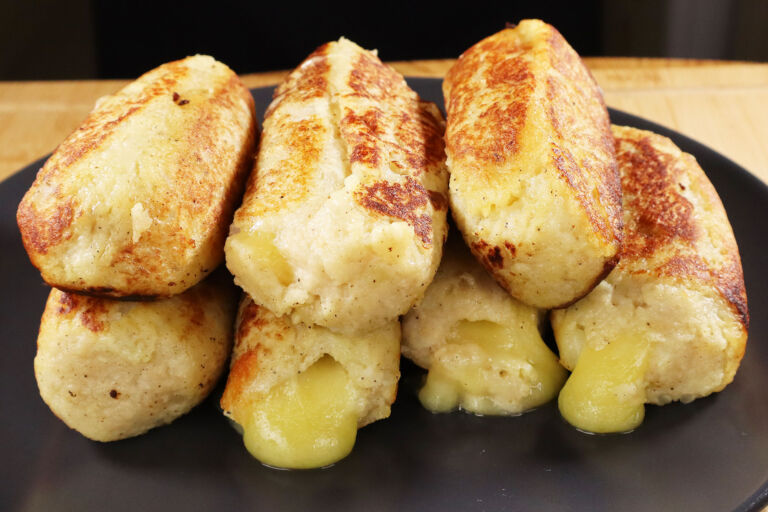 Mashed Potato Sticks Stuffed With Cheese (Video)
| Prep time | Cook Time | Rest Time | Total Time |
| --- | --- | --- | --- |
| 10 min | 50 min | 10 min | 70 min |
Servings: 4 person
Calories: 229kcal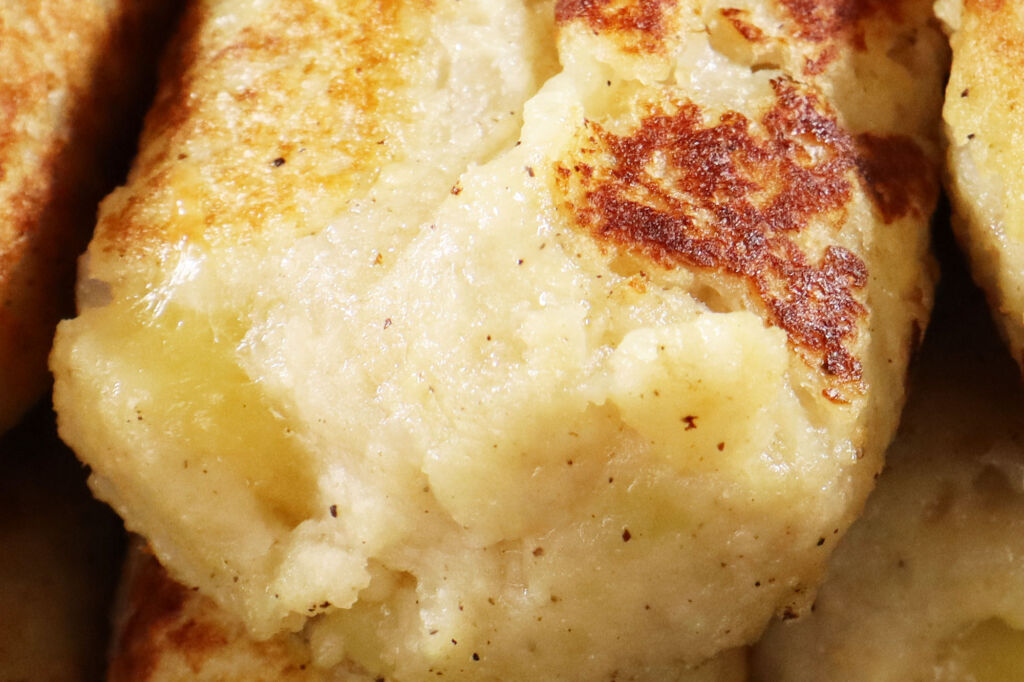 The recipe for potato stick with cheese is a simple and quick one. For the structure we add egg, breadcrumbs and flour. In this way the croquettes will keep their shape.
You can add any ingredients you want in the composition of the potatoes. For example parsley, green onions, garlic, peppers, or you can also add ginger, onions, roasted peppers or whatever you wish.
After all this, all we need to do, is to fry them. But before that, we put a piece of cheese in the middle of each potato stick. You can use whatever cheese you have in the fridge for example cheddar, mozzarella or even feta cheese. If you have cheese that you don't eat anymore, so much the better. There is another way to reuse this one too, instead to throw it away.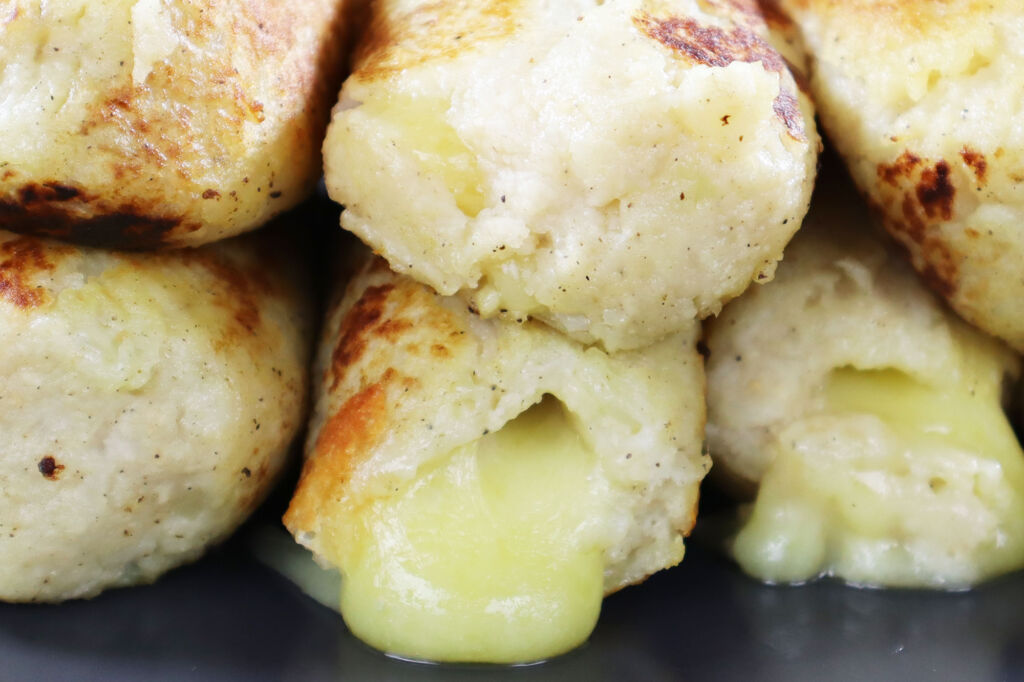 If you don't want to fry the potato sticks, you can cook them in the oven at 200°C  (390 °F) for 20-30 minutes or until they are nicely browned on top.
Can be served with roasted meats, meatballs, chicken or even fish.
Instructions
Peel the potatoes, and cook until soft in slightly salty water.
If you make from leftover mashed potato, skip this step.

After is cooked, mash potatoes, then set aside, let it col down to room temperature.

Mix the mashed potato with the egg, flour, breadcrumb.
Season with salt and pepper.

If you have block cheese, cut them to desired size.

Flatten the dough in your hand, place in the middle one cheese stick, and form them to stick shape. Try to cover totally the cheese stick.

Fry them in hot oil for a few minutes on each side, until golden brown.

Serve them immediately, until hot, with your favourite meat dish.

Enjoy, Good Appetite!