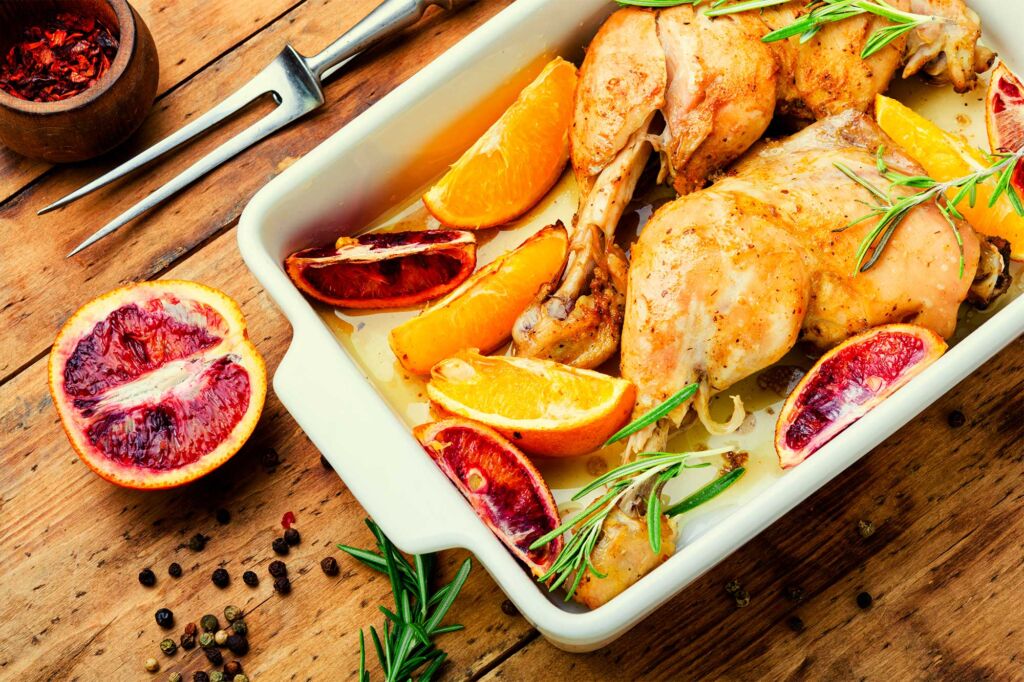 Jump to video
Jump to recipe
Roasted Orange Chicken Recipe (Video)
What is orange chicken made of? The orange chicken is very easy to make, and the taste is heavenly, so try this easy and quick recipe.
How to prepare this recipe
It is always a very easy recipe to prepare, with very basic ingredients, mainly this Orange Chicken, and the result could not be more satisfactory. In fact you begin to salivate when that characteristic smell of spices and meat emanates from the oven 😛
These oven-roasted orange chicken thighs with potatoes give a twist to the classic ones, since they introduce oranges as a sweet and citric element, providing a new nuance that looks great on the meat.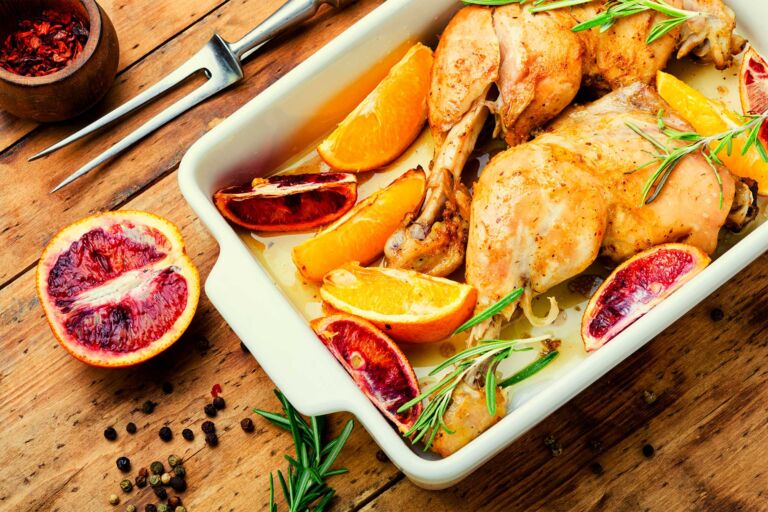 Roasted Orange Chicken Recipe (Video)
| Prep time | Cook Time | Rest Time | Total Time |
| --- | --- | --- | --- |
| 20 min | 90 min | - | 110 min |
Servings: 8 person
Calories: 388kcal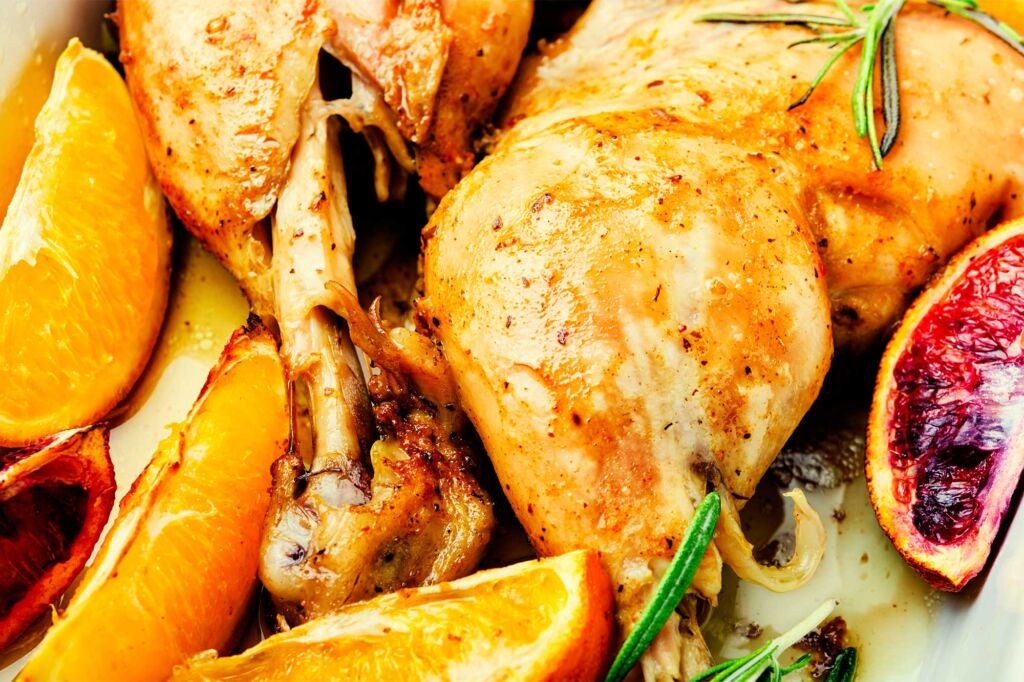 What Side Dish To Choose For Orange Chicken?
As an accompaniment to those delicious thighs with golden skin, of course you can put in the skillet potato wedges if would you like, resulting in an ideal garnish that is nourished by the juices of the chicken meat, the indispensable orange. Thereafter if you want to accompany it all with a sauce, what better way also to prepare homemade aioli, ready in 5 to 15 minutes.
Finally,  this is a very easy chicken with a perfect result, juicy, tasty and golden on the outside.
Also if is accompanied by the potatoes, roasted in the same juice that have taken all the flavor of the sauce, it is a dish of 10, I recommend it, do not delay in doing it.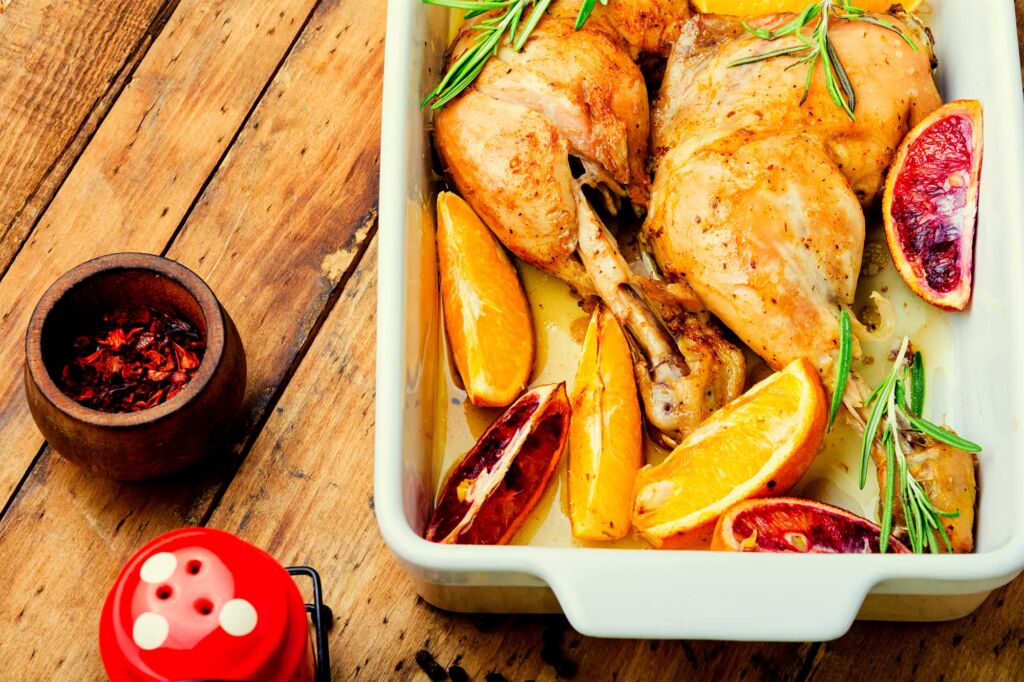 Instructions
First of all, preheat oven for 200°C  (400 °F).

Make The Sauce For The Orange Chicken

Squeeze 100 ml juice from orange into a small bowl, (50 ml regular and 50 ml blood orange juice) and then reserve the spent peels.

Cut the remaining orange and blood orange into wedges with their peels intact, and then set aside.
Mix the brown sugar, soy sauce and vinegar into the orange juice and mix until the sugar dissolves.

Generously season the chicken with salt and pepper and then put in a large ovenproof skillet.
Scatter the orange peels, rosemary sprigs and the 6 ginger slices into the skillet around the chicken.

Pour the juice mixture over the chicken slowly, then place the skillet in the oven.
Roast for 30 minutes in the preheated oven.

With a large spoon, quickly and carefully coat the chicken with the skillet sauce.
Continue roasting, basting every 10 minutes, for 20 to 30 minutes more, or until the chicken is browned and cooked through.

Finally transfer the chicken to a cutting board and set aside for 5 minutes to rest.

Serve the chicken legs with the glaze drizzled over them. Arrange the orange wedges from the skillet around the meat.

Enjoy, Good Appetite!