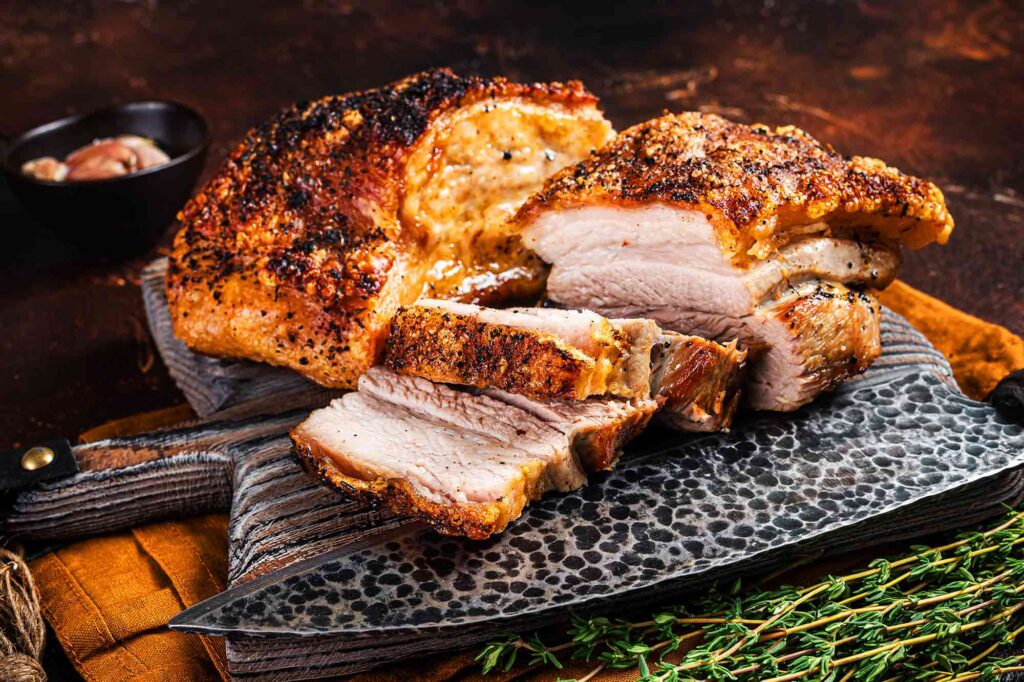 Jump to recipe
Roasted Pork Belly Bacon With Crust
Savor succulent Roasted Pork Belly Bacon with a delectable crust. Indulge in the perfect blend of flavors. A mouthwatering delight!
Today's recipe offers an effortless tutorial on baking Roasted Pork Belly Bacon With Crust. This crispy pork belly dish is bursting with rich, delightful flavors, yet it remains simple with just 5 minutes of prep time.
Indulge in the amazing Roasted Pork Belly Bacon with a delectable crust that will leave your taste buds dancing with joy. The pork belly is juicy and tender, complemented by the irresistibly crispy skin. And the best part? It's surprisingly easy to make! Impress your loved ones with this slow-roasted tender pork belly adorned with a super crispy crust infused with delightful herbs.
You won't regret trying this super simple and delightful recipe!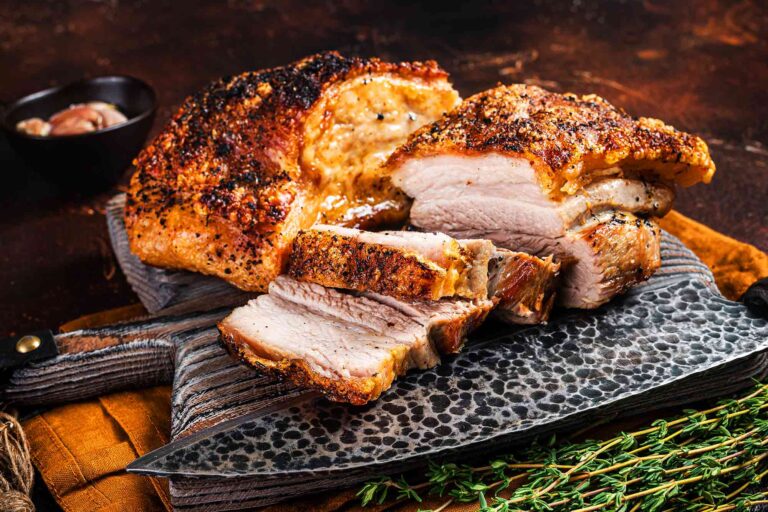 Roasted Pork Belly Bacon With Crust
| Prep time | Cook Time | Rest Time | Total Time |
| --- | --- | --- | --- |
| 15 min | 90 min | 10 min | 115 min |
Servings: 4 person
Calories: 506kcal
This culinary gem
has a fascinating past that spans across diverse cultures, making it a cherished treasure embraced by food enthusiasts globally.
The origins of pork belly as a favored dish stretch back to ancient times, with distinct traditions infusing their unique essence into this delectable treat. Bacon, born from pork belly, carries a captivating history, rooted in preservation methods of the past. As trade routes flourished, bacon gained worldwide acclaim, enriching breakfast tables and a multitude of culinary creations.
Roasting pork belly to perfection, adorned with an exquisite crust, is an ever-evolving culinary marvel. The amalgamation of fragrant herbs, spices, and seasonings adds an alluring depth to the tender pork belly, satiating palates with each morsel.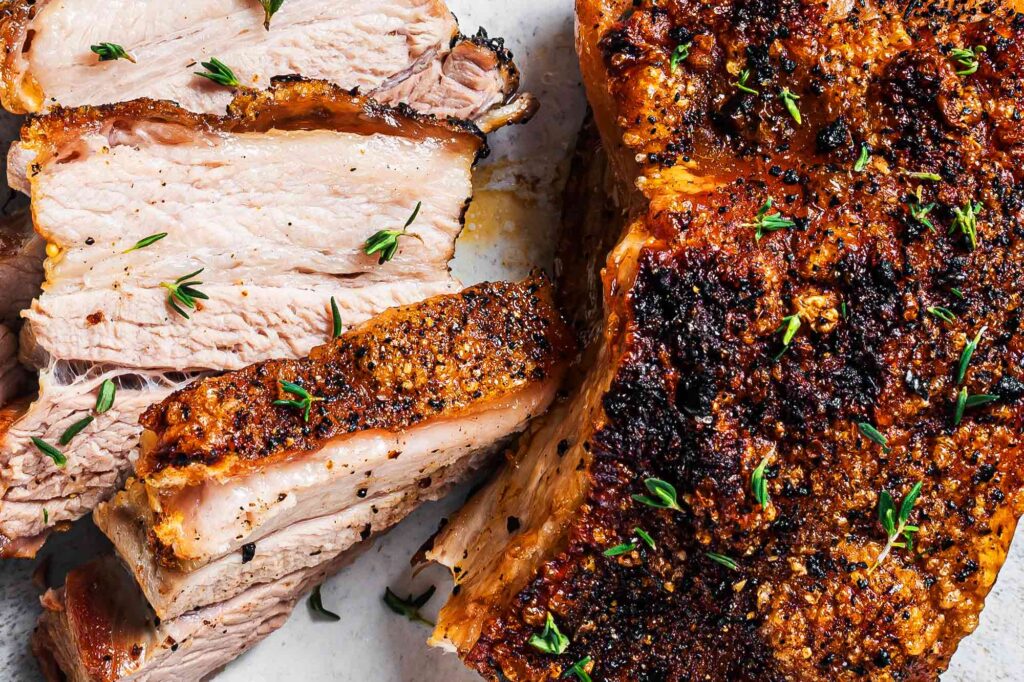 In modern times, Roasted Pork Belly Bacon
with a crust remains an esteemed gastronomic wonder, gracing home kitchens and esteemed dining establishments alike. The intricate process of scoring and seasoning ensures an infusion of flavors that caresses the palate, creating a symphony of taste.
Today, this culinary masterpiece holds an unwavering allure, captivating the hearts of gastronomes across the globe. As it continues to elevate dining experiences with its sumptuousness, indulgence, and captivating textures, this dish stands as a testament to the intricate fusion of history, flavors, and culinary artistry on a single plate.
Instructions
Preheat your oven

to 180°C (356°F).

In a small bowl, mix together the coarse salt, black pepper, brown sugar, smoked paprika, garlic powder, onion powder, dried thyme, dried rosemary, dried oregano, and dried sage to create the crust seasoning.

Pat dry the pork belly with paper towels to remove excess moisture.

Score the skin of the pork belly with a sharp knife in a criss-cross pattern, making sure not to cut too deep into the meat.

Rub the crust seasoning mixture all over the pork belly, ensuring it covers both the skin and the meat evenly.

Place the pork belly on a roasting rack, skin side up.

Roast the pork belly in the preheated oven for about 1 hour and 30 minutes or until the skin is crispy and golden brown, and the internal temperature reaches 70°C (158°F).

If the skin is not as crispy as desired, you can switch the oven to the broil setting and broil the pork belly for an additional 5-10 minutes, but keep a close eye on it to prevent burning.

Once done, remove the pork belly from the oven and let it rest for a few minutes before slicing and serving.

Enjoy, Good Appetite!