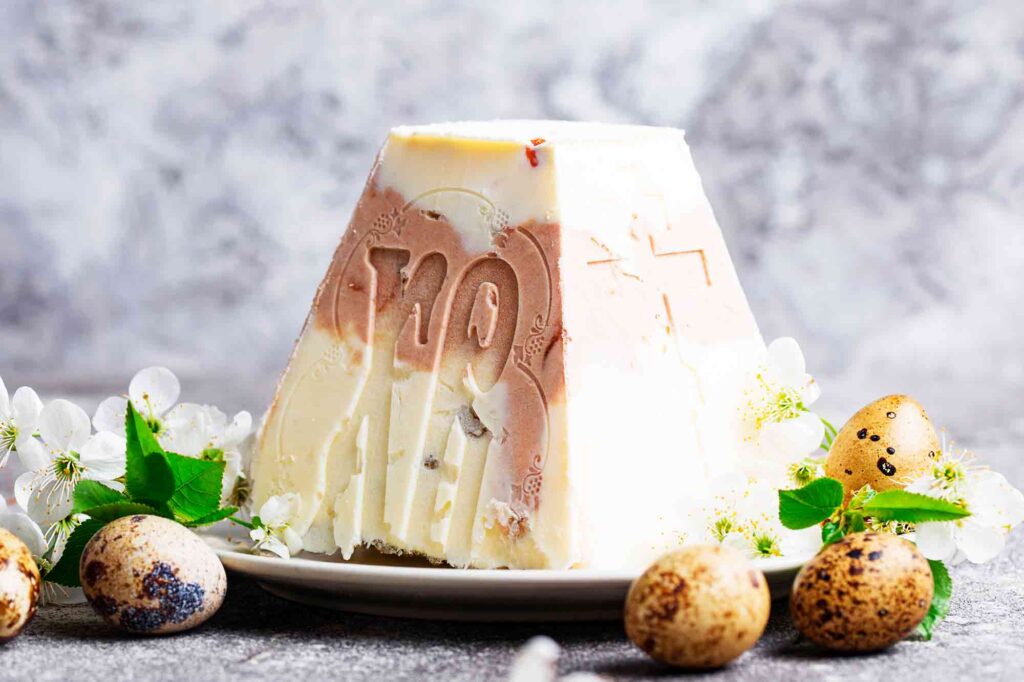 Jump to recipe
Russian Paskha Recipe
Take your Easter celebration to the next level with our mouthwatering Russian Paskha recipe! Made with soft curd cheese, sour cream, and vanilla sugar.
Easter is an important holiday for Christians, and it holds a special place in our hearts.
Preparation for Easter usually starts on Friday, the day before the holiday. On Saturday morning, we wake up early to bake Easter cakes and dye eggs.
In addition to these important Easter treats, we also prepare a special lunch or dinner on Sunday. If we are lucky enough to have the whole family together at this time, it is a wonderful opportunity to congratulate each other on this special day.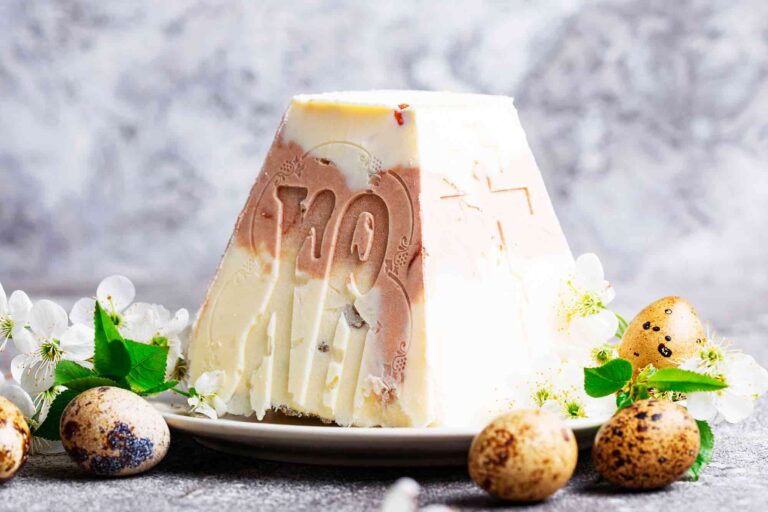 Russian Paskha Recipe
| Prep time | Cook Time | Rest Time | Total Time |
| --- | --- | --- | --- |
| 90 min | | 1440 min | 1580 min |
Servings: 6 person
Calories: 559kcal
Russian Paskha is a classic Easter treat
that has been enjoyed in Russia since the 16th century.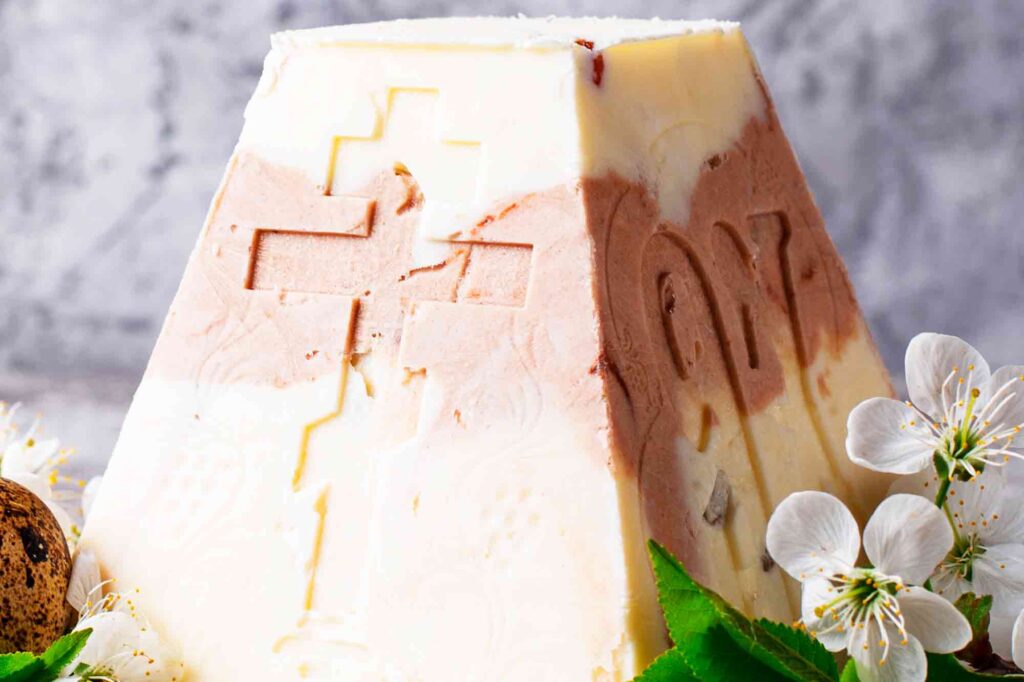 This rich dessert is made from smooth curd cheese, sour cream, sugar, butter, and an array of fruits and nuts. It's considered a symbol of purity and renewal, representing the joy of Christ's resurrection. Russian Paskha was originally reserved for the nobility, but eventually became a popular dish for everyone.
The recipe involves sieving the curd cheese, adding the ingredients, and leaving it to meld in a wooden pyramid mold called paskharnitsa.
After a few days, it's decorated with candied fruit and nuts and served with kulich, traditional Easter bread. Paskha is a cherished part of Russian Easter traditions, embodying the essence of the holiday.
Instructions
Rub the curd cheese

twice through a sieve.

Add powdered sugar, softened butter and sour cream. Then mix well, beat with a whisk, or standing mixer.

Mix sugar until white with egg yolks, and then add to the curd mass.

Mix the spices with vanilla sugar, whip the double cream into a thick foam and also add to the curd.

Beat the egg whites, gently fold into the curd.

Mix the mass with a spatula in one direction.

Add candied fruits, raisins and nuts. Mix.

At this point, if would you like 2 color Paskha, divide the mass in two, and add the cocoa to one half, gently mixing together.

Cover the form for Easter Paskha with cling film. (If you don't have form, use a form what you have at hand).

Carefully shift the mass into it, (if you make 2 colored, add quarter without cocoa, quarter with cocoa, and again) then cover with a plank, put oppression on it.

Put in the refrigerator for 1-2 days.

Enjoy, Good Appetite!