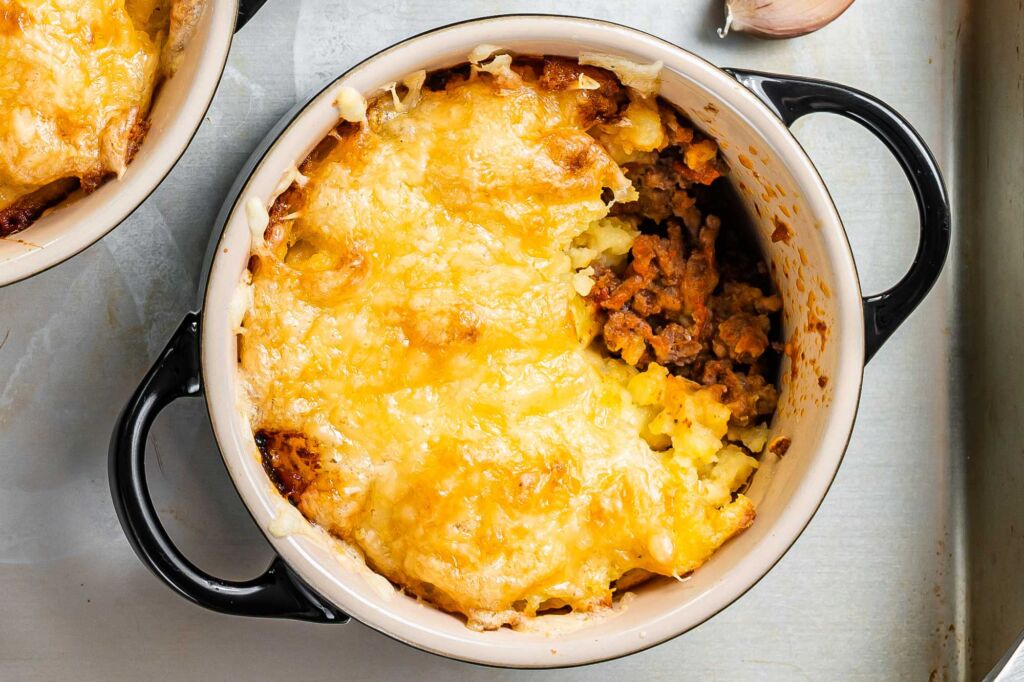 Jump to recipe
Shepherd's Pie Recipe
One of the most cool meat dishes in the Emerald's island is the shepherd's pie.
We have to make a slap-simple, meaty ragout, which we wrap in mashed potatoes and roast it all in the oven. The stew is juicy, the top of the potato is a little blushed, the flavours come together, the overall effect is brilliant.

As is one of best-known and most popular dishes is the shepherd's pie, or Shephard's Pie, a juicy meaty stew baked under a cheese-enriched mashed potato. It's not complicated to make, but it's not a quick food to make.
Anyway it's worth giving it a try to get a really delicious, meaningful dish. It is not worth making it in small quantities, because it is really really delicious.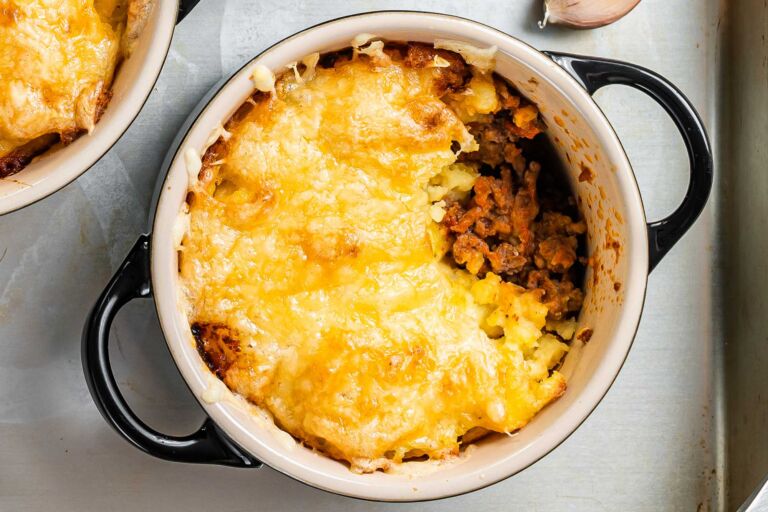 Shepherd's Pie Recipe
| Prep time | Cook Time | Rest Time | Total Time |
| --- | --- | --- | --- |
| 15 min | 50 min | 10 min | 75 min |
Servings: 4 person
Calories: 825kcal
The Shepherd's Pie of the Irish cuisine is deservedly famous, in addition to bringing a special, new taste in our kitchen, its greatness lies in the fact that even when reheated, it is divine, as the flavours come together even better then.
According to the original recipe, we should use minced lamb for the pie, but of course good results can be obtained from beef, pork or turkey.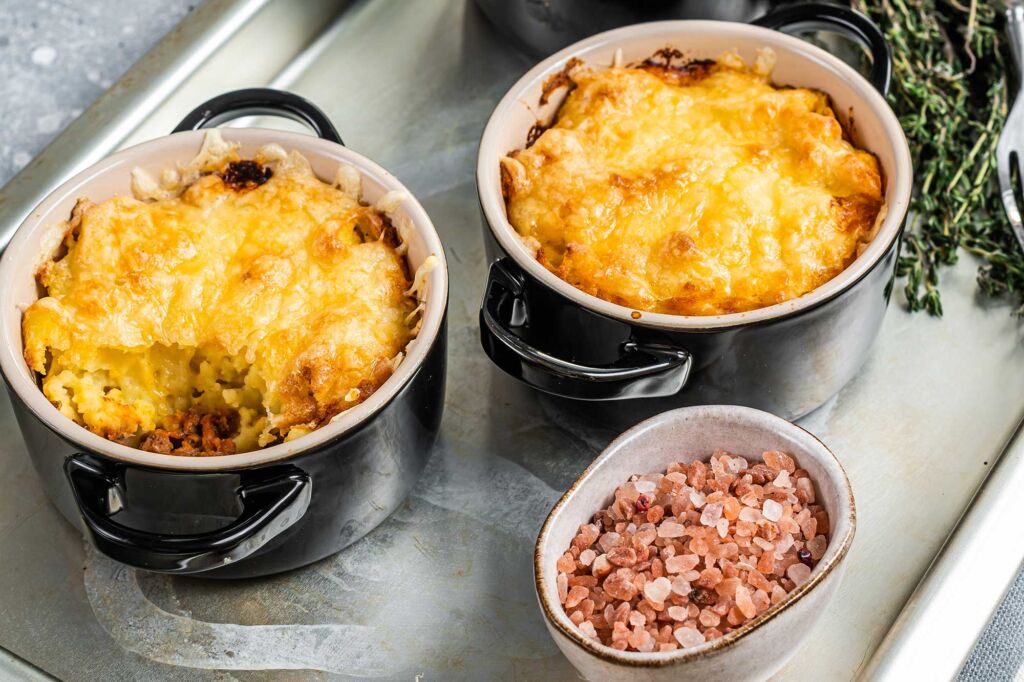 The base of the spicy stew is minced lamb (or beef), enriched with carrots and green peas. It starts with an onion-garlic base, which comes with meat and vegetables, a little wine and green spices, and the must-have Worcester sauce.
The potato layer is a milk-butter-mashed potato puree, enriched with a little nutmeg and grated cheese, which in most cases means cheddar cheese, but other cheeses that are easier to achieve can also be used.
Some people mix the mashed potatoes with double cream and raw eggs, which are then piled up with the meaty ragout – we think that without these extras, this rich-flavoured one-pot dish is also tasty.
Instructions
First of all, boil the potatoes.
In a medium-sized pot, place the peeled and quartered potatoes. Cover with a layer of cold water at least an inch. Add a teaspoon of salt to taste. Bring to a boil, then reduce to a simmer and cook until the potatoes are tender (about 20 minutes).

Meanwhile the potatoes are cooking, the oil in a large frying pan on medium heat. Add the chopped onions and garlics then cook until tender, about 6 to 10 minutes.

Grate the carrots and add to the onions while they are sautéing, because they take as long to cook as the onions do.

Add peas toward the end of the cooking of the onions and carrot, or after the meat starts to cook, as they take very little cooking time.

Add the ground lamb and Worcestershire sauce.
Cook until the meat is no longer pink. If necessary, drain any excess fat from the pan (anything more than 1 tablespoon). Season with rosemary, thyme, salt and pepper to taste.

Taste the cooked filling and season if need with more salt, pepper, Worcestershire sauce, or other seasonings to taste.

Now mash the cooked potatoes.
When the potatoes are tender (a fork can easily pierce them), drain and remove them from the pot and place them in a mixing bowl with the butter. Mash with a fork or potato masher, add milk, mix well, then taste, and season with salt and pepper to taste.

Preheat the oven to 200°C  (400 °F).

In a large baking dish, spread the cooked filling in an even layer.

Place the mashed potatoes on top of the ground meat. With a fork, rough up the surface of the mashed potatoes to create peaks that will brown nicely. You can even make creative designs in the mashed potatoes with a fork.

Place in a preheated oven at 200°C (400°F) for 30 minutes, or until browned and bubbling.

Leave to rest for 10 minutes in the oven and serve.

Enjoy, Good Appetite!