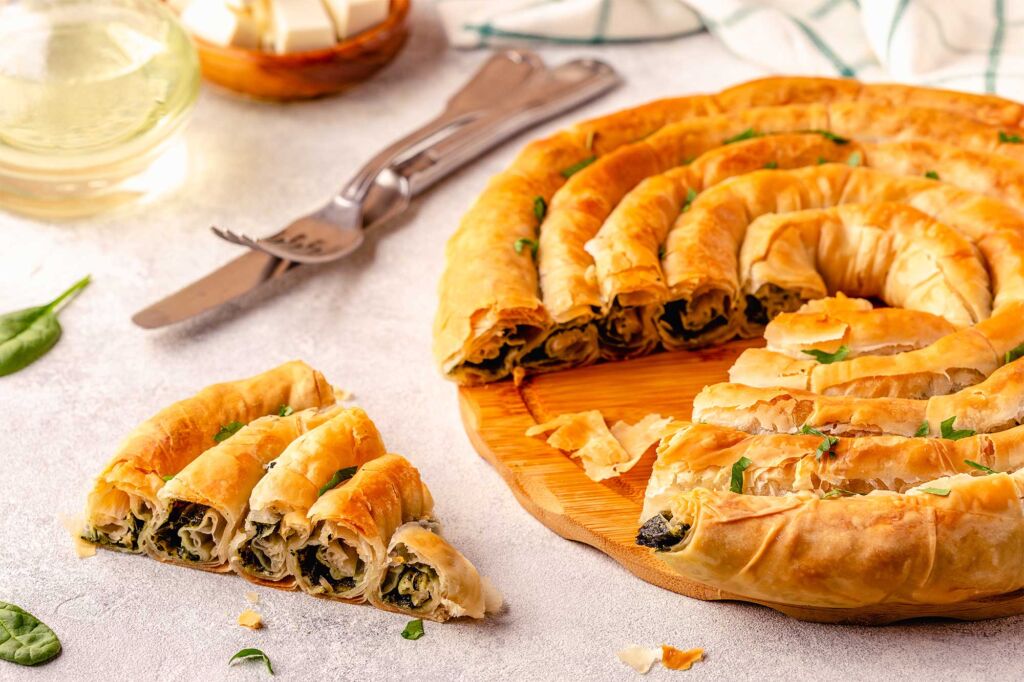 Jump to recipe
Spiral Spanakopita Traditional Greek Recipe (Greek Spinach Pie)
Spanakopita is, as the name suggests, a spinach dish. It is a tasty Greek pie with crispy filo pastry and a filling of spinach and feta cheese, which can be served both as an appetiser and as a snack between main meals.
Spinach pie dominates Greek and Mediterranean cuisine as one of the most delicious dishes, with relatively few calories.
If you are trying to persuade the little ones to eat spinach, you must try this recipe – in this pie, spinach will be appreciated even by the most capricious members of the family.
Spanakopita History: Where Did Greek Spinach Pie Come From?
The most well-known pita is Spanakopita. Brush layers of phyllo dough with butter or olive oil before filling the center with spinach, scallions, herbs, and feta cheese.
Spanakopita is a type of pita, which is another word for pie in Greek. The piecrust in this case is always layers of phyllo dough that can be filled with sweet or salty fillings. Pitas are typically served as part of a meze appetiser spread, but they can also be served as a main course or snack.
Since antiquity, Greeks have consumed these pies. One of the earliest references to one comes from the fifth-century B.C. poet Philoxenos.
According to Philoxenos, at the end of a banquet, the hosts served a cheesecake made with milk and honey which was made like a pie. Other ancients enjoyed cheese pies wrapped in fig leaves, which are beginning to resemble the dough leaves that encase our modern-day pies, the literal translation for phyllo is leaf.
Spanakopita is one of the traditional Greek dishes.
It is found throughout the country, but some of the most well-known versions are from the northwestern region of Epirus.
Historically, master foragers, such as Greeks in that region and beyond, relied on wild greens as the basic of their diet. It was only a matter of time before they started making pies out of them.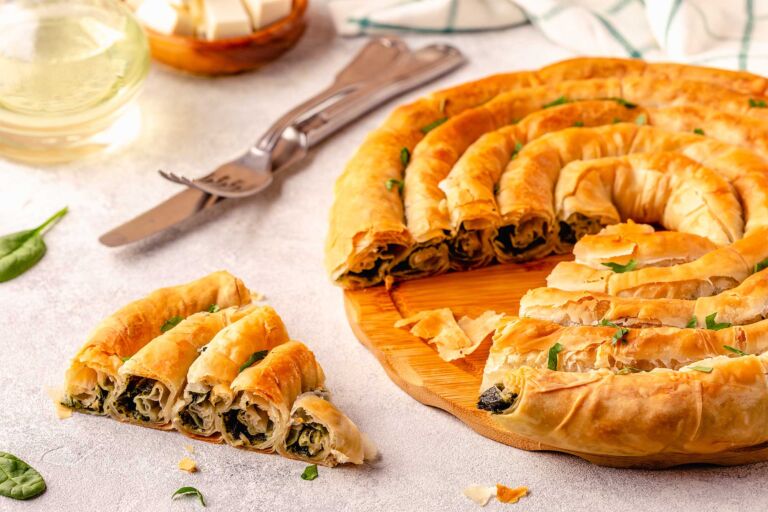 Spiral Spanakopita Traditional Greek Recipe (Greek Spinach Pie)
| Prep time | Cook Time | Rest Time | Total Time |
| --- | --- | --- | --- |
| 15 min | 25 min | - | 40 min |
Servings: 6 person
Calories: 325kcal
But, when did the spinach arrive?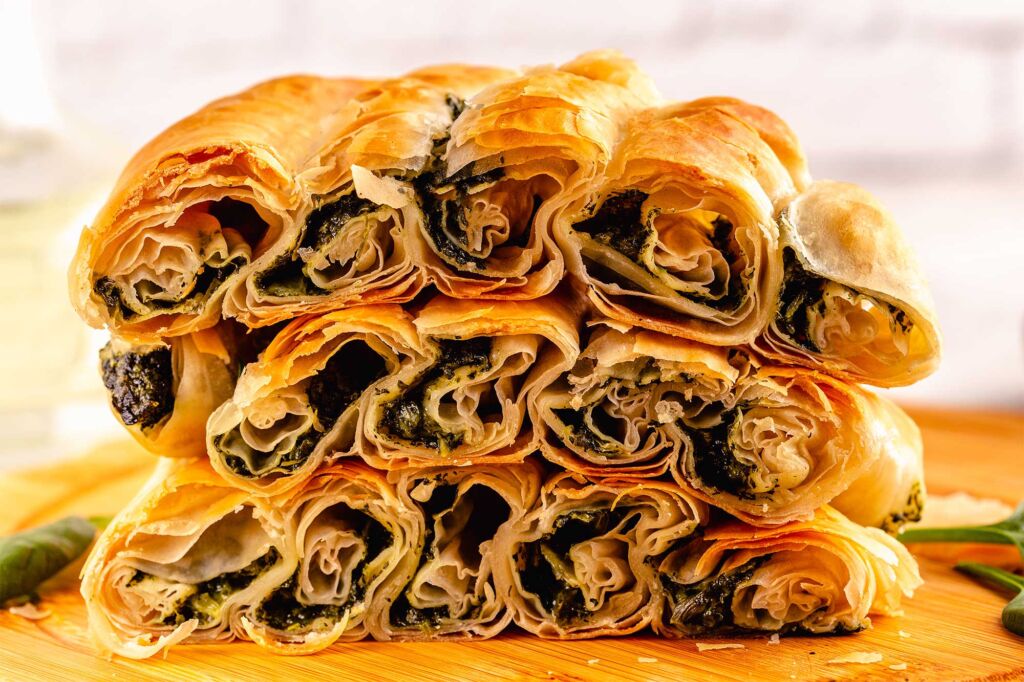 Spinach originated in the Middle East and was brought to Spain by merchants. Finally, it reached the rest of Europe during the Byzantine Empire. Farmers in the area that is now Greece discovered that they could easily cultivate this leafy green.
Phyllo pastry, like spinach, appears in Greece during Byzantine times, and the pie started to be made, and become a cornerstone of Greek cuisine. Phyllo pastry is a simple dough made with flour, salt, water, olive oil, and occasionally yeast or another leavening agent such as baking powder.
It's a simple dough to make, but it takes time and skill to roll out.
Today, using commercially produced phyllo pastry is the quickest way to make the pies. To make a really satisfying pie, simply brush each phyllo pastry thin layer with olive oil or melted butter.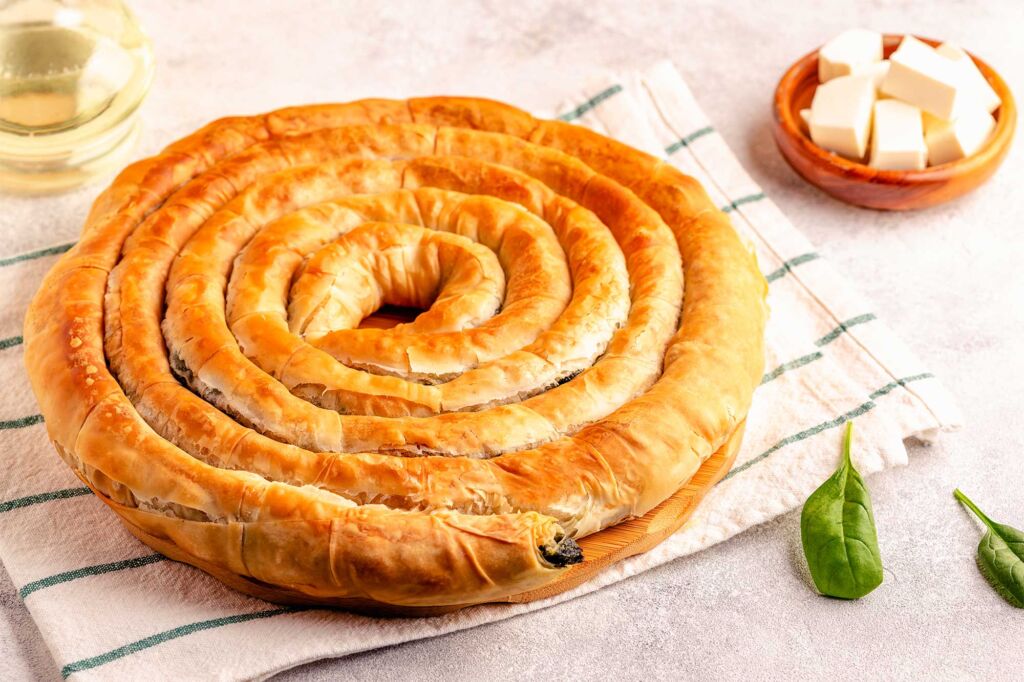 Instructions
Heat a large non-stick pan over a medium heat.
Sauté in olive oil the fine chopped spring onions and leeks until soft. Approx 10 minutes.

Add the spinach and cook until evaporating all its liquid. When is cooked season with salt, pepper and fine chop parsley.

Set aside to cool and then add the crumbled feta cheese and eggs, then stir in the feta and eggs using a fork until fully combined.
Taste for seasoning.

Preheat the oven to 190°C  (374 °F) or fan/gas 5. Brush a deep pie dish with some of the butter.

Place a phyllo pastry  sheet on top of your work surface.
Brush the pastry with some of the melted butter and olive oil mix, then spread about 4 tablespoon of the filling along the longest edge. Roll the pastry loosely into a long sausage (do not roll it too tightly), then coil and place in the center of the tin.

Repeat with the rest of the pastry and filling, arranging around the central coil to make one piece of coil pie as in the photo is.

Brush the top with the melted mixture of oil and butter.
Bake for 25-30 minutes or until golden and crisp.

Enjoy, Good Appetite!