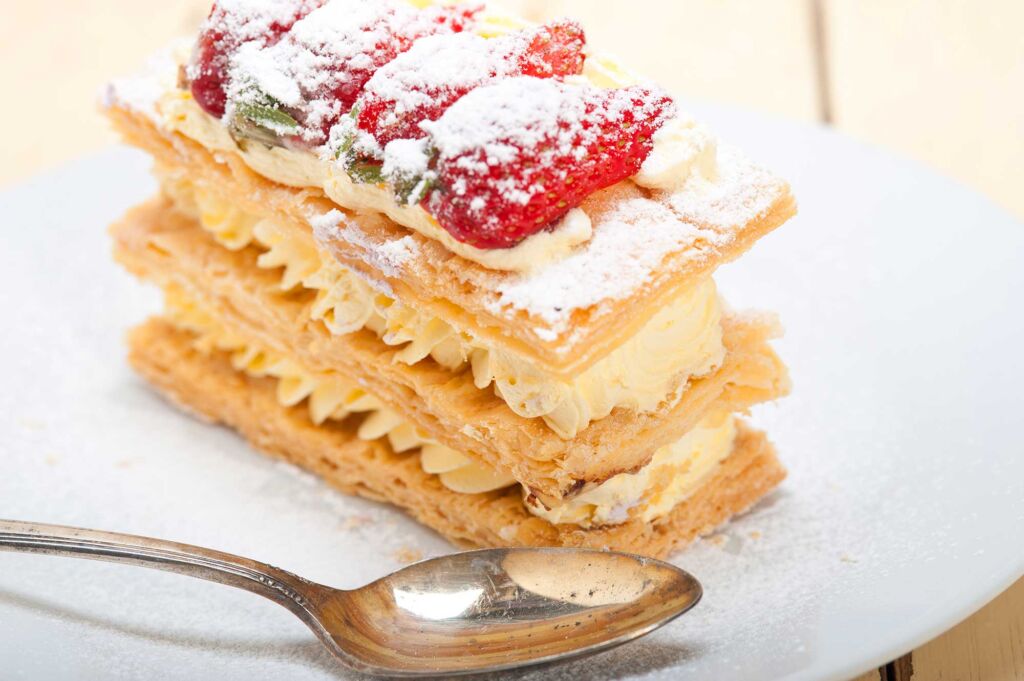 Jump to recipe
Strawberry Mille Feuille Recipe
The Mille Feuille meaning creamy in French, but we don't even try to make it in its original form, we will make it from puff pastry and because of this we will finish it in approx half an hour.
Making Mille Feuille from scratch is quite difficult, and making puff pastry is at least as complicated and much time as getting to the moon. But there is an easy way, and this time this is what we will try.

Mille Feuille cake is one of our family favourites. I love since I was a child and I remember that my mom used to buy us Mille Feuille when she came home from work. 
I found many times 3 huge pieces of Mille Feuille cake, one for each family member.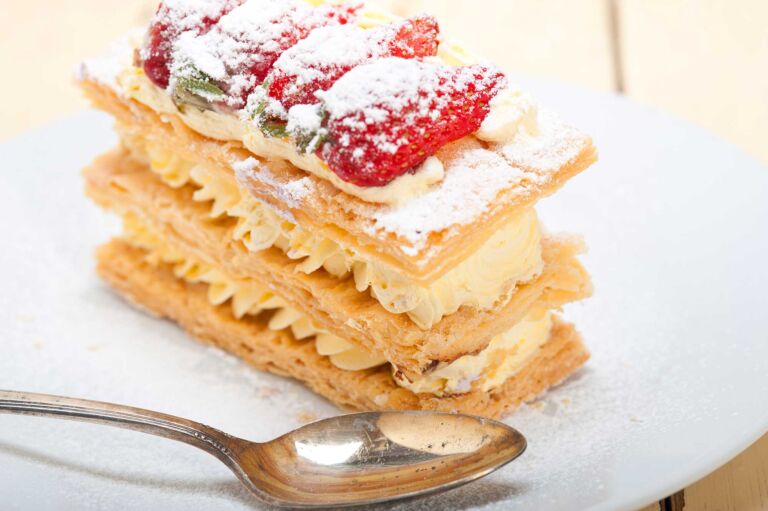 Strawberry Mille Feuille Recipe
| Prep time | Cook Time | Rest Time | Total Time |
| --- | --- | --- | --- |
| 10 min | 20 min | 20 min | 50 min |
Servings: 4 person
Calories: 602kcal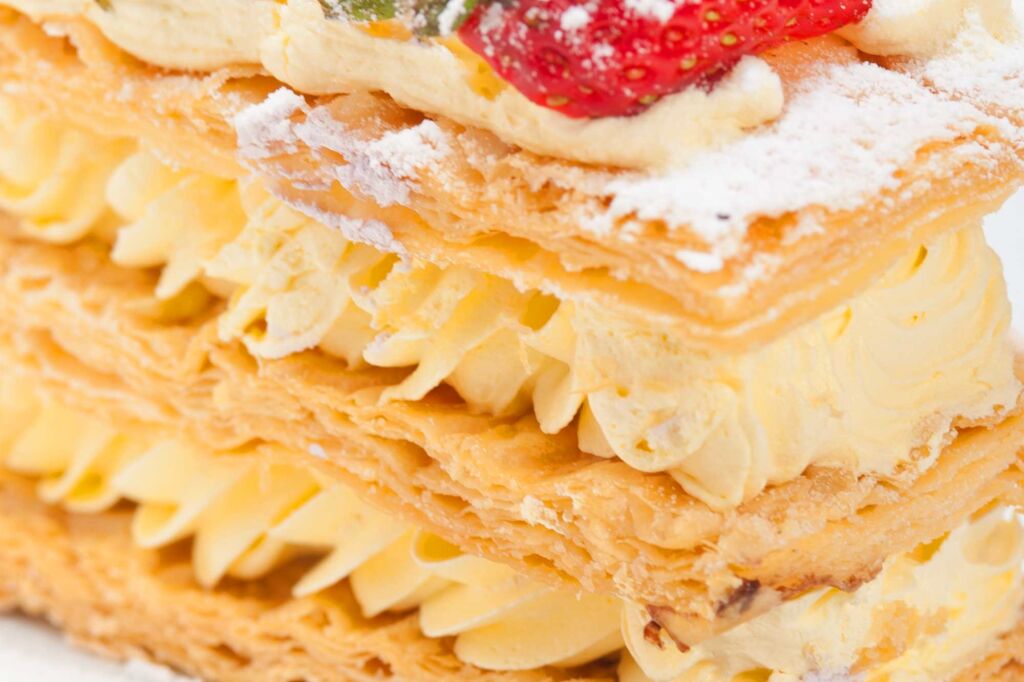 This Mille Feuille cake recipe is not complicated. All you need is puff pastry, vanilla, mascarpone, strawberry and a little whipped cream.
Of course, this time we work with ready bought puff pastry, we make the cream which it goes best with strawberries and the best part of this cake is, that the cream doesn't need to be cooked at all.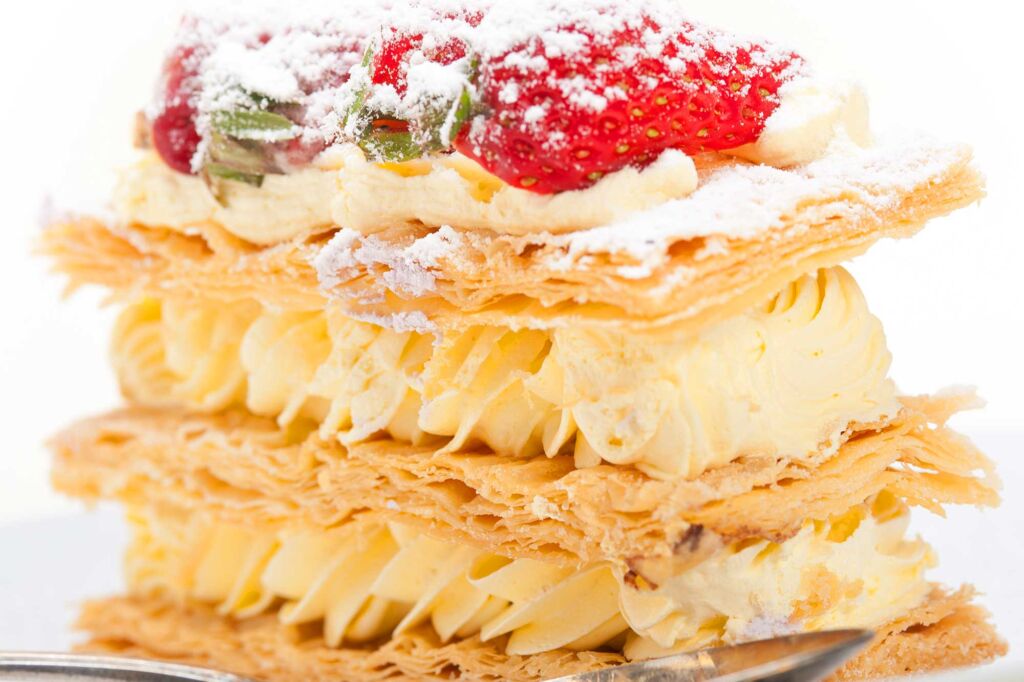 Instructions
First cut the puff pastry sheet  into 3 equal rectangles – to get them precisely the same size, cut one then lay it on the rest of the pastry and use it as a guide to the next rectangle, then repeat.

Bake in 190 °C  (375 °F) preheated oven for 15 minutes or until the pastry is golden and crisp, then set aside to cool.

Wash the strawberries, dry from water and cut in half lengthwise.
Can be also leave it whole, it will sink into the whipped cream anyway, and then we can eat even more strawberries.

Place the thoroughly chilled double cream in the bowl of a standing mixer.
Cooling is very, very important, otherwise it will never become foam.

Add the mascarpone, icing sugar, vanilla sugar to the double cream and start whipping.
Take care not to over whip, because will be butter then. Whisk until the cream just hold its shape and set aside.

When the puff pastry has completely cooled, put the whipped cream in a piping bag and let's put together the cake.
If there is no piping bag, a  bag is also good if you cut off the tip.

Divide the rectangles of pastry in three.
Lay down the third of the rectangles of pastry, close to they touch each other, then add half of the cream and strawberry then flatten with the back of a spoon.

Place the second third pastry layer on top and gently press down.
Add the other half of the cream and strawberry. Place the final layer of pastry on and press down gently so that the filling just starts to bulge over the edges.

Use a palette knife to smooth the filling along the sides so that it is level with the edges of pastry and fills any gaps.
Finally sprinkle the top with powdered sugar.

It is always worth putting together only as much at a time as it will be consumed immediately, because the whipped cream is not a very good sight after a while and the strawberry can release its juice.

Enjoy, Good Appetite!