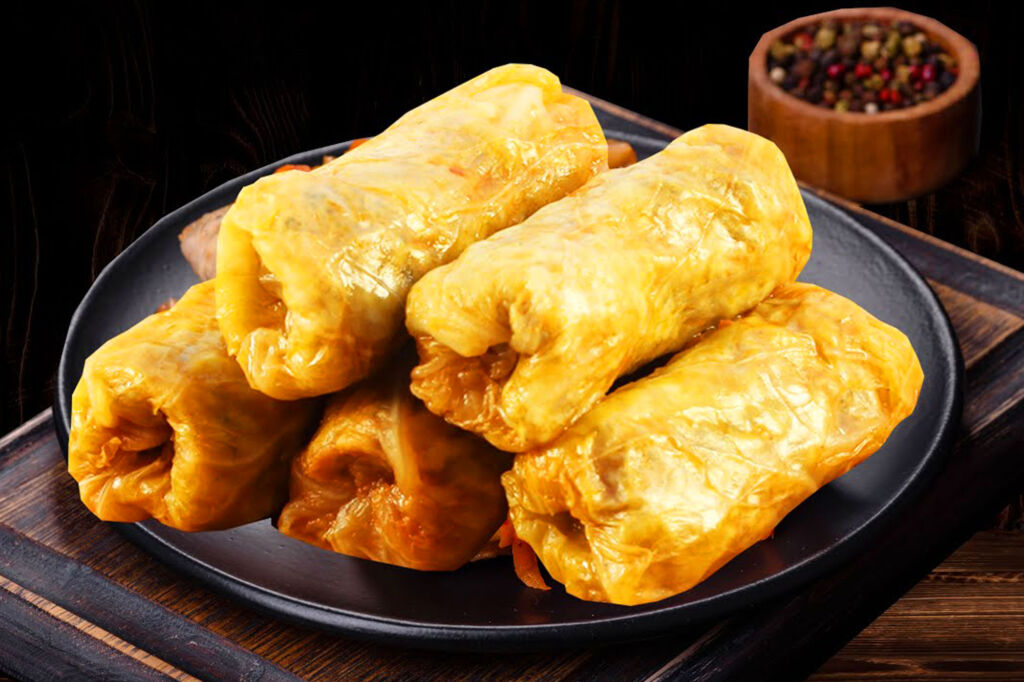 Jump to video
Jump to recipe
Stuffed Cabbage Rolls Recipe (Video)
The Cabbage Roll recipe in some places in the world is indispensable for any holiday, but especially for Christmas and Easter. But not only then.
How to prepare this recipe
As a child, I remember that my grandmother made the best cabbage rolls in the world, cooked out in garden in wood oven before Easter or Christmas. I remember that they they were big as a fist, fragrant and extremely tasty.
She served them with freshly made bread and sour cream and they were just wonderful. Because we really like it, I thought I would show you step by step my recipe for stuffed cabbage rolls in leaves inherited from my grandmother.
Of course, during the years, I modified it to my/our liking, so I can show you my own version. There is not to much changes has been made of course, because if something is perfect, must stay as is.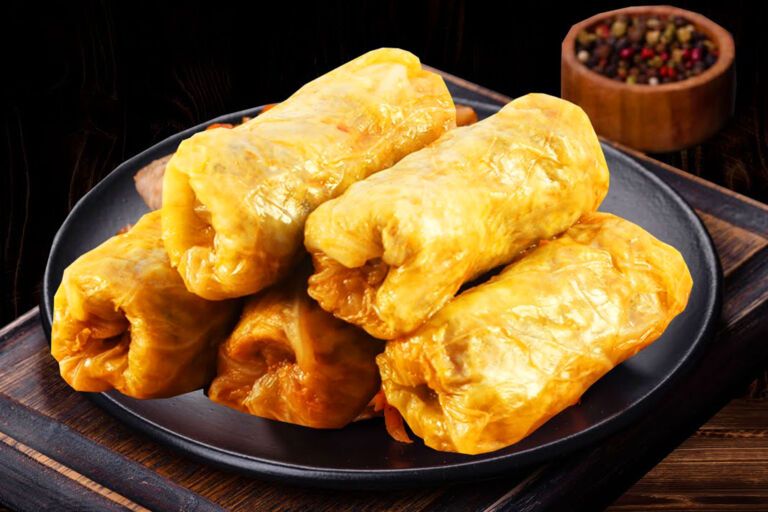 Stuffed Cabbage Rolls Recipe (Video)
| Prep time | Cook Time | Rest Time | Total Time |
| --- | --- | --- | --- |
| 30 min | 180 min | - | 210 min |
Servings: 8 person
Calories: 370kcal
Since I cook my own version,
which did't changed nothing in the last couple of years, has been tested many many times, by many many people. It is a real crowd pleaser.
Grandma always sautéd onions before she added to filling. This is one of my changes, I don't. I did it before but not anymore. Now I don't fry onions or cook them, I am adding raw, grinded to the filling.  For this recipe fermented cabbage is very important, without is not the same.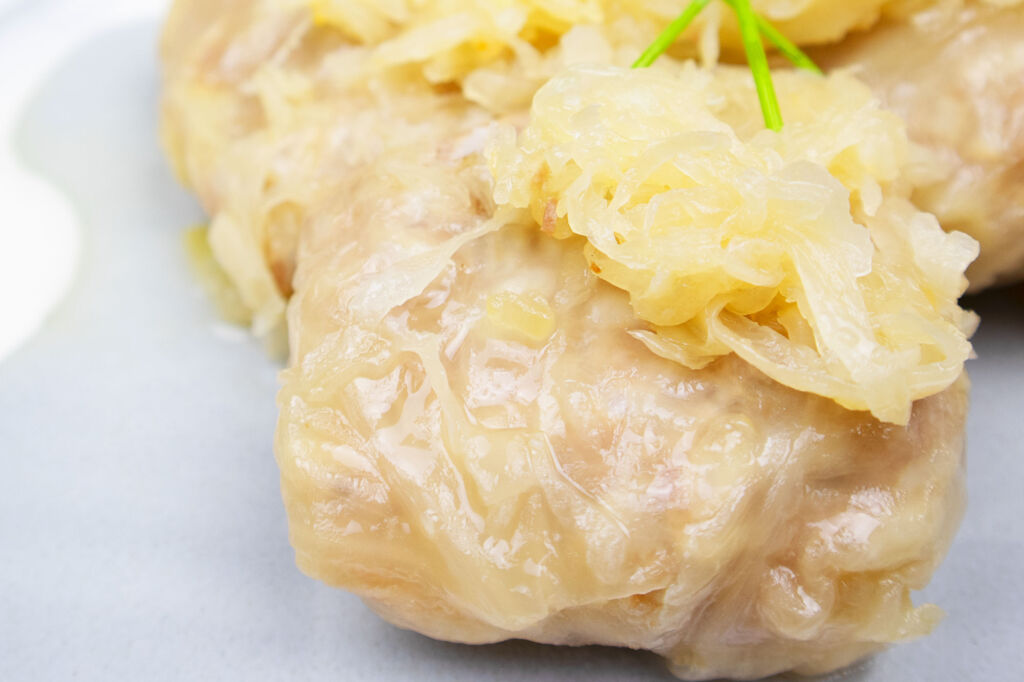 Before you start making this recipe, for any case, taste the fermented cabbage. If it is too sour or too salty you can leave it in cold water for a few hours.
Is not a very easy or few minutes recipe, but I assure you, it worth the work. When your stuffed cabbage rolls are in pot, all you have to do, is to cook them over low heat. Check them every 30 minutes at list, and add water if necessary.
Serve the stuffed cabbage rolls with bread and sour cream They will be perfect, I assure you!
Instructions
First of all wash the smoked hock and smoked lard from the excess of salt.

Remove skins from the hock and smoked lard.

Chop them (including peeled onion) to smaller size, will be easier to grind.

Grind the smoked hock, lard and onions. If you don't have a grinder, then fine chop them with a knife. 

In a large bowl mix well the grinded smoked hock, lard, onions and pork meat. Season with salt and pepper.
Add the water (is important, because as is cooking the filling will be more creamy). Salt carefully, because the smoked meat and lard, also the fermented cabbage is salty.

Prepare the cabbage. First of all, taste it. If is to salty, wash and drain the sour cabbage leaves.
Cut off the hard rib from the base of each leaf.

Place a small handful of stuffing on each cabbage leaf. Flip the left side of the leaf to the middle, then the right also, and then roll it up. In this way all ends will be sealed.
(Check in video how I make).

Cut any remaining cabbage leaves into fine shreds.

Scatter half of the cabbage fine shreds in a large cooking pot. The other half we will need it for the top.

Place and arrange the rolls on the sauerkraut, seam side down. Scatter the remaining fine shreds over the top. 

Pour in enough water to cover the cabbage rolls. Take care to be enough place in pot, because as starting to boil, the rice will double in size, which will result in bigger rolls in size.

Cover the pot with a lid and gently simmer on the stove for about 3 hours.

Don't forget to check every 30 minutes and refill with water if needs.

From time to time shake the pot so the rolls don't stick to the bottom.

Enjoy, Good Appetite!