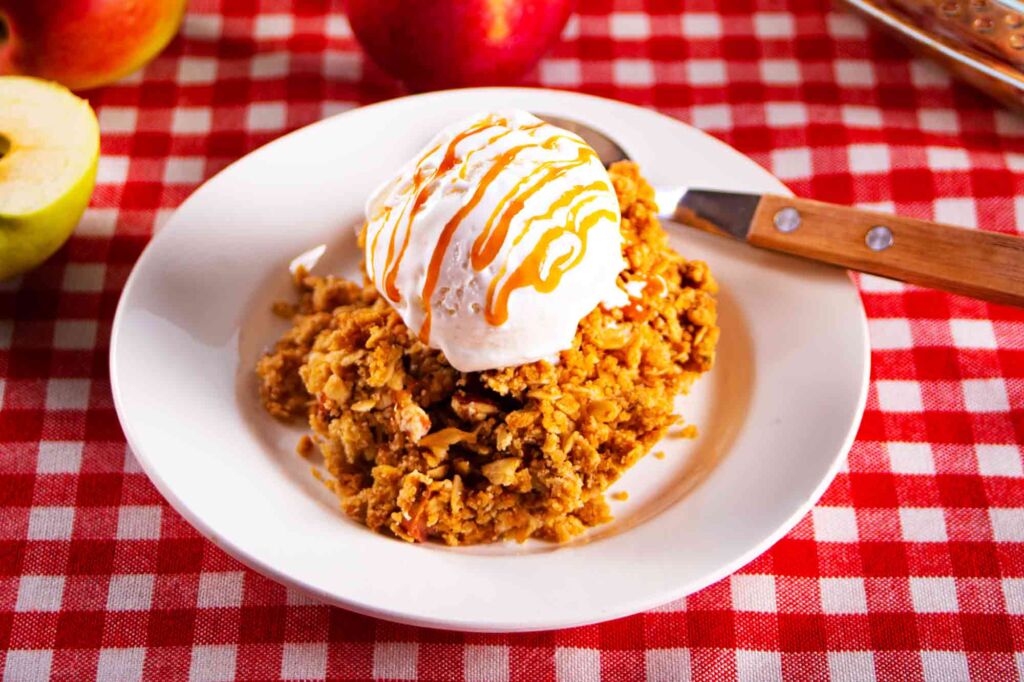 Jump to recipe
The Best Classic Apple Crisp Recipe
With this simple recipe, you can make a traditional apple crumble that's great for baking and special events.
All the cozy, toasty sensations you expect in an autumn dessert are in this simple Classic Apple Crisp Recipe. Is a well-known and simple recipe for a reason.
Serve warm, topped with a dollop of vanilla ice cream and caramel sauce.
I love apple crisp because it's an easy dessert you can prepare in advance using ingredients you almost certainly already have. It's a fantastic dessert to prepare while you are hosting guests. It can be made early in the day, chilled, and baked while you eat dinner.
In addition, your kitchen will smell fantastic!
What is Classic Apple Crisp?
Dessert called Classic Apple Crisp is created with a streusel topping. It is also known as apple crumble in the US and Canada, although that name refers to a distinct dish in the UK, Australia, and New Zealand.
Cooked apples, butter, sugar, flour, cinnamon, and occasionally oats and brown sugar, ginger, and/or nutmeg, are typical ingredients. Apple rhubarb crisp is one of the most popular variations, where the acidic rhubarb complements the sweet apples.
Fruit crisps come in a wide variety of flavors. These can take the place of apples with other fruits including pears, peaches, or berries.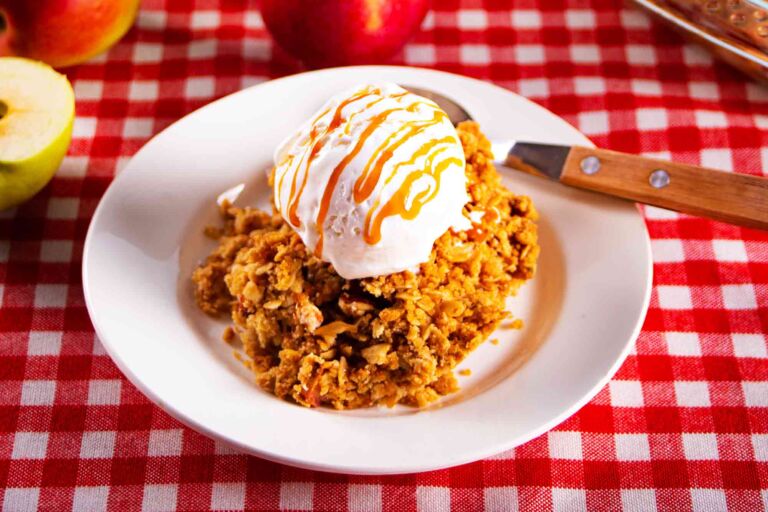 The Best Classic Apple Crisp Recipe
| Prep time | Cook Time | Rest Time | Total Time |
| --- | --- | --- | --- |
| 15 min | 40 min | 10 min | 65 min |
Servings: 2 person
Calories: 612kcal
History of apple crisp
Apple crisp is rather modern. The first edition of the Fannie Farmer Cookbook (1896), a comprehensive compilation of American recipes, noticeably lacks it.
Apple crisp is first mentioned in print in 1924 with a recipe in Isabel Ely Lord's Everybody's Cook Book: A Comprehensive Manual of Home Cookery, published by Harper Brace and Company in New York.
Apple crisp also appears in a newspaper item from 1924 on Tuesday, December 9, in the Appleton Post Crescent (Appleton, Wisconsin). During World War II, when food rationing restricted access to the materials needed to make apple pies, their popularity grew even more. 
Apple crisp or crumble, while being a relatively new innovation, has become a British and American tradition, particularly during the fall when apples are plentiful. Is also highly well-liked in Canada, particularly in regions with an abundance of berries and fruit.
Ingredients
For the apple
For the crumble
For the topping (optional)
Instructions
Preheat oven to 190°C (374°F).

Combine the apples that have been previously peeled, cored, and cubed with the caster sugar and place in a 23 cm circular baking dish.

Make the crumble

In a bowl, combine the flour, caster sugar, and a generous pinch of salt.

Cut the cold butter and incorporate using your fingers it until the mixture resembles moist breadcrumbs.

Shake the bowl and any big pieces will come to the surface – rub them in.
Alternately, blend the mixture in a processor until sandy (but don't overdo it).

Place the crumb mix over the apples to form a pile in the centre, then even out by using a fork.

To make the crumble hold together and become crisp, lightly press the surface with the back of the fork. Then, lightly drag the fork over the top to add a decorative touch.

If you wish, equally distribute the sugar and rolled oats on top.

Place the baking pan with the apples in the preheated oven for 35 to 40 minutes. Bake until the top of apple crisp is golden and the apples feel soft when you insert a small, sharp knife.

Before serving, let to cool for 10 minutes.

Enjoy, Good Appetite!