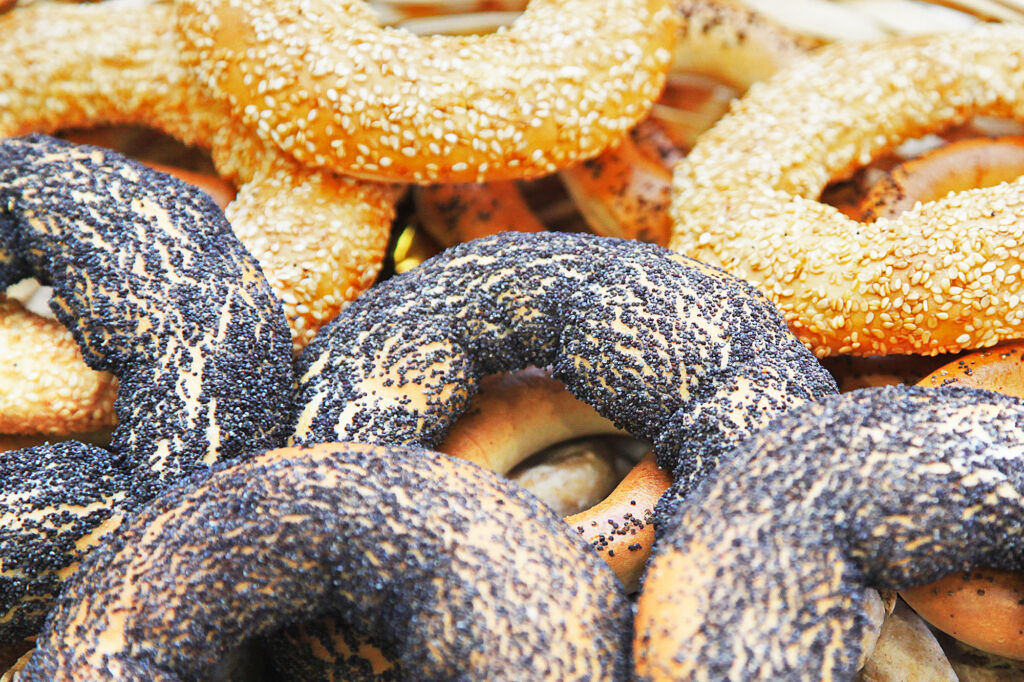 Jump to video
Jump to recipe
New York Style Bagels Recipe (Video)
If you're looking for a fun weekend project, give this bagel recipe a try. You only need a few basic ingredients to make it, and it's surprisingly easy :-)
How to prepare this recipe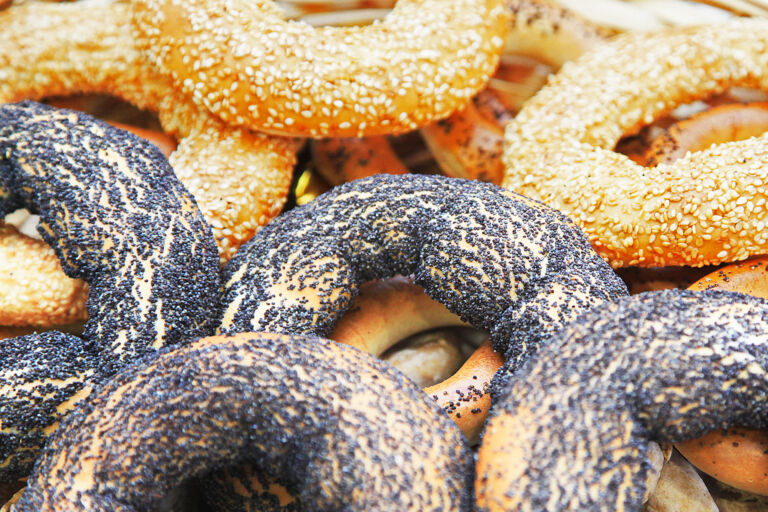 New York Style Bagels Recipe (Video)
| Prep time | Cook Time | Rest Time | Total Time |
| --- | --- | --- | --- |
| 10 min | 105 min | - | 115 min |
Servings: 4 person
Calories: 250kcal
Although bagel was spread from America, quite precisely New York, its origin is not American. This middle perforated pastry was first baked in Vienna in the 17th century. It was recommended to the King of Poland by a baker because the king protected his family and country from Turkish attacks.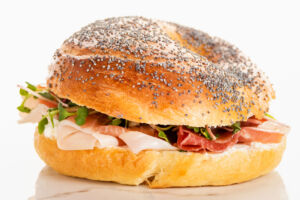 The bagel recipe after this has been spread in Poland, and then was taken and made popular to America by the emigrant Jewish communities.
Although the dough is crumbly and a little sweet,  usually it's not consumed on its own, it is mainly used as a sandwich base.
Usually the bagel is sprinkled with flaxseed, sesame seeds, poppy seeds or oatmeal, and when is done is added cream cheese, salmon, scrambled eggs, bacon or just plain ham.
Interestingly, the slightly sweet bagel is eaten much less often with jam and other sweet fillings.
Instructions
Except seeds for sprinkling, egg for egg wash, add all the ingredients into the bowl of a stand mixer fitted with a dough hook.

Knead until the dough is smooth and not sticky, around of 5 to 7 minutes.
Cover and let it raise for 1 hour, or until the dough has almost doubled its size.

Take the dough out from the bowl to an un-floured work surface.
Divide the dough onto 8 equal pieces.
Roll each piece into a rope.

When the dough ropes are done, seal the two ends together.
Make a poaching liquid.
Bring the water to the boil, add 1 tbls honey, 1 tsp salt.

Place the bagels into the poaching liquid, and cook them for 1 minute per side.
Place all the bagels to the baking tray.

Egg wash the bagels and sprinkle the top with sesame or poppy seed, or your favourite seeds.
Salt the top of the bagels. (Optional)

Bake for 12 to 15 minutes in 220 °C  (425 °F) preheated oven.

Enjoy, Good Appetite!