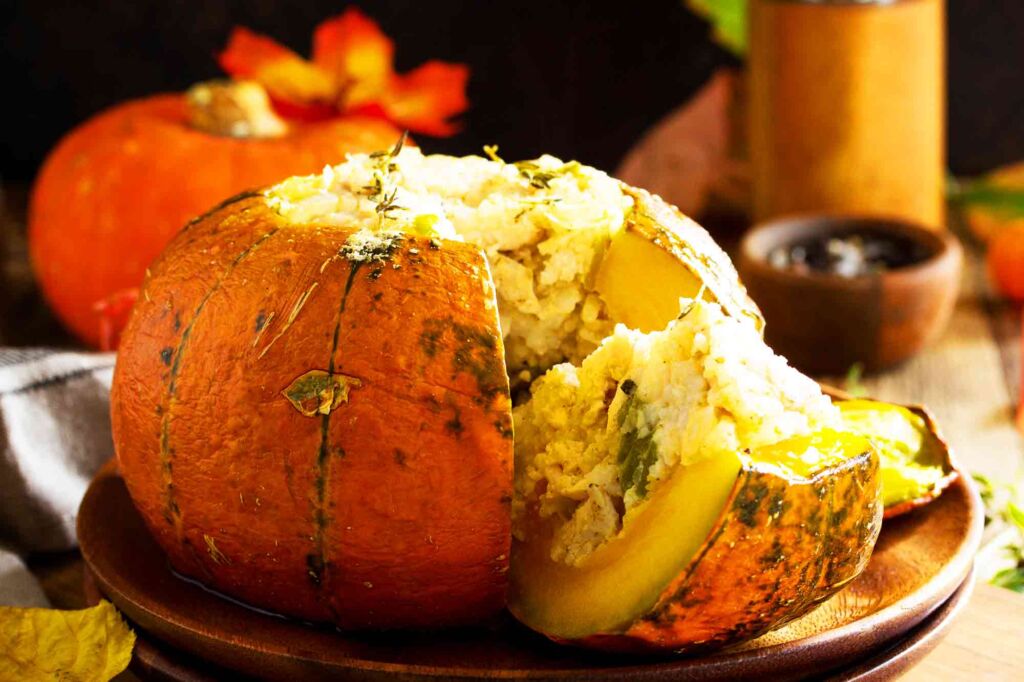 Jump to recipe
Turkey Stuffed Roasted Pumpkins Recipe
These Turkey Stuffed Roasted Pumpkins give a main course worthy of a place at the Thanksgiving table. Not to mention how tasty is.
I love this Turkey Stuffed Roasted Pumpkins Recipe. It can be difficult to resist the temptation of stuffing a pumpkin when preparing your Thanksgiving feast at this time of year.
Thanksgiving is a day of celebration with family, friends, and food, there is no obligation to give the ideal gift or any religious connotations. Today is the perfect time to really thank those who make our life so wonderful.
Therefore, my upcoming writings will be all on this lovely holiday and how to prepare a feast of delicacies for our table. In our family every year, the menu is expanded to include novel flavors and some non-Thanksgiving fare also. My Thanksgiving table has a few rules, what is a must every year. This year I will try this new recipe, and the stuffed little pumpkins I am sure will be everyone's favorite.
If you want to try this dish, you should get your little pumpkins right away while they are still available in the supermarkets. Trust me, the minis disappear as Thanksgiving draws near.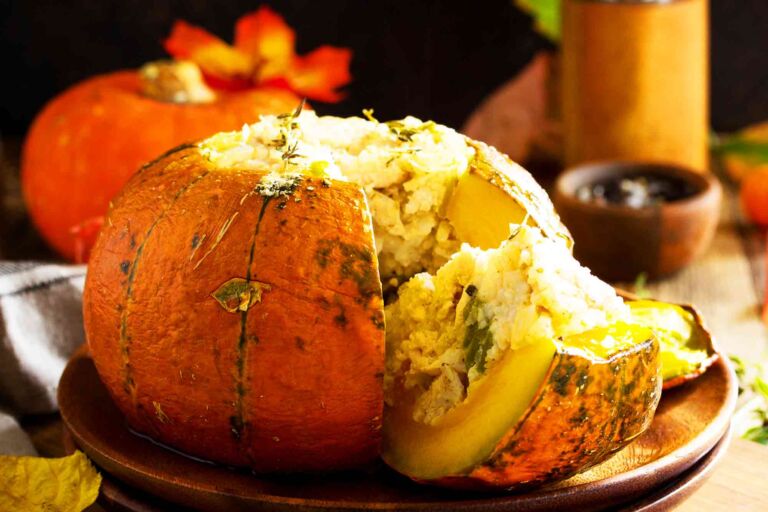 Turkey Stuffed Roasted Pumpkins Recipe
| Prep time | Cook Time | Rest Time | Total Time |
| --- | --- | --- | --- |
| 20 min | 70 min | - | 90 min |
Servings: 8 person
Calories: 190kcal
A big pumpkin can be filled, but…
Even while it can be tempting to fill a single giant pumpkin, the level of difficulty increases as the weight does. A jack-o'-lantern-sized specimen can take up as much oven space as a turkey. If its flesh becomes too delicate to support the contents, you've got a table and kitchen disaster on your hands.
Small sugar or pie pumpkins and other winter squash are now more widely available than ever. They are ideal for this recipe. Pick pumpkins that can serve at least two guests and weigh around two pounds. For an eye-catching display, you can even utilize a variety of colors.
Turkey Stuffed Roasted Pumpkins – What to stuff it with?
Stuffing inside pumpkins offers flexibility in several ways. Stuffing stays moist and tasty when baked inside pumpkins. It can be modified to suit vegetarians at the holiday table if you use tofu mince instead of turkey.
When eat, scoop out the filling and cooked pumpkin together. The pumpkins can be filled and chilled up to a day beforehand. The pumpkins can be baked several hours in advance and covered with aluminum foil.
Instructions
Set oven temperature to 220 °C (428 °F).

Cut top off pumpkin and set aside. 

Scoop out and discard the pumpkin seeds. To make the hollow bigger, scoop out a bit additional pumpkin flesh and roughly chop.

Heat oil over medium heat in a large frying pan. 

Stirring occasionally, cook the chopped pumpkin, onion, and garlic for 5 minutes, or until the pumpkin has softened.

Add parsley and cook for another minute.

Add the stock and rice and then bring to the boil. Remove from heat and stir in the turkey, zucchini, sesame seeds and chilli. 

Place a large sheet of foil on a baking tray. 

Place the pumpkin on tray and fill with the mixture. Top with pumpkin lid and wrap in foil to enclose. Bake for 1 hour, or until pumpkin is very tender.

When is done, cut pumpkin into thick wedges and serve while warm.

Enjoy, Good Appetite!