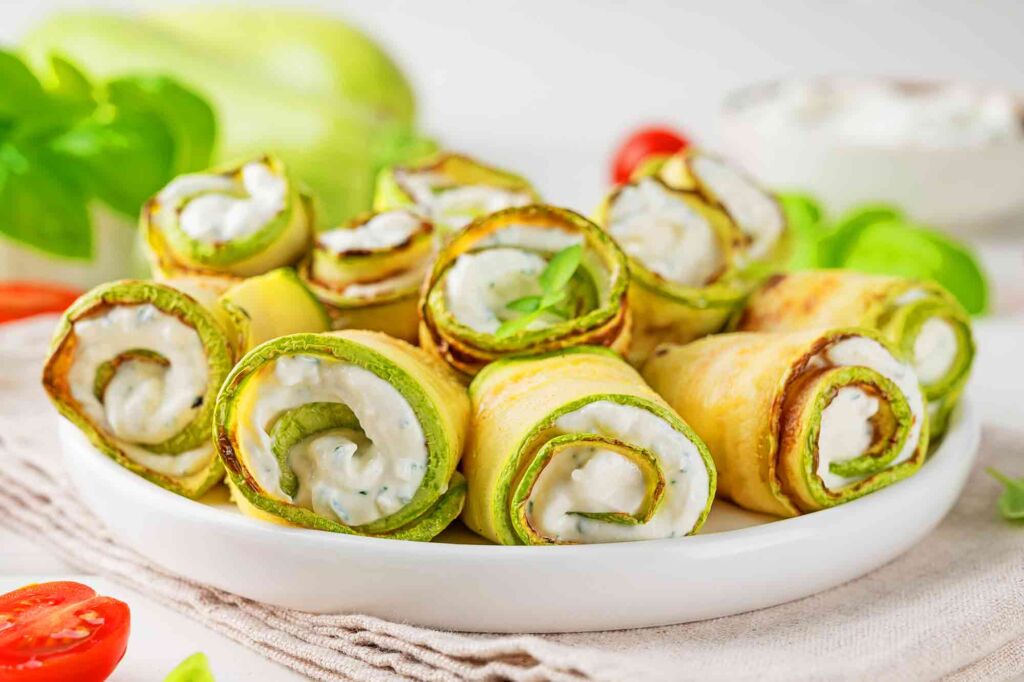 Jump to recipe
Zucchini Appetiser Rolls Recipe
Try these flavorful Zucchini Appetizer Rolls filled with cream cheese, garlic and herbs for a delicious and healthy appetizer option. Perfect for parties or as a snack.
Zucchini Appetiser Rolls are a delicious and healthy appetizer option that are perfect for parties or as a snack.
These rolls are made by thinly slicing zucchini and then rolling it up with a flavorful filling made of cream cheese, garlic, and herbs. They are easy to make, and can be prepared ahead of time, making them a great option for entertaining.
The rolls are typically baked or grilled, giving them a crispy texture on the outside, while the inside remains soft and creamy.
The combination of the fresh zucchini with the cream cheese, garlic, and herbs gives them a delicious flavor, making them a popular appetizer choice.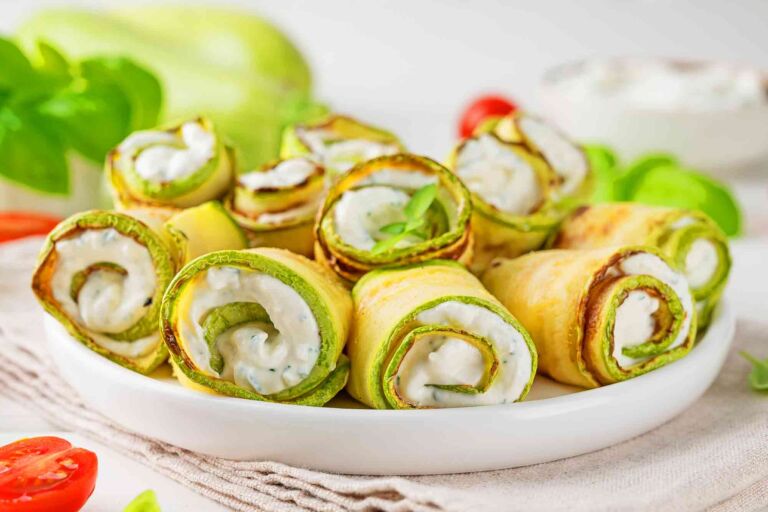 Zucchini Appetiser Rolls Recipe
| Prep time | Cook Time | Rest Time | Total Time |
| --- | --- | --- | --- |
| 20 min | 25 min | - | 45 min |
Servings: 8 person
Calories: 150kcal
Recipes for rolled appetisers made with thinly sliced vegetables like Zucchini Appetiser Rolls
have been around for a long time and are popular in many cultures around the world.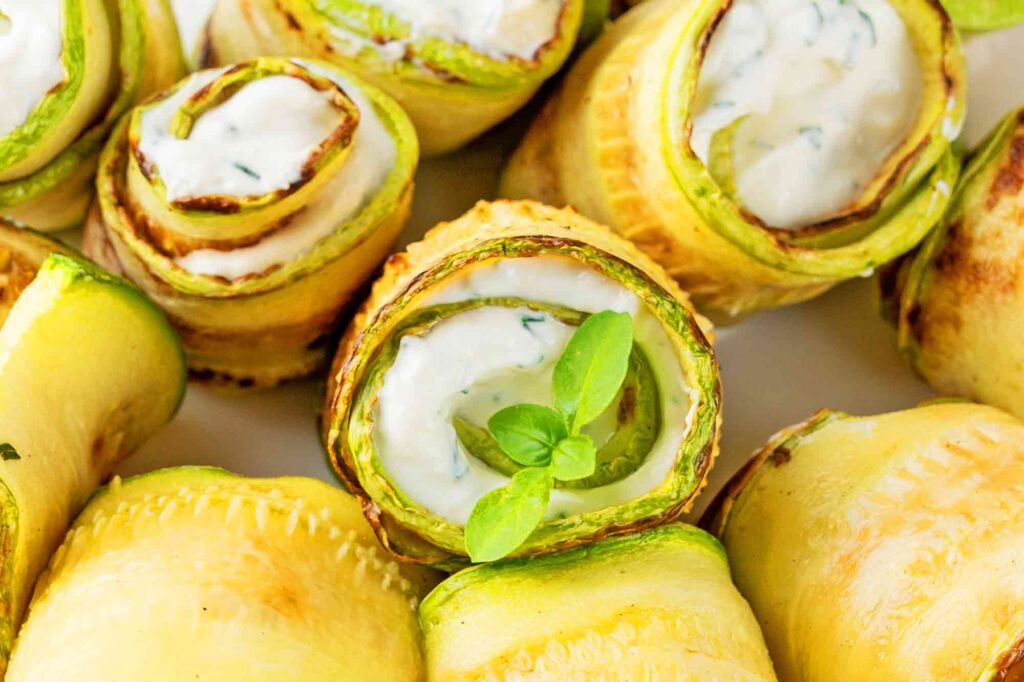 They are often served as a starter or an appetiser and are enjoyed for their taste and versatility.
The exact origin of this specific recipe is not known and it could have been created by someone, passed down through family or friends or even found in a cookbook or online recipe collection.
Instructions
Preheat the oven

to 190°C (375°F).

Grease a baking sheet with cooking spray or oil.

Cut the ends off the zucchinis and use a mandoline or a sharp knife to slice them lengthwise into thin strips.

In a small bowl, mix together the cream cheese, garlic, parsley, chives, salt, and pepper until well combined.

Place a heaping tablespoon of the cream cheese mixture at the end of each zucchini strip.

Roll up the zucchini, tucking in the sides as you go, to form a tight roll.

Place the rolls seam-side down on the prepared baking sheet.

Bake in the preheated oven for 20-25 minutes, or until the zucchini is tender and the rolls are golden brown.

Serve hot or at room temperature.

Enjoy, Good Appetite!

Note

You can use any kind of herbs you like, such as basil, thyme or oregano.
You can use different kind of cheese like feta or ricotta instead of cream cheese.
You can also add some spices like paprika or cayenne pepper to the cream cheese mixture for more flavor.
You can also add some smoked salmon or prosciutto to the rolls for added flavor.
You can also use a low-fat cream cheese for a healthier option.
You can also serve the rolls with a side of marinara sauce or a yogurt-dill dip for extra flavor.